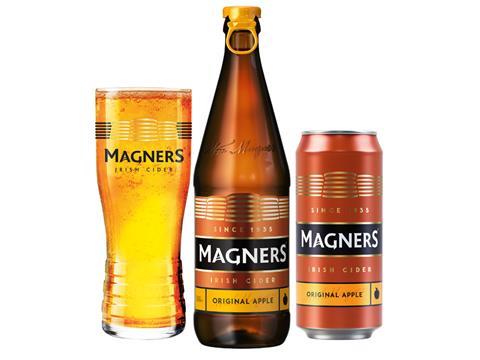 Top story
Magners and Bulmers owner C&C Group (CCR) has slumped to a loss as revenues declined by more than £100m and it was hit with exceptional charges totalling more than €150m.
Net revenues in the year ended 28 February 2017 tumbled 15.5% to €559.5m reflecting weakness in its wholesale, own label and US activity.
EBITDA at the Irish cider maker decreased to €110m, compared with €122.6m in 2015/16, and group operating profits suffered a €8m hit from the devaluation of the pound following the Brexit vote, down from €103.2m to €95m.
Exceptional costs of €150.1m, including a €106.6m write down in the value of the US business and more than €12m in restructuring charges as the group consolidated its cider making facilities to one plant, dragged C&C to operating losses of €55.1m, compared with profits of €64.8m a year ago. Pre-tax losses totalled €62.9m.
However, despite the challenging year, the three key brands (Magners, Bulmers and Tennent's) returned to volume growth of 2.6% after investment in marketing campaigns. Revenues from the three brands was €5m lower than the previous year at €242m as volume growth was offset by competitive pricing and mix pressures, particularly for Magners.
Brand volumes of Magners jumped 11% in the UK for the year in a cider market that was 0.5% lower thanks to a re-launched of the Original brand with new packaging and a marketing campaign under the "Hold True" tag line.
The momentum behind Magners in the UK led to C&C entering a new distribution partnership with AB InBev in December, with the brewing giant to take over responsibility for the sale and trade marketing of C&C's cider portfolio in England, Wales, Isle of Man and Channel Islands.
C&C CEO Stephen Glancey said: "FY2017 has been a period of significant activity for the group. While trading remained tough, we invested in and delivered volume growth across our core brands; completed a major rationalisation of our production foot print; drove efficiencies across the business; continued to grow our premium portfolio and export business; and secured an important new long-term distribution arrangement with AB InBev. After this year of consolidation, we are in materially better shape to meet the ongoing challenges and opportunities within our industry."
He added that the group returned to operating profit growth – on a constant currency basis – in the second half of the year.
"FY2018 has started in line with expectations but we do remain cautious given the outlook for the consumer across our markets," Glancey said. "Political uncertainty continues into the current year making forward predictions on trading patterns and consumer behaviour particularly challenging. However, our core brands of Bulmers, Magners and Tennent's are well positioned to convert their volume momentum in FY2017 into revenue and value growth in FY2018.
"C&C is a resilient business with strong local brands that have stood the test of time and a growing premium and craft portfolio."
Morning update
Logistics firm Wincanton (WIN) has reported "resilient trading and strong earnings growth", despite revenues and underlying EBITDA falling in the year to 31 March 2017. Revenues slipped 2.6% to £1.12bn, primarily driven by the disposal of Wincanton Records Management (WRM) and exit from loss making Pullman home shopping contracts. Excluding the sale of WRM, revenues were down 1.3%. Wincanton won several news contracts in the year, with Wilko, Ikea and Wickes.
Underlying EBITDA fell 2.3% to £63.6m, but was up 2.9% including the WRM divestment, with operating profits of £52.1m and pre-tax profits of £45.4m including a £32.5m gain from the sale.
CEO Adrian Colman said: "Wincanton has delivered a strong set of financial results, supported by a good stream of contract renewals and new business wins in the year. The business is well positioned to invest and continue to grow in attractive markets such as e-commerce and construction.
"We are pleased to propose an increase in the final dividend to 6.1 pence per share, making a total of 9.1 pence per share for the year. We look forward to the future with confidence in the group's ability to grow for the benefit of all its key stakeholders."
Shares in C&C Group, despite opening 0.6% higher, are down 0.8% to €3.52, while Wincanton has soared 4.8% to 287.8p.
The FTSE 100 has made further gains on yesterday's recordbreaking highs, nudging up 0.1% to 7,525.96 points.
Yesterday in the City
Shares in Premier Foods (PFD) crumbled again after the Mr Kipling and Bisto supplier said it was going to focus more heavily on costs as full-year revenues and profits fell. Underlying sales in the year to 1 April 2017 slipped 1.4% in the year to 1 April 2017 and trading profits fell 9.3% to £117m. The stock slumped 2.3% to 42p and is down 7.7% since Friday – wiping out all of last week's gains made on the Cadbury licence renewal.
The FTSE 100 hit new highs as it jumped 0.9% to 7,522.03 points as UK inflation soared to the highest rate for almost four years.
Ocado (OCDO) shares leapt 6.2% to 280.9p and it was a good day all round for grocery stocks as Sainsbury's (SBRY), Morrisons (MRW) and Tesco (TSCO) jumped 1.1% to 269.7p, 0.8% to 243.9p and 0.2% to 178.5p.
The high street also scored well, with Marks & Spencer (MKS) up 0.5% to 376.8p, WH Smith (SMWH) up 0.4% to 1,748p and Greggs (GRG) up 0.5% to 1,074 ahead of its Q1 update on Thursday.
Fever-Tree (FEVR) was back up strongly after losses yesterday, rising 2.6% to smash back through the 1,700p barrier that values the mixer brand at £2bn.
McColl's (MCLS) was also among the risers, climbing 3.5% to 209.4p, along with Cranswick (CWK), up 2.2% to 2,799p, Reckitt Benckiser (RB), up 2.1% to 7,516p, and Britvic (BVIC), up 2.1% to 692p.