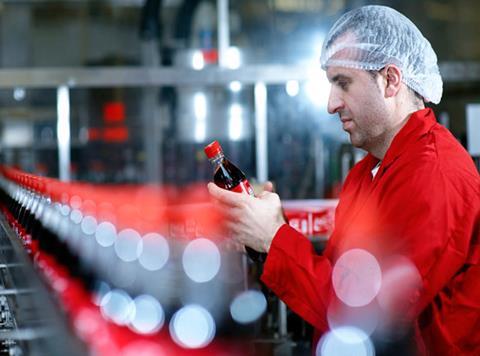 Top story
The CEO of FTSE 100 Coca-Cola bottler Coca-Cola HBC (CCH) is to take a four month leave of absence to treat a medical conditions.
Dimitris Lois is expected to be on temporary leave for approximately four months and will be replaced by the company's CFO Michalis Imellos during his absence.
The company said Lois will "stay involved in the business" during his absence and will remain a member of the board of directors during that time.
Lois said: "It is in the best interest of both Coca-Cola HBC and myself that I take this time to focus on my health, while Michalis and the rest of our strong leadership team continue to execute our strategy. I am committed to continue being involved in the business during my leave and I plan to return after completing my treatment."
Chairman Anastassis David added: "The Board supports Dimitris's request to take this leave and wishes him a quick recovery as he focuses on his health."
"The Board has full confidence in the excellent management team that Dimitris has built. Michalis and the team are well equipped to continue driving the Company's strategy and manage day-to-day operations."
Michalis Imellos joined Coca-Cola HBC in 2008 as region finance director and was appointed CFO in 2012.
Morning update
In The Grocer this week, we look at why dealmakers feel the hasty $1bn deal for Moy Park from JBS to JBS-majority owned Pilgrim's Pride was not necessarily a level field. See thegrocer.co.uk/finance later this morning for the details.
Also in this week's edition, Protein powder startup Whey Box has secured a substantial six-figure investment through a high net worth funding network to beef up its stock, build brand awareness and develop new products.
One Stop has reported a 5% increase in sales, with its franchise stores returning a profit for the first time since they were launched three years ago. And Societe Generale's Warren Ackerman asks if there is a cut-throat price war coming to UK razors?
As the markets closed last night, Nestlé (NESN) announced that it has acquired a majority stake in Blue Bottle Coffee, a speciality coffee roaster and retailer based in Oakland, California.
Blue Bottle Coffee operates coffee shops in major US cities and in Japan, with the total number of Blue Bottle Coffee shops is expected to reach 55 by the end of 2017, up from 29 at the end of last year. Blue Bottle Coffee has also launched premium ready-to-drink and roast and ground products, sold online and in the retail market.
Blue Bottle Coffee will continue to operate as a stand-alone entity, while having full access to Nestlé's capabilities in coffee and its strong global consumer reach. The current management and employees will retain a minority stake and continue to run the business, including Bryan Meehan remaining as CEO and founder James Freeman as chief product officer.
Nestlé CEO Mark Schneider: "This move underlines Nestlé's focus on investing in high-growth categories and acting on consumer trends. Blue Bottle Coffee's passion for quality coffee and mission-based outlook make for a highly successful brand. Their path to scale is clearly defined and benefits from increasing consumer appreciation for delicious and sustainable coffee."
With the acquisition of Blue Bottle Coffee, Nestlé is entering the fast-growing, super premium coffee shop segment while it also allows Nestlé to strengthen its position in the US coffee market, the largest in the world. Nestlé is already the world's largest coffee producer, with brands including Nescafé and Nespresso.
On the markets this morning, the FTSE 100 is down another 0.4% to 7,264.4pts on top of yesterday's losses.
Early fallers include Reckitt Benckiser (RB), down 2.2% to 6,786p and FeverTree (FEVR), down 3.9% to 2,288p as well as Real Good Food (RGD), down 3.9% to 25p and Crawshaw group (CRAW) down 2.4% to 20p.
The few early risers include Majestic WINE (WINE), up 2.1% to 322p, McBride (MCB), up 1.6% to 209.3p and Conviviality (CVR), up 1% to 384.5p.
Morrisons has recovered 1.2% to 233.8p in early trading.
Yesterday in the City
Morrisons posted solid first half results yesterday continuing its recover under David Potts, but the City was less convinced the update represented sustainable progress sending the shares down 5.1% to 232.4p yesterday.
The market reaction seemed driven by Morrisons slightly missing loft sales growth expectations and worries that the sales improvement was not sufficiently feeding back through to the bottom line. Morrisons is also up more than 25% year-on-year meaning it now trades at a far higher earnings multiple than its supermarket rivals and the market is increasingly concerned that disparity is unjustified as signs of a slowdown in sales growth emerge.
It was a tough day for many UK equities as the FTSE 100 slumped 1.1% to 7,295.4pts after the Bank of England signified it may raise interest rates at a faster pace than the market was currently predicting.
The news sent the pound up more than a cent and a half against the dollar, rising back to $1.339 and 1.4% up against the euro to 1.127.
However, a number of FTSE 100 companies with significant international revenues were hit. British American Tobacco (BATS), fell 2.5% to 4,692.5p, Diageo (DGE) was 2.2% down to 2,504.5p, Coca-Cola HBC fell 2.2% to 2608p, Unilever (ULVR) dropped 1.8% to 4371p and Imperial Brands (IMB) was down 1.7% to 3,260.5p.
Other fallers included Finsbury Food Group (FIF), down 6.1% to 99.5p, Nichols Beverage (NICL) down 2.8% to 1,717p, FeverTree (FEVR), down 2.3% to 2,382p, Ocado (OCDO), down 2.3% to 298.3p, Greencore (GNC), down 1.9% to 193.2p and Britvic (BVIC), down 1.6% to 746p.
One name to escape the sell-off was Marks & Spencer (MKS), which rose 2.8% to 333.6p on the back of better than expected results from clothing bellwether Next (NXT), which jumped 13.1% to 4,994p.
Other risers included Premier Foods (PFD), up 3.8% to 41.5p, Just Eat (JE), up 2% to 694p and Greene King (GNK), up 1.6% to 564p.
Tesco defied the slump in Morrisons share price to close up 0.9% for the day at 183.3p