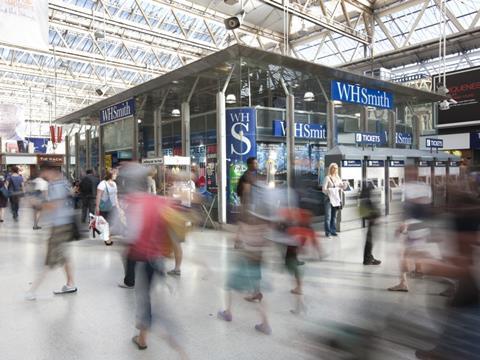 Top story
WH Smith (SMWH) expects full-year profits to be better than forecast as like-for-like sales on the high street grew 2% over Christmas as shoppers continued to snap up adult colouring books.
The trend, which has benefitted Smith's in results during 2015 as adults buy the books as a way to relax or aid sleep, helped the retailer generate a 2% like-for-like total revenue rise across the group in the 20 weeks to 16 January – and a 4% increase in total sales.
The high street division, which has seen weak performances in recent years, managed flat LfL growth in the period (total sales down 1%), compared with a 1% drop 12 months ago. The 2% jump came in the five weeks over Christmas.
Travel, where the group has focused its energy as part of its new strategy, recorded LfL growth of 5% in the 20 weeks (12% total sales growth), a significant slowdown from the 12% increase in the previous Christmas quarter.
CEO Stephen Clarke said:
"The group delivered a good performance over the 20-week period. In high street, we had good like-for-like sales growth over the key Christmas period, driven by the 'colour therapy' phenomenon, our seasonal offer and strong promotions in stationery. In travel, we continue to benefit from the impact of our growth initiatives and the improvement in passenger numbers.
"As a result of the strong sales performance in high street over the five-week Christmas period, we expect profit growth for the year to be slightly ahead of plan."
Shares in WH Smith, which have been sluggish in recent weeks, got a 5% boost to 1,661p as markets opened this morning.
Morning update
Sports nutrition company Science in Sport (SIS) said very strong trading in the final quarter of 2015 has carried on into the new year. A pre-close trading update for 2015 outlined an 18% sales rise to £9.5m, compared with £8m in the previous year. The growth was particularly strong in international markets, from the online operation and from third-party e-tailers. "The first quarter of 2016 sees the launch and roll out of the company's novel WHEY20 protein product, which will be distributed in approximately 1,170 multiple grocer outlets by April. In addition approximately 400 independent cycle shops, high street retailer Decathlon, and both company and third-party e-commerce websites will sell the product."
Pets at Home (PETS) managed a like-for-like sales rise of 2.2% in the 12 weeks to 31 December thanks to a 1.7% jump in merchandise division. The retailer said it was strong in advanced nutrition and omnichannel and added sales were recovering in health and hygiene. Total revenue growth in the period was 7.1% to £195.1m. CEO Nick Wood said: "We are pleased with the improved trading momentum in our merchandise business, alongside continued strength in our vet and grooming services. We look forward to further growth and expansion in 2016."
Stevia producer PureCircle (PURE) has appointed PwC London as its external auditor for the financial year ending 30 June 2016. The proposed change of auditor – from PwC Malaysia – follows a recommendation by the audit committee to the board.
The markets have had a rotten start this morning, with the FTSE 100 more than losing its gains from yesterday to open 2.6% down at 5,725.2 points, dragged down by the mining giants.
Early losers so far are Poundland, falling 3.8% to 142.4p, Greggs (GRG), down 3.2% to 979p, and Marks & Spencer (MKS), down 2.8% to 410p. Only WH Smith has escaped falling into the red, with Tesco, Morrisons and Sainsbury's (SBRY) all falling more than 2%.
Yesterday in the City
Ocado (OCDO) shares underwent a remarkable rally yesterday after falling to a more than two-and-a-half year low of 243p on Monday night. Market chatter that US behemoth Amazon – the cause of much of Ocado investor pain – was weighing up a tie-up with the online UK retailer sent investors flooding back to Ocado on Tuesday morning. Share soared more than 18% in early trading before settling back down to finish 7% higher at 260p.
Unilever (ULVR) enjoyed an increase of 3.2% to close at 2,934p after full-year sales climbed 10% to €53.3bn thanks to currency tailwinds.
After losing a touch of the shine from the stratospheric rises of 2015, premium mixer producer Fever-Tree (FEVR) was back among the high fliers yesterday, with the stock up 2.8% to 549p.
The other big risers included Conviviality (CVR), up 4.2% to 209.4p, PZ Cussons (PZC), up 3.9% to 277.7p, and Premier Foods (PFD), up 2.6%.
Tesco (TSCO) was back in familiar territory, finishing in the bottom five FTSE 100 fallers after its share price dipped 1.6% to 158.9p. Poundland (PLND) had another miserable day to take the stock to new lows of 148p following a 2.8% fall.
Other stocks to falter included Morrison (MRW), down 0.9% to 158.3p, McColl's Retail Group (MCLS), down 1% to 140p, and AG Barr (BAG), down 0.9% to512.6p.
The FTSE 100 made gains of 100 points to close at 5,876.8 to heal some of Monday's pain when the index finished down at a three-year low.