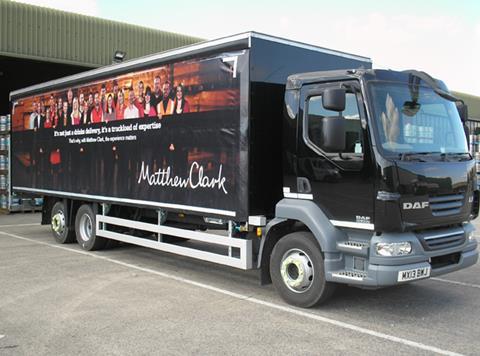 Top story
Bargain Booze owner Conviviality (CVR) has appointed Booker executive Mark Aylwin to run the Matthew Clark business it acquired earlier this year in a reverse takeover.
He will replace Steve Thomson, who has been CEO of the wine wholesaler and distributor for ten years, as managing director.
Aylwin, who joins in January, has been in the food and drinks industry for more than 35 years, working in a number of senior positions at Booker Group, Blueheath, Safeway and Musgrave Group.
He has been with Booker for the past eight years, most recently as MD of Booker Retail Partners (formerly Musgrave Retail Partners), where he had responsibility for Budgens and Londis. He has also been in charge of Booker Direct, the delivered wholesale business, as well as being a member of the board.
Conviviality CEO Diana Hunter said: "I am delighted to appoint Mark as managing director of our Matthew Clark business. He has a wealth of experience in food and drink wholesale and is ideally placed to develop the Matthew Clark business with our customers and suppliers.
"I am pleased with the progress we have made since the acquisition and the integration is ahead of plan. The key hires required to deliver our synergies are in place ahead of plan and all the teams in both businesses are working well together."
Matthew Clark commercial director Ian Smith, who has been at the business for more than 37 years, also becomes deputy managing director with immediate effect. Steve Thomson will continue to work with the business on a consultancy basis on a number of key projects.
Conviviality's share price is up 0.7% to 213.5p in the early trading.
Morning update
Elsewhere on a quiet Monday morning, Nestlé (NESN) has announced the completion of its 8 billion share buyback programme initiated on 25 August 2014. Since then, the Swiss food giant has repurchased 112,640,000 of its shares for a total of CHF 8 billion (£5.3bn) at an average purchase price per share of CHF 71.02.
The fall and fall of Morrisons (MRW) continues this morning, with the stock down another 0.8% to a new low of 146.5p. Tesco (TSCO) is also down 0.6% to 161.6p and Sainsbury's (SBRY) slips 0.5% to 243.9p. Online rival Ocado (OCDO) opens down 0.6% to 379.2p ahead of this Thursday's quarter four trading update.
This week in the City
There isn't a huge amount pencilled in for this week, but Thursday brings a trading update for the final quarter from Ocado. The online grocer has promised the market a number of times that it would be announcing its first international partnership before the year was out. This may be its last chance to do so, but analysts are not convinced a deal has been struck. It would a blow to CEO Tim Steiner and also cast doubts over the viability of the retailer's business model.
Also this week, there is the BRC-KPMG Retail Sales figures for November out tomorrow morning. The City is expecting modest 0.5% growth in like-for-like sales for the month.