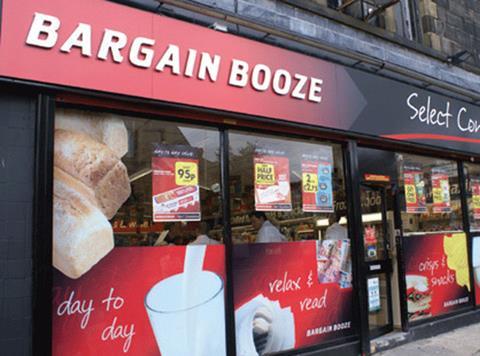 Top story
Bargain Booze owner Conviviality Retail (CVR) has elbowed ahead of rival bidders in the race for the £200m takeover of specialist wine wholesaler Matthew Clark.
The group announced on the London Stock Exchange this morning that it has entered into a "non-disposal undertaking" with the current owners of Matthew Clark, pubco Punch Taverns and Hertford Cellars Ltd.
It means that Punch can't sell the beer, wine and spirits supplier to a third party before 4 September, with Conviviality liable to pay a £1m break fee if a deal isn't agreed by that date.
Punch will also have to pay Conviviality £1m if it sells Matthew Clark to another buyer within 180 days of withdrawing from an agreed deal the off-licence chain.
Conviviality said it would provide shareholders with further updates in due course. Shares in the AIM-listed retailer have been suspended for more than a month now following enquiries by The Grocer about its involvement in the deal process.
This morning's statement does not contain any information about how Conviviality would pay for the deal of a company which is twice its size.
Matthew Clark, established more than 200 years ago, is Britain's biggest beer, wine and spirits supplier serving more than 18,000 UK pubs, restaurants and hotels. The fast-growing group, which employs 1,450 staff, made pre-tax profits of £17m on sales of £811m in the year to 28 February.
Conviviality has been battling it out with trade players such as Heineken, as well as several private equity firms, in the race for Matthew Clark.
Morning update
Sales in the first week of Waitrose's second half were up 2.2% to £120.29m compared with the same period last year. The supermarket put the improvement down to "cricket fever" sparked by the Ashes, with Waitrose a sponsor of England Cricket. Beer sales "soared", with premium bottled ale sales up 35% and speciality beer sales up 49%, according to finance director Tom Athron.
Independent retail analyst Nick Bubb estimated the rise in sales translated to a -1% fall on a like-for-like basis, but he called it a "reasonable start" to the second half.
Yesterday in the City
There are much fewer companies in the red today as the FTSE 100 rebounded after heavy declines so far this week.
Coke bottle Coca-Cola HBC (CCH) led the way with its shares fizzing 7.6% to the top of the blue-chip index in London to close the day at 1,423.1p – its best day on record since moving its listing to the LSE. The stock was up more than 11% in the morning following the posting of its interim accounts. CCH, which has a dual listing in Athens, surprised the City with better-than-expected half-year results, with a 3.8% increase in volumes for the six months to 2 July. Net sales revenue declined by 1% to €3.15bn thanks to currencies fluctuations but earnings before interest and tax soared 31.2% to €219m. Credit Suisse raised its target price for the stock by 50 to 1,400p.
Swiss food group Nestle (NESN) also saw its share price climb on the back of strong financial results – up 2.7% to CHF74.15. Organic sales growth came in at 4.5% for the first half of 2015, with net profit of CHF4.5bn.
The FTSE 100 slipped again by just 0.04% to 6,568.3 points after spending most of the day up on Wednesday's close. London's leading shares are down 2.4% so far this week but the rot, caused by China devaluing the yuan, looks to have been stopped after China said it had no plans for further currency depreciation.
Morrisons (MRW) and Sainbury's (SBRY) both saw an end to a week of declines to finish 0.2% up at 176p and 0.2% up to 252.8p respectively. However, Morrisons value is 4.6% down for the week and Sainsbury's is -5.6%.
Tesco (TSCO) was down another 1.1% to 202p – the lowest it has been for a month – putting the shares down 6.5% lower than at start of play on Monday. The supermarket has suffered from stories emerging that its data arm Dunnhumby won't bring in the £2bn expected from a sale but instead would fetch as little as £700m.