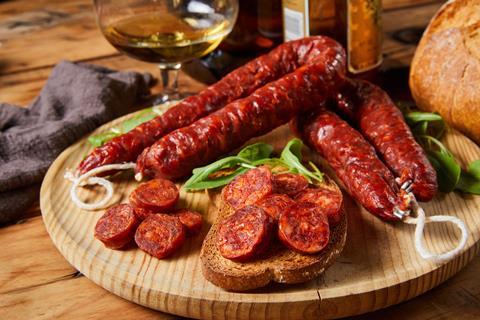 Top story
Cranswick has reported strong top line and bottom line growth as it benefited from inflation recovery and resilient volume growth in the UK.
Reporting its first half results for the 26 weeks to 23 September, Cranswick posted sales growth of 12.3% to £1.25bn in the period.
Like for likes sales were up 12% with corresponding volumes down 2.7% primarily reflecting lower export shipments.
Revenues from its core UK food business were ahead by 16.1% underpinned by volume growth of 2.7% with all four UK food categories making a positive contribution.
Fresh Pork revenue was 12.2%, which represented just over a quarter of its total business, was up 25.3$% in the period, reflecting the successful pass through of higher pig prices and volume growth in UK retail and wholesale channels offset by weaker international growth.
Convenience revenue was up 13.9% driven by continuing inflation recovery and solid cooked meats volume growth.
Gourmet Products revenue increased by 18.0% underpinned by strong volume growth, with sausage and bacon revenues were both ahead as retail volumes strengthened.
Poultry revenue increased by 6.9% due to higher pricing and volume growth, with new restaurant outlets for portioned product onboarded during the period.
Cranswick said that UK shopper confidence is now at its highest level since late 2021 and the group is starting to see a change in consumer behaviour as shoppers begin to trade up again driven, in part, by compelling promotional offers.
However, overall results were hampered by a total sales to export markets dropping to £57.9m for the period from £79.4m, while pet food volumes were also lower as the business focused on building stock for the new Pets at Home contract launch.
Adjusted Group operating profit was 25% higher at £85.5m with adjusted group operating margin up 69bps to 6.8%.
This improvement in profitability reflected robust returns from effective deployment of capital, tight cost control and a positive contribution from the group's expanded farming operations.
The group also invested a further £39.4m across its asset base during the period to support future growth and drive further operating efficiencies.
Cranswick said it has committed to a £62m multi-phased investment programme at its Hull pork primary processing facility and it has started a £23m fit out of its Worsley facility, acquired at the end of the last financial year, to significantly expand houmous production capacity.
The group said that, while it remains cautious about current market and wider economic and geopolitical conditions, the outlook for the current financial year ending 30 March 2024 is now expected to be at the upper end of current market consensus.
CEO Adam Couch commented: "Our strong start to the year continued through the second quarter. Our relentless focus on quality, service, innovation, and managing our cost base through this extremely challenging inflationary cycle, allied to delivering exceptional customer service, has underpinned these results.
"Momentum has continued through the start of the third quarter as our customers and the UK consumer continue to appreciate the affordability, value for money and versatility of our core pork and poultry categories.
"Our continued positive progress is made possible by the substantial ongoing investment in our asset base, expansion of our pig farming operations and the quality and capability of our colleagues across the business.
"Notwithstanding the many challenges that we, our industry and the wider economy continue to experience, I am confident that the strengths of our business, which include its diverse and long-standing customer base, breadth and quality of products and channels, robust financial position and industry leading infrastructure, will support the further development of Cranswick in the current financial year and over the longer term."
Cranswick shares are up 2.1% to 3,722p so far this morning.
Morning update
On the markets this morning, the FTSE 100 is downa a further 0.3% to 7,475.4pts.
Along with Cranswick, other risers include Coca-Cola HBC, up 2.8% to 2,147.1p, C&C Group, up 1.2% to 139.8p and WH Smith, up 1.1% to 1,335p.
Fallers include Ocado, down 1.6% to 586.2p, Deliveroo, down 1.5% to 138.4p and Compass Group, down 1.3% to 2,023p.
Yesterday in the City
The FTSE 100 closed down 0.1% to 7,496.3pts yesterday after strong gains on Friday.
McBride jumped 17.5% to 61p after issuing a trading update saying it continues to trade ahead of expectations as consumers continue to shift to its own label products.
Other risers included Naked Wines, up 6.9% to 39p, Ocado, up 6.3% to 595.8p, Deliveroo, up 2.7% to 140.5p, Coca-Cola Europacific Partners, up 0.9% to €55.50 and SSP Group, up 0.9% to 210.8p.
The day's fallers included Premier Foods, down 3.3% to 129.8p following its half year results on Thursday.
Also down were C&C Group, down 2.4% to 138.2p, Compass Group, down 2% to 2,050p, Glanbia, down 2% to €14.90, Tate & Lyle, down 2% to 625p, Kerry Group, down 1.7% to €72.2p and Pets at Home, down 1.6% to 308.6p.