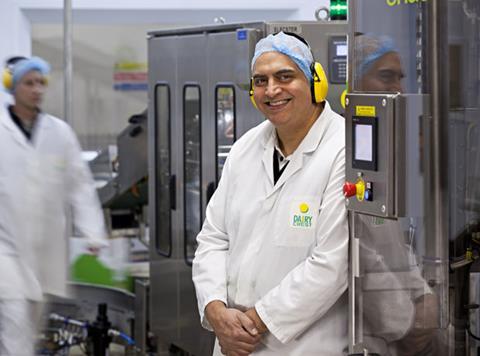 Top story
Dairy Crest (DCG) has bought the rest of its infant formula joint venture Promovita Ingredients for £6m.
The group announced this morning it has purchased the outstanding 50% in the jv with Fayrefield Foods for £6m funded from existing borrowing facilities.
Promovita was established in 2014 as a 50/50 joint venture between Dairy Crest and Fayrefield to develop and produce GOS, a prebiotic for use in infant formula.
Dairy Crest said that, having invested in the manufacturing capability at Davidstow and successfully produced GOS samples, it believes that full ownership of Promovita is in its and shareholders' best interests.
The company said full ownership gives it sole control over the development of the GOS business and allows it to fully benefit from the value that this business generates.
Mark Allen, chief executive of Dairy Crest, commented: "This is a further important step in the evolution of our added-value ingredients business. We remain on track to begin commercial production of GOS in early 2016 and this acquisition gives us full control over the development of this exciting business."
Morning update
As expected in Christmas week, City newsflow is pretty quiet this morning.
Reckitt Benckiser (RB) has announced that after 16 years of service, board director Peter Harf will step down with immediate effect in order to allow him to spend more time at JAB and its portfolio of companies
Harf commented: "It has been a pleasure to work with RB. I am very confident that it will continue to be highly successful. It is a phenomenal company and JAB intends to keep the large majority of its stake in RB as a long-term strategic investment."
Adrian Bellamy chairman added: "Peter has been a highly valued member of our Board since the merger of Reckitt & Colman and Benckiser, and indeed before the merger as Chairman of Benckiser. We are sad to see him go. We will miss his wisdom and experience but wish him well as he spends more time with JAB. I would also personally like to thank Peter for all of his hard work in helping RB become the successful global organisation that it is today. "
Elsewhere this morning, the FTSE 100 is getting into the Christmas spirit - up 0.7% to 6,091.2pts so far this morning.
Tesco (TSCO) is in the rare position of being one of the markets strong early movers, rising 1.2% back to 145.2p so far this morning. Sainsbury's (SBRY) is also on the up, climbing 1.1% to 258p after news of Ken Morrisons' investment in the supermarket emerged this morning.
There have also been good starts to the day for Unilever (UVLR), up 1.1% to 2,850.5p, and Imperial Tobacco (IMT), up 1% to 3,498.5p. Associated British Foods (ABF) is down 1.5% to 3,278p.
Dairy Crest is 0.2% higher at 652.5p after this morning's announcement.
The week in the City
The City hasn't quiet decamped for Christmas yet, but there's very little scheduled in the calendar as market winds down for the festive period.
We will get this month's CBI Distributive Trades survey later this morning and the GFK Consumer Confidence figures are out tomorrow, but the focus of the grocery industry will firmly be on trading in the vital days before Christmas.
A glut of post-Christmas trading updates will begin with Marks & Spencer (MKS) on 7 January.