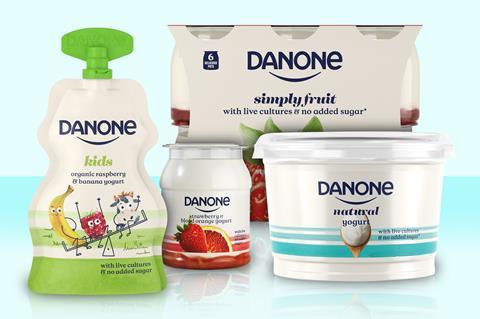 Top story
Danone has ousted chairman and CEO Emmanuel Faber as it continues to shake up the board following pressure from activist investors.
Earlier this month the board of the French food giant confirmed a move to split the roles of chairman and CEO, with Faber focusing on the position of non-executive chairman and new chief executive to be appointed.
However, this morning Danone announced Faber would be relinquishing both positions.
Vice-chairman Gilles Schnepp has been named as the new chairman with immediate effect.
The board also tasked international CEO Véronique Penchienati-Bosetta and North America boss Shane Grant to jointly lead the business while the search for a new CEOcontinues.
Danone said the immediate priority of the new chairman, together with the board, was to lead the transition, including the search for a new CEO.
An international search agency has been appointed to support the process, with Schnepp and the governance committee to oversee the search "to ensure that a world leading CEO is found".
Schnepp said he was "honoured" to be appointed as chairman of Danone at "this important time for the company".
"I have tremendous regard for Danone's history and its contribution to society through its world leading healthy food and beverages, and commitment to sustainability," he added.
"The priority of the board is now to transition towards an improved governance. This means accelerating the process to recruit a new CEO, while Véronique and Shane continue to lead the business during this period. I look forward to working with the board to support them in their interim roles, and the wider management team as they accelerate our efforts to create value for all our stakeholders."
The move comes after pressure for a management shake-up from a number of activist investors after Danone has suffered weak sales growth through slowing yoghurt sales and a slump in bottled water during the coronavirus crisis.
Schnepp thanked Faber for his leadership and "significant contributions" to Danone since 1997, and since 2014 as CEO and then chairman and CEO.
"His vision and commitment to One Planet. One Health are ahead of the industry and have ensured that Danone is a world leader on sustainability," he said.
"He leaves Danone with a strong platform from which to accelerate and grow. I also want to take this opportunity to thank Danone employees around the world that continue to work to grow and build the business for all consumers, customers and stakeholders."
Shares in Danone jumped 3.8% to €60.30 this morning on the back of the news.
Morning update
Deliveroo revealed this morning that it would raise approximately £1bn of new money in its upcoming flotation on the London Stock Exchange, which is expected to value the food delivery service at around £7bn.
The offer will comprise of new shares to be issued by the company to raise £1bn and and existing shares to be sold by current shareholders.
There was little new detail in the statement to the LSE this morning.
Supreme has completed the roll-out of its 88Vape products across McColl's 1,180 convenience store estate nationwide.
This roll-out represents the largest estate within Supreme's customer base, with full floor standing units supplied to showcase 88Vape's products. The contract was secured with McColl's earlier in the year following a successful trial period for the products in specific stores.
Supreme CEO Sandy Chadha said: "We are delighted to have completed the roll-out of our 88Vape products into McColls, adding another 1,180 retail points to our extensive UK high street footprint. This sizable contract for our vaping division further demonstrates significant growth opportunities that exist for our business, coupled with the resilience of our growing customer base."
FTSE 100 started the week positively, rising 0.5% to 6,796.44pts.
In fmcg, other risers aside from Danone so far included Science in Sport, up 3.9% to 51.9p, Nichols, up 3.3% to 1,240p, and SSP Group, up 3.2% to 348.2p.
Early fallers included Hotel Chocolat, Virgin Wines and Finsbury Food Group, down 4.9% to 390p, 0.8% to 225.6p and 0.7% to 78.8p respectively.
This week in the City
Tomorrow kicks off with full-year results from two businesses hit hard by the Covid pandemic: Greggs and Bakkavor. C&C Group also issue a trading update.
Science in Sport reports full-year results on Wednesday morning.
On Thursday we get the Fevertree finals and a Q1 update from Ocado.
The week ends with the monthly GFK Consumer Confidence survey on Friday.