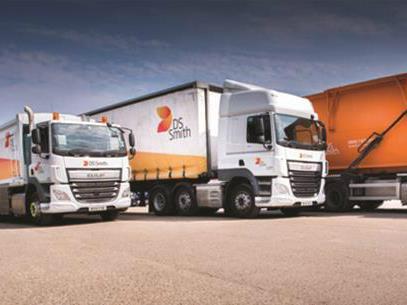 Top story
FTSE 100 packaging giant DS Smith (SMDS) said it had delivered robust performance since 1 November despite macro-economic uncertainty.
In a trading update for the months following 1 November, it said group like-for-like corrugated box volume growth has increased during the second half its financial year, with good performances in Iberia, Eastern Europe and the UK.
It said it "has been especially pleasing" to see the ex-Europac packaging operations performing well and its FMCG and e-commerce businesses growing strongly over the important Christmas period, although countries with exposure to export led markets, including Germany, continue to remain subdued.
Its North America business has experienced positive initial customer reaction and operational progress to its new box plant in Indiana, which opened in November 2019. Domestic US business remains robust, although the negative impact of lower US paper export prices remains ongoing, due to reduced demand from China.
DS Smith said overall it has continued to focus on pricing, costs and cash "with limited box price erosion testament to our resilient business model and strong customer offering".
It expects to deliver a margin in the full year in line with that achieved in the first half.
CEO Miles Roberts commented: "The group has delivered a robust performance during the period within a challenging macro-economic environment. Whilst we continue to monitor events and work closely with all our suppliers and customers, we have not to date seen any material impact to our business from coronavirus.
"Our sustainable packaging offering including the replacement of plastics is becoming ever more important to our FMCG and e-commerce customers and we continue to gain market share.
"Despite continued uncertainty in the macro-economic environment, our focus on pricing discipline, enhanced cost and efficiency improvements, and cash generation, support our expectation of further good progress in the year. "
On 27 February 2020 it completed the sale of DS Smith's Plastics division to Olympus Partners and its affiliate Liqui-Box Holdings. The net cash proceeds of approximately £400 million, after taxation, transaction adjustments and expenses, will be used to reduce financial gearing and "reinforces our commitment to being the leading supplier of sustainable fibre-based packaging solutions".
Morning update
Devro (DVO), the manufacturer of collagen products for the food industry, has announced its results for the year ended 31 December 2019.
Group volumes for the year were flat, with modest edible collagen volume growth from the second quarter onwards after a slower start to the year. Emerging markets growth for the year was strong at 7%, offset by decline in the mature markets of 3% where demand was weak.
Emerging markets volumes were up 13% in the second half and it also saw continued strong growth in North America, but developed markets were hit by weak demand in the UK, Japan and Europe.
Total sales fell 1.3% £250m from £253.4m in the prior year, a 2.6% fall on a constant currency basis.
Underlying operating profit for the year of £39.1m was marginally below 2018, with the benefit of cost savings and currencies offset by the impact of less favourable country mix and sales from other products.
On a statutory basis Devro recorded an operating loss of £14m (compared to a £26.9m profit last year), largely as a result of the review of its global manufacturing footprint which led to the decision to close Bellshill, and the related non-cash accounting impairment of the group's manufacturing assets in US and China.
CEO Rutger Helbing commented: "We continued to focus on our growth plans throughout the year, defending and building upon our strong market positions in mature markets and targeting to increase our share in emerging markets. After a slow start to the year, we saw modest edible collagen volume growth from the second quarter onwards, resulting in Group volumes for the year being flat.
"In 2020 we expect to achieve good volume growth in emerging markets. In our mature markets we expect volume growth in the North American snacking market and, whilst we anticipate a continuation of the challenging market conditions in the UK and Europe (particularly in the first half), we expect Group volumes to be ahead of 2019. In addition, cost savings are expected to more than offset inflationary cost pressures. Absent any material adverse impact of Covid-19, the board expects good progress in 2020."
Heineken has announced the appointment of a new chief supply chain officer and the company's first chief digital and technology officer.
Current supply chain boss Marc Gross will retire in April 2020 to be succeeded by Magne Setnes, currently general manager of Brau Union, HEINEKEN's business in Austria.
Meanwhile, Ronald den Elzen will become Heineken's first chief digital and technology officer to "underpin the ambition to become the world's most connected brewer".
Ronald den Elzen most recently served as MD of Heineken USA, and was previously finance director in The Netherlands and Heineken UK as well as MD of Sociedade Central de Cervejas, the Company's Portuguese business.
On the markets this morning, the FTSE 100 is up a further 0.9% to 6,777.9pts this morning.
DS Smith shares are up 2.4% to 330.3p, while Devro is up 2.9% to 151.2p.
Other risers so far today include Stock Spirits (STCK), up 2.3% to 190.2p, Hilton Food Group (HFG), up 2% to 1,032p and Morrisons (MRW), up 1.5% to 178.7p.
Fallers include Greggs (GRG), down 1.9% to 2,124p, WH Smith (SMWH), down 1.5% to 1,922p and Bakkavor, down 1.3% to 103.6p.
Yesterday in the City
The FTSE 100 continued its rebound from the coronavirus-inspired crash of last week, rising a further 1% to 6,718.2pts yesterday.
Greggs (GRG) ended the day up 3.6% to 2,166p despite warning of a February slowdown in its stellar sales growth as it posted a jump in full year sales and profits yesterday.
It was a good day for retail stocks after their recent plunges, with Marks & Spencer (MKS), up 4.1% to 163.8p, Naked Wines (WINE) up 4.1% to 218.5p, SSP Group (SSPG), up 3.9% to 492p, WH Smith (SMWH) up 3.1% to 1,952p and Tesco (TSCO), up 3% to 235.1p.
Other risers included Eagle Eye Solutions, up 6.2% to 188.5p, Glanbia (GLB), up 6.2% to €11.35, Hilton Food Group (HFG), up 4.9% to 1,012p, Cake Box (CAKE), up 4.2% to 162.5p, Kerry Group (KYGA), up 3.4% to €119.30, British American Tobacco (BATS), up 3.3% to 3,099.5p, and PZ Cussons (PZC), up 3.1% to 190.8p.
Yesterday's fallers included Morrisons (MRW) after more weak market share data, falling 2.2% to 176.1p.
Other fallers included McColl's (MCLS), down 3.2% to 33p, Hotel Chocolat (HOTC), down 1.8% to 405p, Bakkavor, down 0.8% to 105p and Stock Spirits Group (STCK), down 0.8% to 186p.