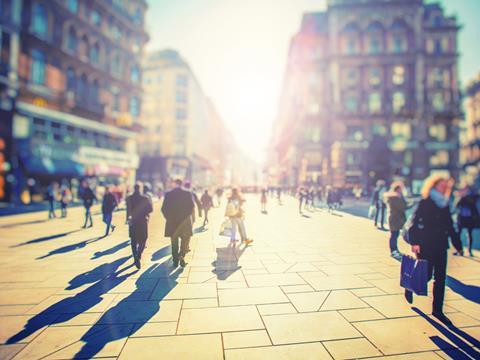 Top story
Good weather and the Easter holidays have failed to stem the decline of the UK's suffering high street, with shopper numbers over the period down again according to BDO.
BDO's High Street Sales Tracker found that UK high street sales declined -0.4% year-on-year in April from a poor comparative base of -3.8% for the same month last year.
It also marked the third month of in-store sales decline so far this year and fifteen months of disappointing sales for the UK's beleaguered high street.
The lifestyle sector saw in-store sales fall by -0.4%, marking the fifteenth consecutive month of no growth, while fashion in-store sales declined by -0.8% from a poor base of -3.3%.
Homeware in-store sales increased marginally by 0.6% in April, but made little indent on the -8.8% like-for-like figures for the same month last year.
As high street sales continue to decline, non-store like-for-like sales grew by 18.3% in April as shoppers continue to gravitate online.
Sophie Michael, head of retail and wholesale at BDO, commented: "Whilst a marginal drop in sales may not on the face of it seem significant, it has to be taken in the context of a low benchmark and, crucially, what should have been perfect shopping conditions last month.
"With record warm weather, Easter holidays and more Brits taking staycations, April should have been a bumper month for high street retailers. Instead, these factors couldn't prevent further decline.
"Real wage growth and low unemployment usually prompt hope for retailers, but these are still not filtering through to spending. Consumer confidence - a key driver for discretionary spend - continues to be at very low levels and is worsening fortunes for the high street."
"With the number of UK companies going into administration hitting a five-year peak and UK store closures set to top 1,000 as the use of CVAs mounts, retailers are looking to May with trepidation to see whether performance on the high street improves."
Morning update
Check out this week's issue of The Grocer for the story of craft brewer Hop Stuff's emergency refinancing plans after it suffers a suspension of production, seven-figures funding boosts for Pasta Evangelists and Coconut Collaborative and how lower staff bonuses at the John Lewis Partnership have swelled profits at Waitrose.
Check out thegrocer.co.uk/finance later this morning for all those stories and more.
In the US, the shares of meat alternatives producer Beyond Meat have surged after the company priced its IPO at the top its guidance.
Beyond Meat raised around US$240m yesterday after pricing its intial public offering at $25 a share and valuing it at just under $1.5bn.
The shares surged on their first day of trading, jumping more than 160% to close at $65.75 and value the company at around $3.8bn at the end of its first day on the Nasdaq stock exchange.
On the markets this morning, the FTSE 100 has recovered 0.2% this morning to 7,368.4pts.
Early risers include Bakkavor (BAKK), up 3.6% to 127.6p, Premier Foods (PFD), up 3.2% to 36.8p, Hilton Food Group (HFG), up 1.6% to 1,020p and McColl's (MCLS), up 1.1% to 85p.
Fallers include Finsbury Food Group (FIF), down 2.3% to 82.1p, McBride (MCB), down another 2.2% to 91.7p and Greencore (GNC), down 0.6% to 223.7p.
Yesterday in the City
A tough day for consumer stocks saw the FTSE 100 drop a further 0.5% to 7,351.3pts yesterday.
Amongst the largest FTSE 100 fallers was Sainsbury's, which dropped a further 3.8% to 222.5p after posting mixed annual results on Wednesday that saw underlying profits rise while headline profits plunged due to one-off items.
Also falling were Bakkavor (BAKK), down 5.1% to 123.2p, Markst & Spencer (MKS), down 4.1% to 278.1p, PZ Cussons (PZC), down 2.9% to 203p, Ocado (OCDO), down 2.4% to 1,345.5p, B&M European Value Retail (BME), down 2.1% to 288p and Imperial Brands (IMB), down 2.1% to 2,358.5p.
The day's largest faller was McBride (MCB), which dropped 10.8% back to 93.8p after issuing another profits warning on the back of the departure of its CEO.
Reckitt Benckiser (RB) lost 0.7% to fall to 6,086p on the back of slightly weaker than expected first quarter sales figures issued yesterday.
One of the day's few risers was European Coke bottler Coca-Cola HBC (CCH), which rose 1.3% to 2,758p after reporting strong first quarter volume and price growth across most regions.
The first quarter results of Kerry Group (KYGA) saw the Irish food group rise 2.6% to €101.00 yesterday, while other risers included Just Eat (JE), up 1.3% to 688.6p, McColl's (MCLS), up 1.1% to 85p and FeverTree Drinks (FEVR), up 0.4% to 3,199p.