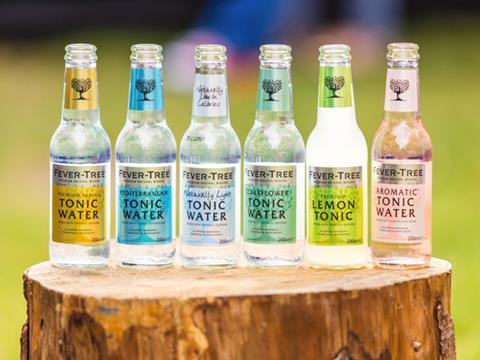 Top story
Revenues at posh mixer brand Fever-Tree (FEVR) fizzed another 73% higher in 2016 to £102.2m, driven by accelerating growth in its domestic UK, helped by a new listing with Asda.
Profits also soared in the year to 31 December as the group strengthened its margins, with a 97% rise in adjusted EBITDA to £35.8m and pre-tax profits of £34.3m, compared with £16.8m in 2015.
Fever-Tree flagged the performance in the UK as particularly strong, but said the high rates of growth were achieved across all regions and all flavours and formats.
UK sales increased by 118% during the period – an acceleration on the 84% jump in 2015 – to make up 44% of group revenues, with the rest generated overseas. The second half of the year recorded growth of 124% thanks to an "exceptional" Christmas period.
The off-trade performance was driven by consistently strong growth across its principal retail customers (Waitrose, Tesco and Sainsbury's), alongside incremental sales generated by the listing at Asda in May 2016. As well as distribution gains, strong underlying organic sales growth was achieved, helped by improved promotional positioning on gondola ends and at the front of stores, Fever-Tree said.
It highlighted the success of the 150ml can format since its launch in June 2015, representing 33% of sales in the off-trade channel in 2016. The range was extended to include elderflower tonic and Mediterranean tonic in the year, with further extensions to follow in 2017.
Fever-Tree also announced this morning that co-founder Charles Rolls is giving up the role of executive deputy chairman to become non-executive deputy chairman at the AGM in May.
CEO Tim Warrillow said: "As co-founder of Fever-Tree, Charles' support and advice will continue to be invaluable to the company. We have an excellent and growing team in place and I personally look forward to continuing to work with Charles as we further build on the success of the brand that we created together 14 years ago."
He added: "2016 has been another exceptional year of growth for Fever-Tree, with strong results achieved across all regions, channels and flavours, emphasising the global appeal of the Fever-Tree brand.
"As the pioneer and market leader of the premium mixer category, in both market share and reputation, our quality, award-winning range of products continues to help drive the momentum towards premiumisation and simple long drink mixability that is transforming both the spirits and mixer categories worldwide.
"We have had an encouraging start to 2017 and remain confident that we are increasingly well positioned to deliver further growth across the business."
Fever-Tree achieved growth of 39% across Continental Europe, 55% in the US and 88% in the rest of the world in 2016.
Dividends recommended to shareholders for the year are more than double the 2015 pay out at 6.3p a share.
Shares dropped 4.2% to 1,401p as markets opened this morning - on the top of losses yesterday (see below) - as shareholders continue to take a profit from the extraordinary growth of the stock in recent years.
Morning update
It's a fairly muted morning for grocery/fmcg stocks - Fever-Tree aside. Booker (BOK) is up 0.7% to 200.9p, Marks & Spencer (MKS) has increased 0.5% to 329.6p so far and Tesco (TSCO) has recorded a 0.5% rise to 190p. Associated British Foods has fallen back 1% to 2,633p, with Ocado (OCDO) down 0.6% to 256.8p and Compass Group (CPG) down 0.5% to 1,508p.
The FTSE 100 has opened almost flat at 7,427.24 points.
Yesterday in the City
Shares in Finsbury Food Group (FIF) failed to rise yesterday after it reported flat sales of £156.m in the first half and warned on continuing inflationary cost pressures. The stock slumped 2.4% to 110.3p despite pre-tax profits rising 5.3% to £7.9m.
It was a fairly quiet day on the markets newsflow wise but SSP Group (SSPG) was the big climber, up 2.1% to 416.4p, followed by Greencore (GNC), up 1.8% to 262.5p, and Sainsbury's (SBRY), up 1.6% to 274.1p.
Associated British Foods (ABF), PZ Cussons (PZC) and Britvic (BVIC) also performed well, up 1.6% to 2,658p, 1.3% to 328.9p and 1.2% to 652.5p respectively.
At the other end of the spectrum, Cranswick (CWK) sank 2.3% to 2,433p, stock exchange darling Fever-Tree (FEVR) suffered a sell-off ahead of this morning's results, down 3.3% to 1,470p, and McColl's Retail Group (MCLS) was down 2% to 185p.
The FTSE 100 just about kept its head above water as Prime Minister Theresa May announced Article 50 would be triggered next week. The index of London's leading shares clawed its way back from the red to finish 0.1% higher at 7,429.81 points.