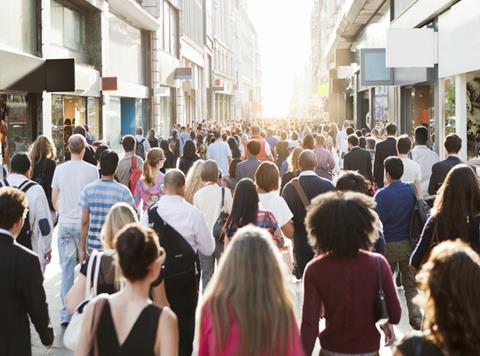 Top story
Consumers avoided the high street in January as footfall declined at its fastest rate since June last year, according the latest data from BRC – Springboard.
Footfall last month was 1.3% down on a year ago, the steepest drop in since the 2.8% slump in June 2016 – and lower than the three-month average of 0.8%.
High street footfall fell 0.8% in January on the year before, when it had risen by 0.2%, below the three-month average of -0.1%.
Traffic at retail parks slipped year on year for the third month on the bounce. However, footfall was up 5.2%.
Shopping centres fell for the 12th consecutive month in January, a further deceleration on the 1.9% decline in December. This is below the three-month average of -2.4%, which is the lowest since August 2015.
The national town centre vacancy rate was 9.4% in January 2017, down from 9.5% in October 2016. This is the lowest rate since January 2016, when it stood at 8.7%.
"The relentless downward trend in footfall picked up pace again in January," said BRC chief executive Helen Dickinson.
"It was a fairly consistent picture across different retail locations; with the high street, which saw a modest bounce back the previous month, failing to draw in shoppers.
"January's sluggish non-food sales, which undoubtedly corresponded with the dip in footfall below last year, go some way to explaining these underwhelming figures. Stores bore the brunt of the sales slowdown; posting their deepest three-month decline on record as online was the preferred shopping channel for the month's clearance sales."
She added that as customers seek more experiential visits to stores, retailers are being held back from making the required investment by rising business rates.
"This disincentive needs to be removed and the burden reduced thereby encouraging, rather than deterring, investment to the benefit of those local communities most impacted," Dickinson said.
Diane Wehrle, marketing and insights director at Springboard, added: "The -1.3% drop in footfall across the UK's bricks and mortar destinations in January may be a sign of tougher things to come in 2017. Not only was it a noticeably larger drop than the -0.2% in December; but it was the steepest decline since June 2016, when footfall was impacted in the preceding weeks and in the immediate aftermath of the EU referendum.
"The results are consistent with longer term footfall trends, with an underperformance of shopping centres against high streets and retail parks. Of significance is that footfall is correlating closely with retail sales, with all sales results published so far showing a poorer performance in January than in January 2016. Springboard's own data on bricks and mortar sales showed a -1.5% drop in January from January 2015."
Morning update
It's a very quiet start to this half-term week, with little newsflow on the London Stock Exchange.
The FTSE 100 opens a touch higher (0.1%) at 7,266.89 points on this Monday morning. The big risers in grocery and fmcg are Associated British Foods (ABF), up 2.2% to 2,553p, Finsbury Food Group (FIF), up 1.7% to 121p, Tate & Lyle (TATE), up 0.5% to 720p and Marks & Spencer (MKS), up 0.5% to 343.4p.
McColl's Retail Group (MCLS), Diageo (DGE), Reckitt Benckiser (RB) and Coca-Cola HBC (CCH), which reports annual results this week, are all in the red so far, down 2% to 181.43p, 0.5% to 2,243p, 0.5% to 6,990p, and 0.3% to 1,820p respectively.
This week in the City
It is looking like a slow week in London as the school's break up for half-term.
The only scheduled update come on Thursday as Coke bottler Coca-Cola HBC reports full-year results. The FTSE 100 firm is confident in meeting its full-year expectations despite reporting lower sales volumes in the third quarter.
Internationally, Kraft-Heinz releases details of its fourth quarter and full year on Wednesday; and brewer Molson Coors publishes Q4 results on Tuesday.