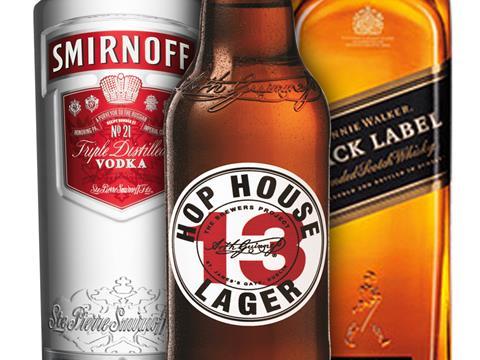 Top story
Britons thirst for gin has helped Diageo (DGE) to report better-than-expected growth in its first half as Tanqueray gained market share in the growing category and Gordon's benefitted from the launch of its Pink variant.
Group profits at the Smirnoff, Johnnie Walker and Guinness owner accelerated faster than revenues in the six months to 31 December as higher investment in marketing its brands was more than offset by cost saving programmes.
Reported net sales of £6.5bn were 1.7% ahead of the prior year and operating profits rose 6.1% to £2.2bn, but Diageo said that organic growth was partially offset by a strengthening pound against the dollar and other currencies.
"These results demonstrate continued positive momentum from the consistent and rigorous execution of our strategy," CEO Ivan Menezes said.
"We have delivered broad based improvement in both organic volume and net sales growth. We have increased investment behind our brands and expanded organic operating margin through our sustained focus on driving efficiency and effectiveness across the business.
"By consistently delivering on our six strategic priorities, Diageo continues to get stronger: we have better consumer insight through superior analytics, improved execution on brand and commercial plans and have embedded everyday efficiency across the business through our productivity initiatives. This has enabled continued growth, improved agility, and consistent cash flow generation.
"Our financial performance expectations for this year remain unchanged. We are confident in our ability to deliver consistent mid-single digit top line growth and 175bps of organic operating margin improvement in the three years ending 30 June 2019."
Sales in Europe registered growth of 4% in the half to £1.5bn, largely driven by Great Britain and Continental Europe, with continued share gains in spirits.
Revenues in the UK jumped 7% thanks to growth in gin and beer. Tanqueray delivered strong double-digit net sales growth and gained 70 basis points of share and Gordon's benefitted from the launch of its Pink variant.
Guinness net sales increased 8% and gained 20bps of share, driven by a strong performance in Guinness Draught and Hop House 13 Lager. Scotch net sales also recorded double-digit growth mainly driven by scotch malts and Johnnie Walker supported by the seasonal 'Christmas lights' campaign.
Net sales in Ireland were flat, with Guinness up 1%, driven by the continued success of Hop House 13 Lager and the launch of the 'Behind every town' campaign across the country, offset by other beer brands where net sales declined 3%. In spirits, net sales were up 13% largely driven by strong performance in Gordon's and Tanqueray in gin.
Shares in Diageo have increased 0.7% to 2,561p so far this morning.
Morning update
Greene King (GNK) echoed the weather woes of rival pub group Marston's as its Christmas and New Year sales were disrupted by snow.
The Old Speckled Hen and Abbot Ale maker said it traded well in the two weeks covering Christmas and New Year's Eve, in line with the market and against a strong period last year, with like-for-like sales growth of 1.6%.
However, growth would have been 3.4% if it wasn't for snow, which also wiped £1m from Marston's profits in the period, as announced earlier this week.
Greene King added that it registered another record breaking Christmas Day in its pub company division with sales of £7.6m, up 2.6% on last year, and 154,000 meals sold.
Pub company like-for-like sales for the 37 weeks to 14 January were down 1.4%, with drink and room sales ahead of last year but food dragged.
Pub partners like-for-like net profits for the first 36 weeks of the year was up 0.2% while brewing & brands own-brewed volume was -0.9%, against a weak ale market down 3%.
"Greene King has industry-leading brands, a strong and flexible balance sheet, and a sustainable dividend, leaving us well placed given the challenging market conditions," the group said in the trading statement.
Shares in the business are down 0.7% to 523.2p this morning.
Yesterday in the City
Shares in Fever-Tree (FEVR) soared more than 6% yesterday morning after the posh tonic brand upgraded its profit forecasts for the 12th time since it listed in 2014. The business said this morning that it expected full-year revenues for 2017 to be about £169m, reflecting growth of 66% on 2016 with sales in the second half expected to be ahead of the prior year period by 58%. However, the stock ended the day down 1% to 2,409.6p as investors bagged profits.
Hotel Chocolat (HOTC) sank 5.8% to 325p despite a double-digit sales rise over Christmas.
WH Smith (SMWH) recovered from a 5% fall to end the day just 0.1% behind at 2,130p. Investors were left disappointed after lacklustre sales of spoof humour books contributed to a 4% decline of sales on the high street. However, the travel division, which accounts for almost two thirds of the group's annual profit, grew like-for-like sales 3% in the 20 weeks to 20 January.
Greencore (GNC), Compass Group (CPG) and Diageo (DGE) were among the biggest casualties yesterday, down 4% to 215p, 2.2% to 1,511.5p and 2.1% to 2,549p respectively.
Tobacco groups Imperial Brands (IMB) and British American Tobacco (BAT) fell 1.7% to 2,929.5p and 2% to 4,998.5p.
SSP Group (SSPG) fell back 2.2% to 680p after a more than 6% jump on Tuesday following a strong start to its new financial year.
Sainsbury's (SBRY) and Tesco (TSCO) were both up following announcements earlier in the week of big structural changes to its management team and thousands of potential redundancies, with the former up 0.6% to 258.6p and the latter up 0.2% to 210.1p.