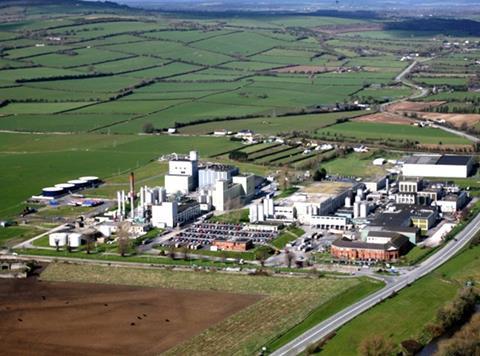 Top story
Irish food group Glanbia (GLB) has shaken off difficulties in the global dairy market to deliver a double-digit rise in earnings for the year to 2 January 2016.
Group EBITA in the wholly owned business up 10.5% on a constant currency basis to €271m, representing a rise of 29.9% on a reported basis.
Revenues for the year were up 9.3% to €2.77bn, but down 3.6% on a constant currency basis.
Siobhán Talbot, group MD said: "I am pleased to announce the sixth consecutive year of double digit growth for Glanbia in 2015 with a 10.6% increase in adjusted earnings per share, constant currency. On a reported basis earnings per share grew by 29.4% reflecting the translation effect of a strong US dollar.
"The results demonstrate the resilience and diversification of the Glanbia model during a difficult year for dairy markets. Glanbia Performance Nutrition was the main driver of earnings growth supported by Dairy Ireland which saw a recovery in performance in 2015."
Glanbia Performance Nutrition saw revenues increase by 6.7% to €923.1m reflecting volume growth of 1.5%, the impact of acquisitions of 7.8% and a net pricing decline of 2.6%.
Global Ingredients struggled as a result of difficult dairy markets which impacted US cheese and ingredient technologies. The division's revenues decreased 12.8% to €1.22bn.
Dairy Ireland delivered a "good performance" driven primarily by Consumer Products. Revenues increased 2.7% reflecting a 1.8% increase in volumes and a 0.5% decline in pricing.
For 2016 Glanbia expects to achieve an 8% to 10% increase in adjusted earnings per share in 2016, constant currency. Glanbia Performance Nutrition is expected to be the main driver of group performance as it continues to drive branded revenue growth from increased channel penetration and innovation.
Glanbia shares are currently up 1% this morning to €18.48 in London.
Morning update
This morning also sees a half yearly report from household goods manufacturer McBride. The private label manufacturer reported that revenue increased by 0.4% on a constant currency basis in the six months to 31 December 2015. On a reported basis, revenues were 5.6% lower due to the impact of a weaker Euro on translated results.
Group adjusted operating profit increased 57.1% on a constant currency basis (40.8% on a reported basis). Sales in its household division were 0.9% higher and represented 80% of group revenues – however household saw a 8.2% revenue fall in the UK driven by lower private label sales and the end of some contract manufacturing business. Personal care/aerosols saw a 1.5% sales decline, with a weak UK offset by good gains in Eastern Europe and strong growth in Asia.
CEO Rik De Vos, Chief Executive Officer said after the first half McBride now expects full year earnings to be "modestly ahead" of previous expectations.
He said: "We are pleased with our progress in the first half and the improved profitability following the launch of our strategic transformation plan. The commitment and focus of the McBride team on the execution and delivery of our objectives is very encouraging and a critical aspect for future success. The ongoing actions of our "Repair" phase, which in part will result in lower second half revenues, are nevertheless expected to provide further progress in profitability."
Additionally, chairman Iain Napier will retire at the end of June this year after nine years in the position.
McBride shares have leapt 10.7% in morning trading so far to 171p, closing in on the shares' annual high of 176p.
Overall the FTSE 100 has fallen again today, currently down 0.5% at 5,934.7pts as the mining firms fall further still.
Most major grocery and fmcg stocks are edging downwards, but Associated British Foods (ABF) is up 0.5% to 3,313p and Morrisons (MRW) is up 0.3% to 182.7p.
Amongst the sector's biggest fallers are Hilton Food Group (HFG), down 1.8% to 506p, and Cranswick (CWK), down 1.4% to 1,959p.
Yesterday in the City
The FTSE 100 was back down 1.3% to 5,962.3pts yesterday as the price of oil dipped once more on Saudi Arabia's refusal to limit oil production.
Although the energy and mining firms were the main fallers, the UK grocers were all down yesterday amid their refusal to join Asda's Andy Clarke in signing the pro-EU business letter published yesterday.
Tesco (TSCO) was 2.8% down to 179.6p, Morrisons (MRW) 1.2% down to 182.7p and Sainsbury's (SBRY) 1.1% down to 252.4p. Marks and Spencer, whose boss Marc Bolland did sign the letter, was also down 1.4% to 421.1p.
Other notable fallers included Majestic Wine (MJW), 2.4% down to 386.6p, AG Barr (BAG), 1.8% down to 495p and ahead of this morning's update McBride (MCB), which was 1.9% down to 154.5p.
One company enjoying a better day was Kerry Group, which saw its shares rise 4.2% to €73.81 after seeing a solid rise in full year earnings and revenues last year.
In Paris Danone was also on the up after its full-year results, climbing 4% to €63.37.
Elsewhere there were rises at Nichols (NICL), up 3.8% to 1,282p and McColl's Retail Group (MCLS), up 2.2% to 138.3p.