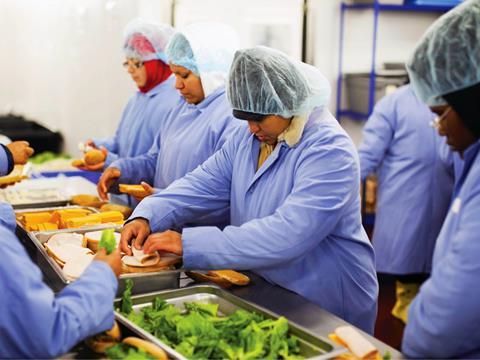 Top story
Revenues at sandwich maker Greencore (GNC) have soared 46.1% to £1bn in the first half thanks to its "transformational" acquisition of Peacock Foods in the US and strong continued growth of food-to-go in the UK.
EBITDA in the six months to 31 March 2017 increased 31.2% to £79.1m and operating profits rose 27.1% to £55.3m. However, pre-tax profits fell by 44% to £20.8m after the group absorbed exceptional costs of £20.5m, mostly related to the $750m Peacock deal struck in November last year.
Net debt also leapt by more than £240m to stand at £557m at the period end as a result of the acquisition of the US food manufacturer.
Greencore's US sales rocketed 221% in the period to £324.6m and by 2.5% when the benefits of the Peacock transaction were stripped out.
In the UK, revenues jumped 16.1% to £685.7m as food-to-go business continued to drive growth, along with new business wins – with Greencore taking over the supply of Sainbury's sandwiches from rival Adelie.
CEO Patrick Coveney said: "This has been a transformational period for Greencore following the acquisition and integration of Peacock Foods in the US.
"Against a backdrop of considerable change across the Group, we are pleased to be reporting strong revenue and profit growth for the first half of the year.
"In the UK, we have delivered significant expansion and investment following recent new long-term business wins, as our food to go business continues to grow rapidly. In the US, the addition of Peacock Foods has transformed our market and channel position and has given us a growth platform of real scale.
"The enhanced capabilities, product offerings, and customer relationships that have been added to the group in a short space of time, combined with the strength of our underlying business, mean that we are confident of making further progress in FY17 and beyond."
Greencore is confident of further strong growth in the second half as it benefits from a full-period contribution from Peacock, which has annual revenues of about $1bn.
However, the group is now more exposed to currency fluctuations in the pound and the dollar. The group said if the current rates were sustained, it would result in a "modest" adverse impact on translated US profits in the second half.
Greencore shares have recovered from losses yesterday (see below) to surge 6.6% to 242.3p so far this morning.
Morning update
Pork and poultry supplier Cranswick (CWK) has published a record set of results thanks to significant growth in exports, rising UK pig prices and contributions from recently acquired businesses. Revenues in the year ended 31 March jumped 23% to £1.2bn, with like-for-like sales up 13% and volumes 15% higher than the prior 12 months.
Alongside record sales, pre-tax profits increased 17% to £75.5m from £64.4m previously.
Total sales of fresh pork overseas increased 38.4% in the period, reflecting growth in Far Eastern markets of 49.3% together with a 14.6% increase into other export markets. Cranswick said the strong growth in shipments to the Far East reflected an increase in pig numbers processed at its three primary processing facilities, growth in the number of products being supplied and strong prices.
A 34% rise in UK pig prices during the year – increasing steadily through to the end of December before stabilising through the final quarter – helped fuel growth, although savings were passed on to its retail customers. This jump was in direct contrast to a year earlier when pig prices fell by 15% over the course of the year.
The £40m acquisition of Crown Chicken in April 2016 and the purchase of Dunbia's Northern Irish pig business in November contributed to overall growth at the group. Poultry revenues, which accounted for 11% of the group total, increased by more than 180%. Excluding Crown, like-for-like revenue growth was 17.7%, which Cranswick said was "comfortably ahead" of the overall UK market for poultry.
CEO Adam Couch said: "We have reported another year of strong growth in financial results, during which we have also made further strategic and commercial progress.
"We enter the new financial year in excellent shape having added to our asset base, enhanced market positions and successfully integrated our two strategically important acquisitions during the last twelve months. We have further strengthened the solid foundations of our business and we believe we are well placed to continue to deliver sustainable organic growth going forward."
Cranswick invested a record amount (£47m) in capital expenditure during the year to support its strong growth pipeline. Despite acquisitions and capex spending, net debt at the group fell by £6.8m to £11m at the year end.
The recommended final dividend at the group increased by almost 20% to 31p.
Shares in Cranswick are up 1.2% to 2,859p since markets opened at 8am.
An AGM statement at UK-listed Stock Spirits Group (STCK) said its performance from 1 January to 23 May 2017 had been "satisfactory" and expectations for trading for the full year remain unchanged and in line with current market expectations. The European branded spirits and liqueurs producer added that the vodka market in Poland recorded a slight decline in both value (-1.0%) and volume (-1.5%) versus the first quarter of last year, driven in part by the timing of Easter being later in the calendar this year. Growth in the flavoured vodka market was negated by a decline in the clear vodka market.
During the period, the company signed a new contract with Beam Suntory for the distribution of their brands in Slovakia, including Jim Beam, Courvoisier, and Maker's Mark. In the UK, it announced a new partnership with Distell for it to distribute a range of Stock Spirits' brands, including Amundsen Expedition Vodka, Żołądkowa de Luxe crystal clear vodka, Żołądkowa Gorzka, Lubelska, Stock XO brandy and Limoncè.
Yesterday in the City
A quiet day on the stock exchange for UK grocery and fmcg stocks yesterday.
Greencore was one of the few shares down sharply ahead of this morning's half-year results, falling 1.9% to 227.1p. Cranswick was also down 0.1% to 2,821p as it got ready to publish its finals today. Fellow meat supplier Hilton Food Group (HFG) also slumped 2.9% to 748p.
It was a better day for the majority of the retailers, with online grocer Ocado (OCDO) leading the way, leaping 3.6% to 300.8p.
Marks & Spencer (MKS) raced 2.8% higher to 395.8p despite a fresh slump in clothing sales and a fall in annual profits expected to be revealed on Wednesday.
Sainsbury's (SBRY), Tesco (TSCO) and Morrisons (MRW) were up 1.4% to 278p, 1.3% to 185p and 1.1% to 245.2p.
B&M European Value Retail (BME) made gains of 1.3% to 363.3p as the City prepares for its full-year figures on Thursday. TATE & Lyle (TATE) also jumped 1.4% to 788.5p ahead of results due this week.
Other risers included Dairy Crest (DCG), back up 3.4% to 606p after results-related falls last week, Booker (BOK), up 1.6% to 201.5p, and WH Smith (SMWH), up 1.4% to 1,799p.
The FTSE 100 surged back towards the 7,500 points barrier as the pound weakened – up 0.3% to 7,496.34 points.