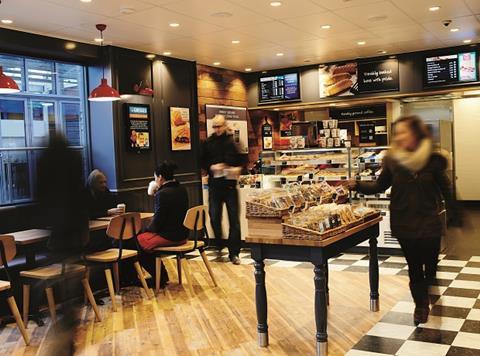 Top story
Greggs (GRG) has reported another solid rise in annual sales and profitability, but has announced it will reduce its manufacturing staff base as it looks to grow its supply chain and mitigate rising cost pressures.
The bakery chain grew total sales by 7% to £894.2m in 2016, representing company managed shop like-for-like sales growth of 4.2% as it continued to build strength in the food to go market.
Underlying operating profit, excluding property profits and exceptional items, grew by 8.6% to £78.1 million, while pre-tax profit (including exceptional items) grew by 2.9% to £75.1m.
CEO Roger Whiteside said Greggs had "delivered another strong performance as we continued on our journey to transform Greggs from a traditional bakery business into a modern, attractive food-on-the-go retailer".
However, he warned: "The UK consumer outlook is more challenging than we have seen in recent years, with industry-wide pressures emerging in commodities as well as labour costs."
Despite these growing pressures, trading in the year so far has been in line with expectations. Company-managed shop like-for-like sales in the eight weeks to 25 February 2017 are up by 2% and total sales up 5.8%. Excluding the effect of the timing of New Year, which fell outside the comparative period this year, company-managed shop like-for-like sales have grown by 2.9%.
Chairman Ian Durant added: "In the short term we face a period of greater economic uncertainty and increased pressure from cost inflation.
"We have highlighted the changes necessary to support the ongoing strategic realignment of the business, including the major investment programme under way to grow our supply chain. This will involve some difficult changes for some of our colleagues, but is essential to support the long-term competitiveness of the business."
Greggs said in January it informed staff its investment phase across its remaining bakery sites included consolidating manufacturing operations.
"Overall our expansion plans will create thousands of new roles in retail and distribution operations, but will result in fewer roles in manufacturing. We have therefore entered into consultation with trade unions and employee representatives over the detail of these proposals."
Its £100m five-year investment programme is aimed at increasing capacity and efficiency in shop distribution to support shop growth alongside improved quality and efficiency in bakery manufacturing by centralising production.
Whiteside said: "Once implemented this new supply chain platform will substantially improve product quality, our competitiveness and, alongside system investment, will complete our transformation from traditional bakery to food-on-the-go. This is our largest ever investment in our supply chain, reaffirming our strategic commitment to the competitive advantage offered through vertical integration and delivering an attractive return on investment."
Greggs said it continues to see opportunities to increase its estate to substantially more than 2,000 shops and in 2016 we opened 145 new shops (including 56 franchised units) and closed 79, growing the estate to 1,764 shops.
It completed 208 shop refurbishments during the year and in total 92% of its shop estate now operates in a food-on-the-go format. In the year ahead its plans to refurbish another 200 shops, completing the conversion of our legacy bakery shops and starting to refresh older food-on-the-go shops.
Greggs shares have dropped 2.7% to 983.5p so far this morning on the news.
Morning update
South African retail group Steinhoff has reported a 45% revenue increase in its third quarter to €5.3bn, boosted by €1.3bn of revenue from its recent Poundland acquisition in the UK.
The company does not split out Poundland's performance, but Markus Jooste, CEO of Steinhoff commented: "The Poundland business's performance was ahead of the value creation plan and positive like for like sales was achieved for the quarter."
GfK's Consumer Confidence Index has decreased again by one point this month to -6 as rising prices and weak earnings growth hit consumers.
Three of the five measures saw decreases in February, and two measures saw increases.
The forecast for personal finances over the next 12 months has decreased by four points this month and is now five points lower than February 2016. Expectations for the general economic situation over the next 12 months have increased three points this month, but remains eight points lower than February 2016.
Joe Staton, Head of Market Dynamics at GfK, commented: "Against a backdrop of rising food and fuel prices, sterling depreciation, nominal earnings growth and a burgeoning fear of rapid inflation, concern about our personal financial situation for 2017 has contributed to a drop in UK consumer confidence this month."
"Any momentum behind the post-Brexit, debt-fuelled, consumer-spending boom now appears to be softening. Mounting pressures on disposable income are starting to bite as witnessed by two months of falling retail sales (ONS) and a further drop in the Major Purchase Index (this month down by five points)."
"Consumer spending continues to drive economic growth in the UK so any further fall in confidence could support forecasts for a slowdown of the overall economy this year."
On the markets this morning, the FTSE 100 is flat at 7,254.7pts.
Early movers include Hotel Chocolat (HOTC), up 2.6% to 293.5p, Glanbia (GLB), up 2.4% to €18.12, Marks & Spencer (MKS), up 2.2% to 336.3p and Applegreen (APGN), up 1.8% to 412.3p.
Along with Greggs, fallers include Majestic Wine (WINE), down 1.7% to 325,8p, Hilton Food Group (HFG), down 1.3% to 630p and Morrisons (MRW), down 1.1% to 241.1p.
Yesterday in the City
The FTSE 100 had a quiet start to the week yesterday, edging up 0.1% to 7,253pts.
Associated British Foods (ABF) was down 0.9% to 2,587p yesterday despite announcing its full-year profits would be significantly boosted by the recovery of its AB Sugar business.
Convenience retail group McColls (MCLS) was unchanged at 177p after announcing a 1.9% rise in full-year sales to £950.4m despite a 1.9% fall in like-for-like sales and a drop in headline profits.
Mcbride (MCB) jumped 7.1% to 188p after announcing a jump in half year profits last week, while Conviviality (CVR) was up 2% to 279.3p.
Other strong risers included Greencore (GNC), up 1.6% to 256p, Unilever (ULVR), up 1.5% to 3,831p, B&M European Value Retail (BME), up 1.1% to 296.5p and WH Smith (SMWH), up 1% to 1,679p.
Fallers included Cranswick (CWK), down 1.3% to 2,310p, Produce Investments (PIL), down 4.3% to 191.5p, Hilton Food Group (HFG), down 3.6% to 638p, Nichols (NICL), down 2.4% to 1,651p and Majestic Wine (WINE), down 2.1% to 331.5p.