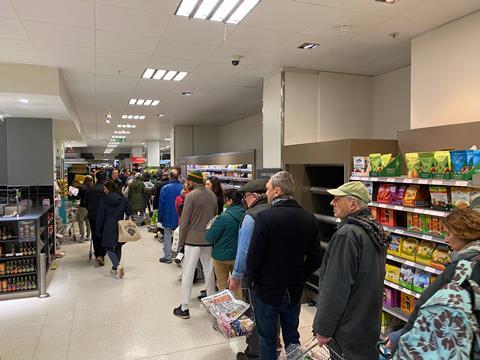 Top story
Grocery sales have surged to the highest level in more than a decade amid the UK coronavirus lockdown, with industry growth at more than 20% in the past four weeks.
The latest grocery market share figures from Kantar show year-on-year supermarket sales growth reached 7.6% in the 12 weeks to 22 March.
This was driven by market growth of 20.6% during the past four weeks, making March the biggest month on record for grocery sales.
Growth was driven by people shopping more frequently and buying slightly more, with the average household spending an extra £62.92 during the past four weeks
A total of 88% of British households visited a supermarket between Monday 16 and Thursday 19 March, making 42 million additional trips during that time.
Fraser McKevitt, head of retail and consumer insight at Kantar, comments: "It has been an extraordinary month and social distancing measures have had a profound impact on all our daily lives – from the way we work and socialise, to how we shop and care for our loved ones.
"Retailers and their staff have been on the frontline as households prepare for an extended stay at home, with grocery sales amounting to £10.8 billion during the past four weeks alone – that's even higher than levels seen at Christmas, the busiest time of year under normal circumstances."
All ten of the largest retailers were simultaneously in growth during the past 12 weeks – the first time this has happened since October 2018.
Of the big four, Sainsbury's (SBRY) was up 7.4%, Tesco (TSCO) by 5.5%, Asda by 4.9% and Morrisons (MRW) by 4.6%.
Lidl was the supermarket with the highest overall growth at 17.6%, followed by Iceland at 11.7%, Aldi at 11% and Co-op at 9.4%.
Ocado (OCDO), meanwhile, grew online sales by 12.5% despite capacity contraints, while symbols and independents were up 16.1% in the 12-week period.
Fraser McKevitt added: "It's inevitable that shoppers will add extra items to their baskets when faced with restrictions on their movement and possible isolation if one of them becomes unwell, but many families are also adjusting to having more mouths to feed.
"We expect restrictions on movement and relatively full grocery cupboards will mean the incredibly high levels of shopping trips made in March will drop off over the coming weeks. Regular trips to smaller local stores are likely to continue, as people avoid travelling and queues at stores with one-in-one-out policies in place.
"While much-reported panic buying has been concentrated to a relatively low number of individuals so far, we anticipate that this too will subside as consumers gain confidence in the retailers' abilities to maintain grocery supplies and keep stock on the shelves."
Meanwhile, grocery market share figures from Nielsen found British consumers made over 79 million extra grocery shopping trips in the last four weeks, with total till sales at supermarkets surging to 20.5%.
The uptick in sales was particularly pronounced in the week ending 21st March, which saw a massive 43% weekly growth in sales.
While stockpiling continues, Nielsen found that over the four week period ending 21st March, shoppers typically added just one extra item to their basket during each shopping trip, with the average shopping basket increasing from 10 items to 11 items, and average basket spend rising from £15 to £16 during this same period. Shoppers also made three additional shopping trips during this period, and in total that equates to 79 million more shopping trips than the same time last year, all of which adds up to an extra £1.9bn spent on groceries.
In terms of category performance, Nielsen data shows that in the last week of February and the first week of March, shoppers focused on 'stockpiling' necessities, such as medicines for the family, cleaning supplies, household and pet care items and ambient groceries (shelf stable food).
However, in the week ending 21 March, many shoppers had already stocked up their cupboards and pantries with the necessities, and then began to prepare for the 'lockdown' by filling their freezers as well. Sales of frozen food during this week rose by 84% compared to the same period last year.
In terms of retailer performance, all UK supermarkets experienced significant growth in sales over the four week period. Moreover, online grocery sales began to pick up and increased by 14% in the four week period, with two in 10 households shopping online - this represents 600 thousand new households shopping online compared to the same period last year with an additional 1.2m online grocery orders placed over the four weeks.
Mike Watkins, Nielsen's UK Head of Retailer and Business Insight, said: "With households making almost three extra shopping trips in the last four weeks, this small change in individual shopping behaviour has led to a seismic shift in overall shopping patterns. As well as increased store visits, consumers opted to shop online - many for the first time. However, unlike stores there is a finite capacity for online grocery shopping, due to warehouse capacity and available delivery slots, and this will have limited the growth of online sales."
Morning update
Vimto owner Nichols (NICL) has said that the global spread of the coronavirus and the restriction of movement of people worldwide will have a "significant impact" on its 2020 performance.
It said trading in the first two months of the financial year was in line with management's expectations. However, it has withdrawn financial guidance for the year, given the uncertainty about the impact of the virus.
As a results it has cancelled its final dividend announced on 26 February 2020 of 28p per share expected to be paid on 1 May to save £10.4m over the "seasonally critical spring and summer period".
Nichols said it continues to plan for multiple scenarios and explore various ways to mitigate the impact of reduced demand on the business for a potentially sustained period.
"Whilst the group operates a co-packing and licensing model and is therefore asset light, the board is taking steps to remove cost, including the re-evaluation of its marketing spend given the changed circumstances, postponing non-essential recruitment and suspending non-critical capital expenditure from the business."
Non-exec chairman John Nichols stated: "Our first and most important objective remains to protect the health and wellbeing of our employees and customers. At this most challenging time, the Vimto family has once again demonstrated its values and commitment and I would like to wholeheartedly thank all our teams for their current and future efforts.
"With a heritage of 112 years, Nichols has successfully weathered significant challenges and changes across global markets before. Driven by the strength of the Group's brands, robust balance sheet and diversified business model, the Board remains absolutely confident in Nichols' ability to both manage the near term pressures impacting the global economy and emerge from this unprecedented period well-placed to continue to deliver the Group's long-term growth plans."
WH Smith (SMWH) has announced that its hospital stores across the UK will be stocking an extended range of grocery products in collaboration with Sainsbury's to "support the needs of NHS staff and make it easier for them to buy food and essential items".
The agreement between the two retailers will bring over 90 additional Sainsbury's products into 80 WHSmith stores in hospitals, including essentials such as toilet roll, pasta, UHT milk and long-life food products.
WH Smith said this new offering will enhance the convenience of its hospital stores for NHS staff, helping them access essential grocery products more easily at this critical time.
NHS staff will continue to receive a 20% discount on all products in WHSmith hospital stores, including the Sainsbury's items.
The offer builds on WHSmith and Sainsbury's existing partnership, having previously worked together to trial a number of different food and grocery ranges in WHSmith stores.
Toby Keir, MD at WHSmith travel business, said: "We are so grateful for the exceptional efforts and commitment of our NHS staff and are delighted to extend our support across WHSmith hospital stores to make their days a little easier. I would also like to thank our amazing store colleagues who are going above and beyond to ensure we are able to continue supporting our hospital communities at this critical time."
Michael Luck, director of business development at Sainsbury's, said: "Our phenomenal NHS staff are working incredibly hard to keep us all safe and well. We hope that by bringing some essential Sainsbury's grocery products to WHSmith stores in hospitals we'll make it a little bit easier for them to access the products they need most."
Domino's Pizza Group has announced the appointment of Dominic Paul as CEO.
He will joins as CEO (designate) on 6 April 2020 and will become CEO on 1 May.
Paul most recently served as CEO and MD of Costa Coffee. He led the Costa brand from 2016 to 2019, overseeing its growth ahead of the £3.9bn sale of the business by Whitbread to Coca-Cola last year.
Prior to this, he was senior vice president of international with Royal Caribbean Cruise Line where he led the business through a period of strong growth. His experience in the travel and leisure industry also includes senior roles at Easyjet, British Midland and British Airways.
Paul will replace David Wild who has previously announced his intention to retire from the business.
Matt Shattock, Chairman, said: "We are delighted to have attracted a CEO of Dominic's calibre, and I'm very much looking forward to working with him. He is a high energy leader with great experience of driving powerful consumer brands to new heights, and of partnering with franchisees. These are the skills which will be vital as we seek to take this business to the next level."
Dominic Paul added: "I am hugely excited to be joining Domino's. It is a much-loved brand with great people and some of the best franchisees in the world, and there is a strong foundation to build on. I am confident that we can take the business to the next stage of its development, and build a long term and profitable future for our franchisees, colleagues, customers and shareholders."
Imperial Brands (IMB) has announced a new €3.5bn (£3.1bn) multi-currency revolving credit facility.
The new facility was coordinated by NatWest, Santander and SMBC and is provided by a syndicate of 20 banks.
It provides the business with committed bank financing until March 2023 and replaces the existing £3bn revolving credit facility. billion RCF.
The new RCF has a maturity structure that "brings benefits to both Imperial and our lenders, with an initial 3-year term and rolling, automatic, bi-annual extensions". Its outstanding bonds have a staggered maturity profile out to 2032 with limited maturities falling due in any one year.
Additionally, Imperial Brands said the coronavirus crisis has so far had "no material impact on group performance to date" and current trading "remains in-line with expectations".
It stated: "Our primary focus is to protect the health, safety and well-being of our employees. Our operations benefit from a diversified supply chain and factory footprint, which is prioritising the manufacture of major product lines to build contingency stocks."
It said its distribution business, Logista, which serves Italy, France and Spain has increased the levels of finished goods stock in its regional distribution hubs and continues to deliver product to retailers.
Meanwhile, British American Tobacco (BATS) has issued bonds in the US worth US$2.4bn, consisting of US$900m of 4.7% notes due 2027, US$1bn of 4.9% notes due 2030 and US$500m of 5.8% to notes due 2050.
BAT intends to use the net proceeds of the offering of the Notes for general corporate purposes, including the potential repayment of upcoming maturities.
On the markets this morning, the FTSE 100 has recovered another 1.8% to 5,661.3pts.
Risers so far this morning include Imperial Brands, up 8.6% to 1,447.2p, PayPoint, up 7% to 535p, Marks & Spencer (MKS), up 7% to 105.9p, Marston's (MARS), up 6.7% to 39.2p, WH Smith, up 6% to 1,123p and Greencore (GNC), up 5.1% to 169.3p.
The small number of early fallers include Nichols, down 4.6% to 1,140p after its trading update and dividend cut this morning, Pets at Home (PETS), down 1.4% to 259p and PZ Cussons (PZC), down 0.2% to 187.6p.
Yesterday in the City
The FTSE 100 started the week on a mildly positive note, rising 1% to 5,563.7pts yesterday.
Strong FTSE 100 performers included Reckitt Benckiser (RB), up 3.2% to 6,200p, Diageo (DGE),. Up 2.7% to 2,574.5p and Unilever (ULVR), up 2.2% to 4,016p.
Other risers yesterday included Devro (DVO), up 8.7% to 155p, Kerry Group (KYGA), up 5.1% to €103.00, Cranswick (CWK), up 4.4% to 3,632p, Nichols (NICL), up 3.2% to 1,195p, Hotel Chocolat (HOTC), up 3.2% to 255p, Glanbia (GLB), up 3.2% to €9.52, Tate & Lyle (TATE), up 2.2% to 620.2p and McBride (MCB), up 2.1% to 58.7p.
Non-food retailers and leisure groups continued to struggle, with double digit share price falls for Restaurant Group (-13.8%), Dixons Carphone (-12.7%) and Ted Baker (-10.7%).
Forecourt trading Applegreen was caught in the retail sell-off, falling 9.5% to 181p, while pub groups Marston's (MARS), lost another 8.2% to 36.7p and Mitchells & Butlers (MAB) fell 7.7% to 172.8p.
Key UK sandwich and food to go suppliers Greencore (GNC) and Bakkavor (BAKK) fell once again as booming ready meals sales fail to compensate for lost sandwich sales – Greencore fell 5.9% to 161p and Bakkavor was down 6.1% to 98.9p.
Other fallers included Stock Spirits Group (STCK), down 7.4% to 153.2p, Cake Box (CAKE), down 5% to 113.5p, Associated British Foods (ABF), down 3.5% to 1,743p, Naked Wines (WINE), down 3.1% to 252p, PayPoint (PAY), down 2.7% to 500p, Domino's Pizza Group, down 2.4% to 268.4p and WH Smith (SMWH), down 2.3% to 1,059p.