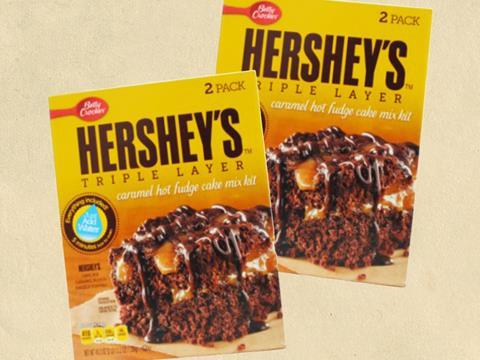 Top story
Hershey (HSY) said last night it had "unanimously" rejected an initial takeover approach from Mondelez International (MDLZ).
Hershey's stock jumped 16.8% yesterday to $113.49 after news emerged of a bid from Mondelez, but Hershey said its board had "unanimously rejected the indication of interest and determined that it provided no basis for further discussion between Mondelēz and the company."
It said the initial offer from Mondelez was a mix of cash and stock totalling $107 per share, valuing the company at US$23bn. The bid also includes other non-monetary considerations.
Hershey added: "The company's board of directors and management team are committed to enhancing value for all stockholders in accordance with the company's strategic plan."
Morning update
Seven days ago the market was waking up to the Brexit earthquake, but it's a much quieter morning a week later with no announcements of note on the market.
The Grocer has the story that the private equity owner of Bernard Matthews has put the turkey giant up for sale and appointed PwC to lead the process. See the full story here.
Meanwhile, The Grocer writes that UK food and drink assets could be less attractive to foreign buyers in the wake of the shock outcome of the EU referendum. See the full story here.
The FTSE 100 has edged up another 0.2% this morning to 6,518.2pts.
Major movers include McColl's Retail Group (MCLS), up 7.1% to 139.3p, PureCircle (PURE), up 5% to 308.2p, Britvic (BVIC), up 2.1% to 597.5p and Dairy Crest (DCG), up 2.1% to 548.5p.
Two of yesterday's notable risers have eased back this morning, with Ocado (OCDO), down 2% to 226p and Hilton Food Group (HFG), dow 1.2% to 545p.
Yesterday in the City
Despite the deepening political turmoil in the UK, the markets continued their post-Brexit recovery yesterday with the FTSE back up 2.3% to 6,504.3pts having dipped below 6,000pts after the vote.
The mid-cap FTSE 250 has yet to regain parity with its pre-Brexit levels, but was also back up 1.7% to 16,271pts.
However, the bad news in terms of UK market stability was a further 1% drop in the pound against the dollar after Bank of England Governor Mark Carney strongly hinted the BoE would cut interest rates over the summer from the 0.5% they've been pinned at 2009 to stimulate economic growth. The pounds dropped to as low as $1.322 from a high of $1.343 before settling at $1.331.
Most major fmcg stocks enjoyed the continued market rally – the third day in a row of share price rises.
Major beneficiaries included Diageo (DGE), up 4.6% to 2,086.5p, Unilever (ULVR), up 3.8% to 3,579p, Imperial Brands (IMB), up 3.7% to 4,053p and British American Tobacco (BAT), up 3.2% to 4,843p.
There were rallies in mid-cap grocery stocks too, with Ocado (OCDO) continuing its volatile week by rising 3.9% to 230.7p, while Premier Foods (PFD) was up 5.1% to 41.3p and Hilton Food Group (HFG) was up 4.5% to 551.5p.
Amongst the few notable fallers were PayPoint (PAY), which slumped 6.8% to 903p yesterday. Also down was Tate & Lyle (TATE), down 0.3% to 668.5p, Cranswick (CWK), down 0.3% to 2,087p and Booker Group (BOK), down 0.2% to 173.4p.