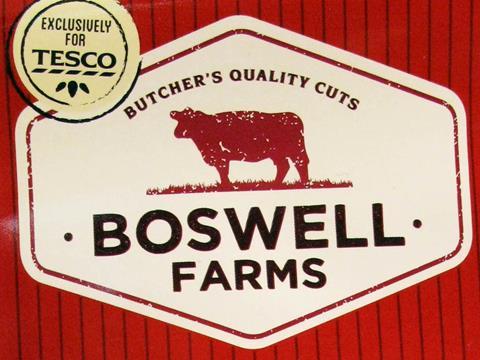 Top story
An increase in volumes and the weakness of the pound have boosted Tesco red meat supplier Hilton Food Group (HFG) in the first half, with a good performance recorded in Australia, Ireland, Sweden and Portugal partly offset by a more challenging market in central Europe.
Hilton did not comment on the progress of its current exclusive talks to buy Tesco fish supplier Icelandic Seachill.
Volumes rose 8.7% to 160,848 tonnes in the 28 weeks to 16 July 2017, contributing to a 9.3% hike in revenues to £690.7m in the half.
The group logged higher volumes in Ireland, Sweden and Australia, with an "excellent start" for its new joint venture in Portugal where volumes grew 12.8%. However, this was offset by a 20.6% plunge in volumes across competitive and price sensitive Central Europe.
Favourable currency translation accounted for the majority of the growth in turnover in the half, with 3.3% coming from higher volumes and price increases.
Operating profits increased 9% to £18.8m – and 1.4% on a constant currency basis – and pre-tax profits rose 10.4% to £18.4m. Hilton increased its interim dividend by 8.7% to 5p.
"Hilton delivered strong volume and profit growth during the period," CEO Robert Watson said.
"Our strategic progress continued with entry into Portugal and expansion recently announced in Central Europe where beef deboning has commenced and a fresh food factory will be developed. "The initial work on our new factory in Queensland, Australia continues with the planning approvals process well advanced. We remain committed to growing our business through innovation and product development as well as exploring a range of new expansion opportunities to further our geographic reach."
In August, Hilton confirmed it was in talks to acquire Saucy Fish owner Icelandic Seachill, which was put up for sale in April, but the group did not update the market on the progress of the deal this morning.
Hilton shares have dipped 0.6% to 751p so far in this morning's trading.
Morning update
Revenues increased 21% to €672.5m at forecourt operator Applegreen (APGN) in the six months to 30 June 2017 as the group expanded its portfolio of sites and grew food sales. Adjusted EBITDA rose 28% to €16.6m as a result, with adjusted pre-tax profits up 26% to €10.1m.
The performance was driven by strong fuel margin in both the Republic of Ireland and the UK, positive like-for-like growth in food and additional contribution from new sites, it said
Applegreen opened 32 new sites in the period, taking its estate to 275, with 17 new food outlets added to the group. The business added it recorded a 10% like-for-like growth in its food and store figures.
CEO Bob Etchingham said: "We are very pleased to report another strong set of results for the first half of the financial year. This performance was underpinned by favourable fuel margins, very strong like for like growth in non-fuel revenues and margins together with continued investment in the expansion of the estate.
"A further 32 sites were added to the estate in H1 2017 and this investment activity has continued since the period end as we identify opportunities for growth across our three markets. We recently acquired a 50% interest in the Joint Fuel Terminal in Dublin Port and announced the acquisitions of the Brandi Group in the US and the Carsley Group in the UK.
"We now have a good platform for growth in each of our three markets and are well positioned for the seasonally important second half of the year. Overall, we remain confident in the prospects for the business in 2017."
Shares in the listed group have jumped 2.5% to 520p in the early going this morning.
The FTSE 100 nudged ahead by 0.1% to 7,419.95 points first thing, with Sainsbury's, ABF and Tesco all contributing gains to the blue-chip index, up 1.1% to 238.6p, 0.9% to 3,132p and 0.8% to 187.6p respectively.
Yesterday in the City
Associated British Foods (ABF) was the worst performer on the FTSE 100 on Monday, despite the sugar-to-discount-clothing multinational reporting a better-than-expected end to its financial year. Shoppers flocking to Primark over the summer led ABF to upgrade it's full-year profit expectations. However, some investors remained disappointed by guidance on profit margins. Shares in ABF tumbled 5% to 3,103p.
The FTSE 100 managed gains of 0.5% to 7,413.59 points despite the disappointment at ABF as tensions eased over North Korea.
Elsewhere it was a fairly quiet day on the markets, with Tesco (TSCO), Booker (BOK) and B&M European Value Retail (BME) all among the fallers, down 0.9% to 186.2p, 0.8% to 202.8p and 0.7% to 368.8p respectively.
Moving in the right direction were Greggs (GRG), up 1.4% to 1,213p, WH Smith (SMWH), climbing 0.8% to 1,896p, and Sainsbury's (SBRY), up 0.5% to 236.1p.