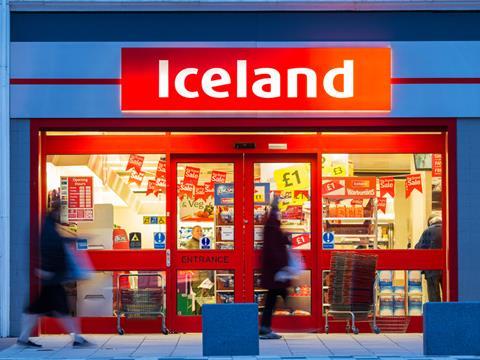 Top story
Frozen supermarket chain Iceland has slowed the rate of decline in its like-for-like sales as a result of a number of initiatives introduced throughout the year.
Sales were down 0.8% to £2.68bn in the 52 weeks to 26 March, with the fall in like-for-like sales slowing from 4.4% in the previous year to 2.7%.
The continued decline in like-for-like sales reflected a reduction in total customer transactions, but was partly offset by an increase in average basket values. The top line also benefitted from nine net new stores opened during the year, and by the 28 shops opened in the previous financial year.
EBITDA (excluding exceptional items) came in at £150.5m, a marginal improvement on £150.2m in 2014/15 driven primarily by a strengthening of the gross margin and control of operating costs.
Iceland CEO Malcolm Walker said the chain had made good progress with a range of strategic initiatives designed to differentiate the business and stabilise its financial performance in an "extremely challenging" UK market place.
The new Power of frozen marketing approach combined with Iceland's biggest-ever programme of product development, including the including the Slimming World range launched in February 2015, and an upgrade of the fresh produce range alongside a revamp of the brand packaging all contributed to the performance.
Walker added that the chain had developed a fast-growing online business and begun an accelerated roll-out of the larger store concept, The Food Warehouse.
"Together these initiatives have delivered a moderation of the decline in our like-for-like sales, the planned stabilisation of our EBITDA and continued strong cash generation," he said.
"The UK food retail market remained exceptionally challenging throughout the year, due to the combination of intense competition, food price deflation and changing consumer shopping patterns. "The 'big four' UK food retailers have continued to be impacted by an array of competitors including limited assortment discounters, pound shops, convenience stores, more upmarket specialists and online retailers. Iceland has been affected by the decline in high street footfall and a reduction in smaller basket sales because of the wide range of alternative outlets now offering everyday top-up shopping lines at deeply discounted prices."
Iceland is planning to continue with its Power of Frozen campaign this year, as well as strengthening its senior buyer team, constructing a state-of-the-art product development centre, opening 25 new The Food Warehouse outlets and eight Iceland stores in the Republic of Ireland.
Morning update
Tesco (TSCO) has confirmed the proposed sale of its 95.5% controlling stake in the Kipa business in Turkey to Migros. The disposal, subject to usual local regulatory approvals, will result in estimated cash proceeds of around £30m and contribute to a reduction of about £110m in total indebtedness, the supermarket said in a short statement to the London Stock Exchange. Tesco has also announced its intention to sell the Giraffe restaurant chain to Boparan Restaurants Holdings, part of Ranjit Boparan's empire. The sale of Giraffe includes 54 standalone restaurants, of which 12 are franchise sites, and three restaurants within Tesco stores.
CEO Dave Lewis said: "As we stabilise the business in the UK, we continue to focus on where we can best serve the needs of our customers, while ensuring our business remains sustainable for the long-term. Giraffe is a much-loved brand, and while casual dining remains an important part of the shopping trip for many of our customers, we will continue to meet these needs through our Tesco Cafés and other providers. I'd like to thank colleagues from Giraffe for all their hard work in serving our customers and we look forward to seeing it develop in the future."
Sainsbury's (SBRY) is planning to promote CFO John Rogers to chief executive of Argos owner HOME Retail Group when the acquisition completes later this year. Rogers, who has been in the role since 2010, will take over from John Walden, who is leaving Home Retail. Rogers, who will report to Sainsbury's CEO Mike Coupe, will have responsibility for combining Sainsbury's non-food business with Argos and for the delivery of the ongoing digital transformation and performance of Home Retail. He will remain a member of the Sainsbury's group operating board and the Sainsbury's plc board. Group finance director Ed Barker will be appointed CFO of Sainsbury's on an interim basis from the same date.
Coupe said: "John is a highly talented member of the team and has played a major role in delivering our performance and strategy at Sainsbury's. John's expertise goes beyond his finance role; his leadership expertise in strategy, digital, online and property make John the ideal candidate to lead HRG and ensure we deliver our ambition to be the leading multi-channel, multi-product retailer of choice for customers."
Rogers added: "The combination of Sainsbury's and Argos is an exciting one for customers, colleagues and shareholders. I am delighted to have the opportunity to lead and work with the talented teams at HRG and to develop the business further as one of the UK's leading retailers."
Shares in Tesco are down 1.5% to 155.6p this morning and Sainsbury's has fallen another 1.1% to 245p.
Yesterday in the City
Amazon's potentially game changing launch of Amazon Fresh yesterday seemed to be responsible for a wobble in the share prices of Tesco, Sainsbury's, Morrisons (MRW) and Ocado (OCDO).
Tesco fell 1.4% to 158.4p, Sainsbury's was down 1.1% to 247.9p, wiping of most of Wednesday's gains, Morrisons dropped 1% to 186.8p and Ocado, who arguably have the most to lose from the entry of Amazon to the market, fell 1% to 255.3p.
PZ Cussons (PZC) was among the day's climbers after it shrugged off tough conditions in Africa to meet trading expectations in the year to 31 May 2016. Shares were up almost 1% to 335.3p.
Other risers included Marks & Spencer (MKS), up 1% to 379.2p, SSP Group (SSPG), up 0.9% to 321.9p, and Cranswick (CWK), up 0.4% to 2,303p.
The FTSE 100 was weighed down as a potential Brexit continued to hang over markets, as well as calls from European Central Bank chief Mario Draghi for politicians to help stimulate the economy. The blue-chip index ended the day down 70 points (1.1%) to 6,231.89 points.