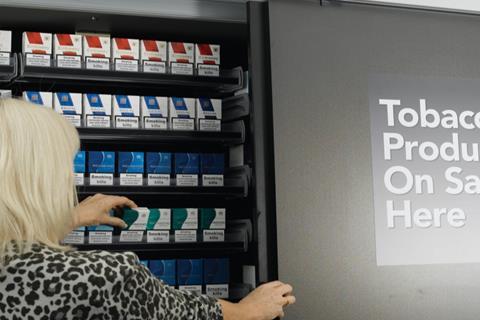 Top story
Imperial Brands (IMB) has issued a stark profit warning ahead of its annual general meeting as increased regulation on new generation products and a US ban on flavoured cigarettes are expected to hit revenues and profits.
The company said tobacco trading remained in line with expectations after a "good start" of the year, with a weighting on the second half of the financial year.
However, full-year revenues are expected to be at a similar level to last year, while adjusted earnings per share will be slightly lower following a US FDA ban on certain flavours of cartridge-based vapour devices and weaker consumer demand for vapour.
For the first half of the year, adjusted earnings per share will fall around 10% due to the phasing of inventory write-downs, mainly related to the US flavour ban, the company said.
Imperial Brands Next Generation Products (NGP) continues to suffer from regulatory uncertainty and negative news flow, following a series of deaths and illnesses associated with the use of ecigarettes.
Demand of NGP continued to fall both in the US and Europe and the company expects "significantly lower" year-on-year NGP revenue as well as "increased provisions for slow-moving stock".
"We are implementing a further cost savings programme to mitigate some of these short-term headwinds, which will result in a full year net impact on adjusted operating profit of around £40m," the company added.
"In addition, the FDA ban, which comes into force tomorrow, has resulted in a write-down of our flavoured inventory with a first half adjusted operating profit impact of around £45m; in line with our previous estimates."
Imperial Brands shares opened 6.5% at 1,825.80p.
Morning update
Variety discount retailer and Poundland owner Pepco Group has reported double-digit revenue growth in the first quarter of the year, following continued expansion of its PEPCO and Dealz fascias.
At a group level, total revenues increased 13% to €1.1bn, following a 15% increase in the number of PEPCO and Dealz stores across Europe. Like-for-like revenues were up 3.9% in the three-month-period.
"The group continued to make strong strategic progress through increasing the size of the PEPCO store portfolio in Central and Eastern Europe, commencing the roll-out of the Dealz format in both Poland and Spain, and reducing operating costs within Poundland, including the successful renegotiation of a further 36 store leases," the company said.
In the UK, Poundland experienced like-for-like growth of 1.3% against a weak consumer backdrop during the quarter. On 23 December, the chain had a "record" trading day, serving almost 1.6m customers.
Continued strong performance of Poundland's clothing line Pep&Co, as well as the "progressive introduction" of different price points above £1, contributed to benefiting revenues for the chain.
CEO Andy Bond said: "Pepco Group has continued to deliver operational and strategic progress, in this important trading quarter, reflecting our clear growth strategy, centred on the significant long-term opportunity for further PEPCO stores in central Europe, together with a focus on day-to-day retail execution. This combination has secured another quarter of strong revenue growth, both in total and like-for-like terms, in each of the group's brands.
"With an established strategy, leading customer proposition within a structurally advantaged discount retail segment and a strong financial base, we remain confident about our prospects for continued growth across Europe in the balance of the financial year and beyond."
Domino's Pizza Group (DOM) reported a further revenue increase for the fourth quarter of the year, up 3.7% to £352m.
UK like-for-like sales were up 3.9% while Ireland saw a 1% reduction. Overall the UK&ROI division saw sales up 4.4% to £326.7m.
Th pizza chain international segment, which Domino's is in the process of exiting commencing with the Norwegian market, saw sales down 5% to £25.3m in the quarter.
CEO David Wild said: "I am pleased with the performance of our core UK and Ireland markets, with system sales up 4.4% and UK like-for-likes up 3.9%, against a strong comparative and a competitive backdrop. This performance was driven by the power of our brand, our strong digital capabilities and the operational expertise of our franchisee partners."
The company expects UK & ROI operating profit to be in line with market expectations for the year, at an average of £103.1m.
Domino's shares opened up 5.5% at 313.50p.
The FTSE 100 opened down 0.3% at 7,418.37pts.
Early risers included Ag Barr (BAG) up 2% at 620p, Fevertree (FEVR) up 1.2% at 1,399.50p and DS Smith (SDMS) up 1.2% at 356.50p.
Fallers saw British American Tobacco (BATS) down 0.8% to 3,417p, Unilever (ULVR) down 0.8% at 4,558.50p and Marks & Spencer (MKS) down 1.1% at 179.10p.
Yesterday in the City
The FTSE 100 ended the day up 1.6% at 7,439.82pts with its internationally-exposed companies benefitting from a fall in the value of the pound as Boris Johnson clashed with the EU over a post-Brexit trade deal.
Among the risers, British American Tobacco (BATS) closed 1.5% higher at 3,442.50p, Diageo (DGE) up 0.9% at 3,127p, Reckitt Benkiser (RB) up 1.2% at 6,432p and Associated British Foods (ABF) up 0.8% at 2,647p.
In an index mostly green, Britvic (BVIC) slumped 2.3% to 923p, Nichols closed down 2% at 1,335p and Domino's Pizza Group (DOM) fell 4.2% to 299p.