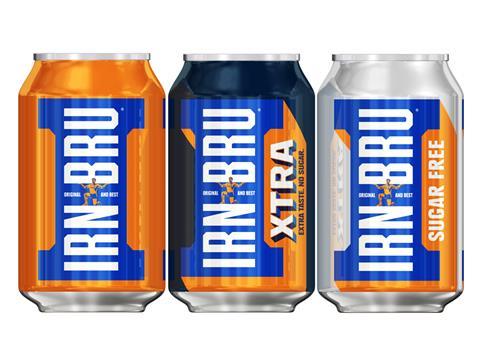 Top story
A revamp of Irn-Bru helped push sales at AG Barr (BAG) up 8% to £136m in the first half, but higher costs and delays in price increases of its range squeezed margins.
The group said in a half-year trading update that the "strong" sales performance in the 26 weeks to 26 July came against a backdrop of a growing soft drinks category, with value up 3.5% and volume 2.1% [IRI data from 29 January to 18 June].
However, an increase in investment in innovation and brand growth activity, slightly later than anticipated phasing of price increases and generally higher operating costs, including the effect of weaker sterling on input costs, had a "moderate impact" on margins during the period, the company said this morning.
Despite the challenging trading environment, AG Barr added it was confident full-year results would be in line with expectations.
CEO Roger White said: "We have delivered a good first half with strong sales growth supported by our successful innovation programme, particularly Irn-Bru Xtra, which has now been launched in England and Wales, and Rubicon Spring, which is gaining distribution across multiple channels. We are well positioned to deliver against our expectations across the balance of the year."
AG Barr has slashed the sugar content across its range in the past year and launched Irn-Bru Xtra and Rubicon Spring in preparation for the government's sugar levy. The group said today it was "making good progress" with its sugar reduction programme and was confident of meeting its commitment that 90% of its brands would contain less than 5g of total sugars per 100ml by the autumn of 2017. March 2017.
Morning update
Operating profits at Asda slumped 19.2% to £845.3m in 2016 as revenues declined 3.2% to £21.7bn, accounts published at Companies House today revealed. The documents also showed like-for-like sales fell by 5.7%, compared with 4.7% in 2015.
The full story will be published on thegrocer.co.uk later this morning.
Food price inflation slowed in July as pressures in the fresh aisles eased, contributing to a fall in overall shop prices, according to the latest data from BRC and Nielsen. Food inflation decreased to 1.2% last months, compared with 1.4% in June and May. However, it is still the third highest inflation figure since January 2014, when it stood at 1.1%. Fresh food inflation eased to 1% in July from 1.4%, while ambient food inflation edged up 0.1 percentage point to 1.6%.
Non-food prices decreased by a tenth of a percentage point in July to 1.5%, compared with the June decrease of 1.4%. Overall shop price deflation was 0.4%, a slight increase in deflation from the 0.3% June figure.
"July saw lower food price inflation than in June, bringing the march of overall shop prices towards inflationary territory to a halt, for now at least," said BRC CEO Helen Dickinson.
"Lower food price inflation in July was, in part, the result of the easing of upward pressure from the currency depreciation on fresh food. Shorter stock cycles in fresh food mean that more of the impact of the currency depreciation fed through into inflation earlier in the year and hence it is now subsiding. However, the upward pressure on food inflation has not entirely disappeared: ambient food prices are still affected and as seasonal pricing dynamics play out, we could see fresh food inflation pick up again.
"Notwithstanding pressures on shop prices, further increases in inflation in other areas of the consumer spending basket are likely in coming months. That will put UK households' already squeezed finances under increasing strain. The government should be doing all it can to avoid further, potentially significant, increases in the cost of living from a failure to reach a deal with the EU that ensures no new tariffs and secures a fair Brexit for UK consumers."
Revenues jumped 11% to £125.2m at sausage casings manufacturer Devro (DVO) in the first half as volumes increased 7% and it benefitted from favourable exchange rates. The rise in the six months to 30 June was slightly offset by lower prices. EBITDA at the group grew 16.7% in the period to £30.8m thanks to the volume gains, which were particularly strong in China, South East Asia and Russia, and cost savings.
CEO Peter Page said: "Devro has made good progress with its principal objectives of growing revenue, volumes and market share in a range of markets, whilst reducing unit costs in operations.
"The Devro 100 programme to accelerate achievement of these objectives has progressed well during the first half of 2017. New products will be introduced during H2 as planned.
"The board's expectations for the full year remain unchanged and the business continues to generate strong cash flow from the underlying operations, which will enable net debt covenant ratios to be returned to historic levels over time."
Yesterday in the City
McColl's (MCLS) shares soared 8.7% to 250p yesterday following the surprise announcement of a landmark supply deal with Morrisons (MRW). The supermarket will supply grocery goods across the McColl's estate under the relaunched Safeway brand. Shares in the grocer were also lifted 1% to 242.7p.
Sainsbury's (SBRY) and Tesco (TSCO) were also beneficiaries of the deal as their stocks rose 1.4% to 248.3p and 1% to 176p respectively.
Greggs (GRG) was one of the FTSE 100's top risers after sales rose 7.3% to £453m in the first half and it announced it would roll-out drive-through stores across the UK after a successful trial. The food-to-go baker leapt 2.6% to 1,129p.
Imperial Brands (IMB) and British American Tobacco (BAT) bounced back from big losses on Monday to climb 2.7% to 3,203p and 2.5% to 4,832p.
The rises for all these FTSE 100 constituents (apart from McColl's) helped London's blue-chip market jump 0.7% to 7,423.66 points.