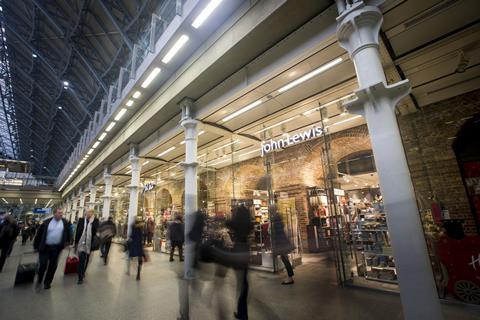 Top story
The John Lewis Partnership is considering bringing in an external investor to help finance and launch a joint venture focused on services and easing its reliance on retailing.
The group is also considering never reopening some of its less viable department stores after the national coronavirus lockdown ends, The Times reported.
The steps are understood to be part of radical plans by new chairman Dame Sharon White to accelerate strategic changes in response to the coronavirus crisis.
John Lewis already offers some financial services and home services such as repairs and curtain-fitting, with the new plan looking to pursue a more substantial diversification.
Since the business is owned by its employees, any plan to raise capital by inviting an investor would require an act of parliament to change the trust deed, according to one source. Seeking outside investors to buy a stake in a joint venture would be an easier solution.
Morning update
Sainsbury's (SBRY) might be forced to inject capital into its own bank, analyists have warned.
According to the Daily Mail citing experts at Barclays, the supermarket may have to have to bail out its own bank during the coronavirus crisis.
Barclays analyst James Anstead, in a note to clients last week, said: "Tesco believes it is likely that its bank will lose money in 2020-21, and it seems reasonable to think Sainsbury's Bank will be similarly affected."
He added that the lockdown will see turnover fall at Argos stores, with the general goods retailer facing "major challenges".
Sainsbury's will release its annual results on Thursday, the last for CEO Mike Coupe who has ben at the helm for the past six years.
The grocer is expected to announce strong sales figures for the past couple of months, boosted by shoppers stockpiling at the beginning of the coronavirus crisis.
The FTSE 100 started the week in the green, up 1.4% at 5,834.43pts.
Early risers included FeverTree (FEVR) up 2.2% at 1,761.50p, Marks & Spencer (MKS) up 3% at 93.50p, Greggs (GRG) up 2.5% at 1,769p, WH Smith (SMWH) up 2.9% at 1,120p and Premier Foods (PFD) up 2.1% at 45.45p.
Fallers saw Stock Spirits Group (STCK) down 4.8% at 176.20p, Hotel Chocolat (HOTC) down 1.3% at 310p and Naked Wines (WINE) down 1.3% at 352p.
This week in the City
The annual results of Sainsbury's on Thursday are the main event of the week ahead.
Tomorrow also sees the publication of the monthly Kantar and Nielsen grocery market share data.
Tuesday brings the first quarter results of UK, Germany and Spanish Coke bottler Coca-Cola European Partners (CCEP).
On Wednesday, Unilver (ULVR) holds its annual general meeting in private form.
Also on Thursday, Reckitt Benckiser (RB) is expected to post its first quarter results and Amazon's Q1 results in the evening.