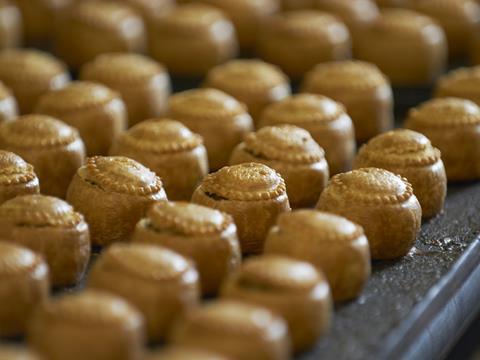 Top story
Sales and profitability have soared at Addo Food Group after it turned around the performance of the chilled savoury pastry business acquired from Kerry Foods in August 2014.
The pork pie and Scotch egg maker, known as Pork Farms before a rebrand in September 2015, filed revenues of £236.4m in the year to 26 March 2016 compared with £158.4m 12 months earlier.
Sales from the Kerry business were only included for the nine months from June 2015, after the deal was finally cleared by the CMA.
Addo also made its first pre-tax profit before exceptional items during the ownership of Vision Capital, which acquired the business in late 2006 from Northern Foods.
"2016 saw Addo Food Group grow in line with the plan we developed following the acquisition of the Kerry Foods chilled savoury pastry business," a spokeswoman said.
Read the full story on thegrocer.co.uk/finance.
Morning update
After a bumper week of Christmas trading update from most of the main players in the grocery and retail world, the stock exchange has ground to a halt for the sector this morning.
Elsewhere on The Grocer this morning we have news that dairy processor Meadow Foods saw its sales drop by almost 40% last year as the plunging price of milk hit revenues in the run up to securing US private equity backing. Read the full story here.
Deflation tumbled to its lowest level since mid-2014 over the Christmas period amid price hikes across fresh food. The Grocer Price Index, collated by BrandView from more than 60,000 supermarket SKUs, found annual deflation contracted to 0.9% for the month to 1 January 2017, having been at 1.4% in the previous month. This marked fall in deflationary pressures represented the lowest level of annual deflation since the month to 1 August 2014, when it was 0.6%. Read the latest GPI here.
The Bernard Matthews takeover by Ranjit Boparan has also won competition authority approval. Read the story here.
Yesterday in the City
After significant gains earlier in the week as sentiment surrounding the supermarkets was high, Tesco (TSCO) fell back 1.3% to 206p yesterday. The supermarket grew UK like-for-like sales by 1.8% in the 13 weeks to 26 November and by 0.7% in the six weeks to 7 January 2017, but momentum was slowing as 2016 drew to a close.
Sainsbury's (SBRY) and Morrisons (MRW) were dragged down with their bigger rival, falling 0.7% to 259.7p and 0.2% to 239.1p respectively.
Associated British Foods (ABF) had a poor day as the stock slipped 4.4% to 2,580p despite the weak pound boosting group sales 22% and Primark revenues were 11% ahead of those reported last year.
Mark & Spencer (MKS) received a 1.3% boost to 344.9p as its clothing division surprised everyone with a 3.1% sales rise and food was up 5.6%, with LFL sales up by 0.6%.
Booker (BOK) jumped 2.2% to 185.5p after it reported a "good quarter" over Christmas, with group non-tobacco sales up by 4.8% and non-tobacco like-for-likes up 5.1% in the 16 weeks to 30 December.
Hilton Food Group also registered a 5.5% jump to 667p after the Tesco meat supplier said it had performed slightly ahead of expectations in the 52 weeks to 1 January 2017.
The FTSE 100 edged up just 0.03% to 7,292.37.