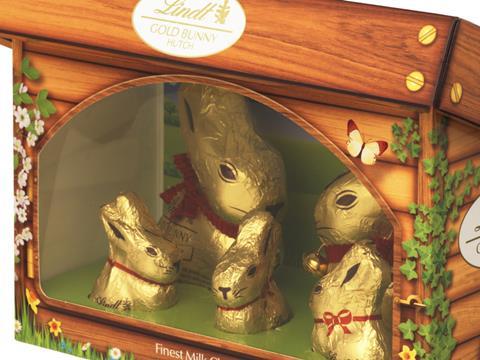 Top story
Sales at Lindt & Sprüngli have increased 6.6% to CHF 1.5bn in the first half despite the chocolatier facing price pressures on cocoa costs and "generally subdued consumer sentiment".
Operating profits in the six months to 30 June also rose 8.6% to CHF 98.4m, with net income of CHF 72.2m – an increase of +11.1% compared to the prior-year period.
Lindt highlighted the "impressive" double-digit growth achieved by the UK subsidiary.
Extensive adjustments of the product portfolio of Russell Stover, the US chocolate group Lindt acquired in 2014, and optimization of its promotions strategy impacted group sales growth in the first half, the Swiss group said. It added that the performance was also set against the "above-average" half-year results achieved in 2015.
"In this difficult environment, Lindt & Sprüngli once again succeeded in outperforming the chocolate market as a whole and gaining important market shares in the first half of 2016."
The currency situation also improved slightly during the first six months, with the euro and the US dollar strengthening. As a result, sales growth in Swiss francs of 6.6% was higher than the increase in local currencies, which was for the group 4.4%
Organic growth in the half came in at 6.6%, which represents an acceleration in growth compared with the second half of 2015.
"The situation on commodities markets is still tense," Lindt said. "Prices for cocoa and cocoa butter have continued to rise due to poor main and interim crop yields in West Africa caused by bad weather conditions. This was offset to some extent by lower raw-material prices for hazelnuts and almonds. Lindt & Sprüngli is countering these negative effects with internal programs to boost efficiency and save costs.
"Lindt & Sprüngli expects an acceleration of sales growth in the second half of 2016 compared to the first six months of the year. This should enable the company to achieve its strategic targets for the full year."
Morning update
The CMA has decided not to refer the Sainsbury acquisition of Home Retail Group and Argos to an in-depth phase 2 investigation. The deals watchdog's full statement is not yet available giving the full reasons but Sainsbury's management always expressed confidence the CMA would not be a problem. A Sainsbury's spokesperson said: "We are pleased that the CMA has unconditionally cleared our proposed acquisition of Home Retail Group. This is an important step in the deal process. The HRG shareholder meetings will take place on 27 July, with the deal expected to complete in early September, 2016. The combination of both businesses will create a multi-product, multi-channel proposition with fast delivery networks, giving customers what they want, whenever and wherever they want it."
Elsewhere on The Grocer this morning there is the story that Premier Foods shareholders have given chairman David Beever a kicking at the AGM over his handling of the failed McCormick takeover with more than 12% objecting to his re-election to the board. Read the full story here.
Yesterday in the City
It was a busy day on the markets for grocery and fmcg stocks with Premier Foods, Unilever, Nichols, Tate & Lyle, SABMiller, Hilton Food Group, Britvic and Science in Sport all reporting.
Unilever (ULVR) finished the day 1% in the red at 3539.5p after posted underlying first half sales growth of 4.7% but warned of "weak consumer demand". The consumer goods giant revenues fell 2.6% at current exchange rates to €26.3bn.
Premier Foods (PFD) edged up 0.5% to 46.8p as it reported the fourth consecutive quarter of sales growth in the first quarter of its 2016/17 financial year.
Vimto owner Nichols (NICL) closed flat at 1,445p despite encouraging growth in the challenging UK soft drinks market with group revenues up 3.3% to £56.5m.
Rival drinks group and Robinsons owner Britvic (BVIC) didn't fare quite so well in the UK market in Q3, with its market value declining 7.5% in June following a particularly wet month. Third quarter organic group revenues also fell 0.7% to £326.5m, sending shares down 1.1% to 615.4p.
SABMiller (SAB) kept its head above water, just, nudging up 0.1% to 4430p after the United States Department of Justice gave clearance for the proposed combination with AB InBev (ABI). The brewer also reported first quarter net producer revenue up by 2%, driven by price and mix realisation.
Hilton Food Group (HFG) fell 1% to 579.5p after it issued a brief trading statement for the 28 weeks ended 17th July 2016. Tate & Lyle (TATE) slipped 0.4% to 695.9p after the ingredients firm said it had "a strong start" to its financial year with profit ahead of the comparative period in constant currency. And finally, Science in Sport (SIS) soared 13% to 53p after sales increased 24% to £6.5m in the six months to 30 June 2016.