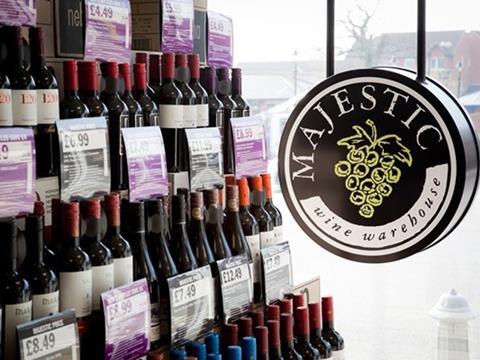 Top story
Majestic Wine (MJW) has issued a profits warning alongside a new three-year transformation plan for the business.
The wine retailer has set itself a target to bring in revenues of more than £500m by 2019 – full-year sales currently stand at about £300m – and said the new strategy will deliver sustainable, volume-led earnings growth and improved return on capital.
It will also reduce the total UK store target from 330 to 230, while reviewing the existing network of 211 stores to explore how to make them more profitable following the new and simplified pricing policy (including no minimum purchase).
The plan also includes continuing to expand the Majestic B2B business and the Naked Wines businesses in the UK, US and Australia.
However, CEO Rowan Gormley warned that profits for the year would be impacted by money spent on running the trial of new initiative in recent months.
In the six months to 28 September Majestic increased sales 36% to £181.6m and adjusted earnings before interest and tax by 12% to £9.5m as a result of the £70m Naked Wines acquisition in April. Excluding the gains made from the purchase, underlying sales grew 6%, as did EBIT, with retail like-for-like figures up +2.3%.
Pre-tax profits fell 50% to £4.3m in the half as a result of costs related to the acquisition.
Gormley said: "Six months in to my new job it is clear to me that we have a solid core business at Majestic, and two great growth engines in Naked and our commercial business.
"We have a clear plan, which will require investment and take three years to complete, but will also deliver a better business that can create sustained growth in shareholder value.
"As a result, profit for the current year is expected to be impacted by the increased investment derived from our successful test period after which we expect to see sustainable growth as the anticipated returns from our initiatives are realised."
Shares in the group, which have performed poorly in the run up to the results, plunged more than 6% on opening to a record low of 290p on the back of the profit warning.
Morning update
Investment group Nomad Foods has released a third quarter trading update this morning. The group, which bought Iglo for €2.6bn and Findus for £500m, had revenues of €315.5m in the three months ended 30 September resulting in a €6.3m profit after tax. In the half year, sales were €418.3m, leading to a loss after tax of €390.3m as a result of non-cash charges related to preferred shares dividend and acquisition costs. Nomad said on a pro-forma basis that sales had fallen 8.4% (down 11.2% on a like-for-like basis) at Iglo because of currency exchange rates and the exit from Romania, Slovakia and Turkey.
Nomad CEO Stéfan Descheemaeker said: "Our overall third-quarter performance was in-line with our expectations at the time of the acquisition of the Iglo Group, taking into account the continuing difficult retail environment across our three largest markets."
Irish ingredients group Glanbia (GLB) has agreed to acquire a US protein bar business for $217m. ThinkThin primarily distributes its products in food, natural and mass retail channels in the US and hs net sales for the year to the end of September 2015 of $84m. Glanbia MD Siobhán Talbot said: "As a premium lifestyle nutrition product with very strong brand equity, ThinkThin represents an excellent strategic addition to our portfolio of market leading performance nutrition brands. The transaction is firmly aligned with our overall growth ambitions and positions us well in the fast-growing nutrition bar category as well as being value enhancing for our shareholders."
Shares are down 0.8% so far to €16.99.
Sales at poultry processor Moy Park fell 1% in the third quarter to £350.7m despite good volume growth as a result of foreign exchange movements, commodity price deflation and lower international sales. EBITDA was also down 12.7% to £21.3m and pre-tax profits slipped 94.6% to £200,000. However, on an underlying level – before corporate charges from the parent company, exceptional items and interest on the bond issued in Q2, EBITDA grew 1.9% to £26.8m and pre-tax profits was up 11.8% to £10.4m.
CEO Janet Mc Collum said: "The third quarter of 2015 has seen Moy Park produce a positive performance in a challenging market. Our continued commitment to our customers and consumers, ensuring delivery of the highest quality product while maintaining our focus on controlling costs, has enabled us to further grow our revenue base and improve margins. We have also maintained our leverage level while continuing to invest in our infrastructure to support future growth."
City diary
An interesting looking week following the interim results from Majestic Wine this morning. There is a press conference from deal hungry Nomad Foods later today to ruminate on the Q3 figures.
Tomorrow sees The Grocer head to Carnaby Street in London once again to see the whites of Andy Clarke's eyes as Asda updates journalists on their third quarter figures. Clarke will be hoping to relieve some of the pressure following the worst quarter in the supermarket's history last time round.
Value retailer B&M, chaired by former Tesco CEO Sir Terry Leahy, posts half-year results on the same day. It will be interesting to see if growth has only come as a result of opening stores at the pace of one a week or if the chain has managed any like-for-like gains as well.
Fellow discounter Poundland gives the City a crucial update on trading pre-Christmas with its interims. The chain has had a tough time of late with its battles with the CMA and shares falling as it revealed the 99p acquisition may not have been such value after all.
Away from the markets, there is the latest Kantar and Nielsen market share data and the ONS also released the consumer, retail and producer indexes.