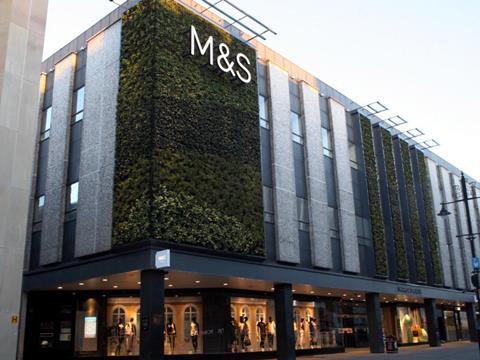 Top story
Marks & Spencer (MKS) has increased sales 1.4% to £5bn in the first half, mainly thanks to continuing growth in its food business.
Sales in its food stores were up 3.3% in the 26 weeks to 26 September - nudging up 0.2% on a like-for-like basis. Gross margin fell by 25 basis points, however, waste levels rose over the summer.
"Despite the ongoing competition and deflation in the food sector, we continued to outperform the market by c.3% points, and have now seen 24 consecutive quarters of like-for-like growth," the group said.
M&S put the growth down to innovation, with almost 900 new products introduced in the half. The opening of 32 Simply Food stores, with sales performance ahead of expectations, also helped.
General Merchandise sales fell as expected, down 0.4% and 1.2% like for like, although gross margins came in much higher than predicted at 285bps after the retailer focused on "full price sales" and reduced discounting. M&S.com sales improved by 34.2%.
The increased gross margin helped the group increase underlying pre-tax profits more than expected to £284m – a rise of 6.1%. After £68m of exceptional items, mostly made up of UK and international store reviews, pre-tax profits fell 22.7% to £216m in the half.
CEO Marc Bolland said: "We delivered good underlying profit growth in the first half and made strong progress against our key priorities.
"Our food business again outperformed the market by over 3% points as our focus on quality and innovation continues to set us apart. In general merchandise we decided to improve profitability by focusing on gross margin, delivering another significant increase, which in part resulted in slightly lower sales. As a consequence of good performance and strong cash generation we have decided to increase our dividend."
International sales slipped 0.9% to £506.6m in turn leading to operating profits overseas plunging more than 50% to £24.7m.
Looking ahead the group added: "Despite some improvement in consumer confidence, market conditions continue to be challenging in both the UK and the international markets. Our short-term priorities remain the same: food sales growth, GM gross margin improvement, improved GM performance and strong cash generation."
The mix of good news throughout the statement helped share shoot 3.8% higher this morning to 540.5p.
Morning update
On a busy morning for the London Stock Exchange, AB InBev (ABI) and SABMiller (SAB) have requested another extension to 11 November as they continue to attempt to drag the complicated £68bn takeover deal over the line.
Premium mixer brand Fever-Tree (FEVR) is expecting sales to come in well ahead of forecasts for 2015 thanks to a continued strong performance in the second half, with "encouraging" UK and international sales. The trading update ahead of the year ending 31 December added the growth had been driven by distribution gains coming through earlier than expected in the existing markets. "Given the strong sales in the period to date, the board anticipates that the results for the full year will be materially ahead of board expectations," the business added.
Shares in the business have soared by almost 9% this morning to record highs of 471.5p.
Irish ingredients and nutrition business Glanbia (GLB) said in a trading update it had delivered a good performance in the first nine months of 2015. Revenues are up 9%, mainly driven by the global performance nutrition division. It also reiterated 2015 guidance of 9%-11% growth in adjusted earnings per share. MD Siobhán Talbot said: "The outlook for the remainder of 2015 is positive. In line with our growth agenda, I am pleased to announce that we are in advanced discussions, with our US joint venture partner at South West Cheese, to expand cheese and whey production at our facility in New Mexico by 25%. This project is expected to take over two years to complete at an approximate cost of $140m."
The stock price has nudged up by 1.3% to €17.96.
Internationally, Nivea owner Beiersdorf has grown organic sales in the first nine months of 2015 by 2.7% to €5.04bn thanks to big gains in North America and Latin America. Group earnings before interest and tax also rose 11.9% to €750m and market share also improved. "We have gained significant momentum over the past few months and delivered further increases in sales and earnings," CEO Stefan F. Heidenreich said. "That was our aim and we achieved it. At the same time, we made Beiersdorf more resilient, putting it on a sustainable, profitable growth path. We are growing against the market trend and are advancing our position even under challenging conditions."
Yesterday in the City
Associated British Foods (ABF) turned around a fall in its share price to end the day flat at 3,435p following its full-year results. The Primark and AB Sugar owner posted falls in sales and profits as it struggled with food commodity deflation and currency fluctuations. Its sugar business also registered a 77% fall in profits to £43m. Investor didn't seem too worried, however. The stock climbed to past 3,500p on Friday – a record high – on City optimism for Primark in the US.
Kerry Group (KYGA) didn't fare so well yesterday, with its shares down 1.5% to €71.83 despite a third quarter trading update showing volumes had grown more than 4% in the period.
Imperial Tobacco (IMT) fell back from a morning rise of 1.7% to finish trading 0.2% up at 3,505p. A 7% rise in global growth brand volumes helped the Davidoff maker boost full-year adjusted operating profits by 2.4% to more than £3bn. Reported revenues were down 4.4% to £25.3bn, however, as challenges remained for the group in the Middle East.
Kellogg (K) share price slumped 4.7% to $67.30 to reflect the decline in sales and profits in Q3 as the strong dollar hit overseas revenues and consumers in the US continued to shy away from its cereals.
Finally, Marks & Spencer (MKS) nudged up 0.1% to 520.5p ahead of this morning's half-year results, with the retailer expected to reveal more poor figures in its clothing arm.