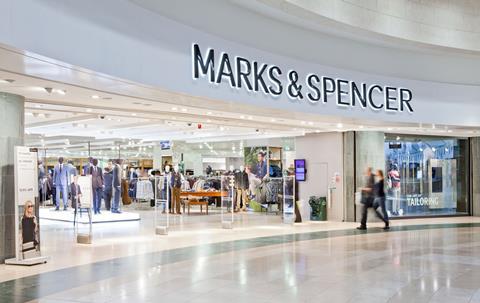 Top story
Strong sales and profit growth in Marks & Spencer's food business was not enough to address the group's falling profits as weaker clothing and home sales hit its bottom line.
The retailer said this morning that for 52 Weeks ended 28 March 2020 profit before tax and adjusting items fell back 21.2% to 403.1m.
Statutory profit before tax of £67.2m represented a 20.2% fall on last year's figures as it included adjusted items of £335.9m, with £212.8m for costs and stock write downs for Covid-19 and £78.5m of store impairments and property charges.
Total sales for the year were down 1.9% to £10.2bn.
The weaker profit and sales were down to further decline in its clothing business, which reported a like for like revenues decline of 6.2% and a 37% slump in operating profit as availability suffered in the first half the year.
Conversely, the food business 'outperformed' the wider grocery market, with strong like for like revenue growth of 1.9% and operating profit up 11.2%.
M&S said its food sales growth strengthened throughout the year, including an estimated 0.3% benefit from the effects of Covid-19 in March. Value perception has improved resulting in growth in volume ahead of value at 3.3%, it said.
Additionally, its 50% stake in Ocado Retail acquired during the year continues to perform, with Ocado Retail delivering 40.4% revenue growth for the 9 weeks to 3 May. Switchover and synergy plans on track, M&S said.
The group said it has taken over £1bn of actions to reduce costs and manage cash under scenario planning for Covid-19.
The Covid-19 crisis started to have an impact on the business in the first week of March with reductions in UK Clothing & Home sales which declined by 6.2% and 26.9% the week after. With the onset of lockdown, the effect on sales, colleagues and customers in both businesses has been "dramatic", with clothing sales at the low point dropping to 16% of their level a year ago.
M&S said it is modelling a 70% decline in revenue for UK Clothing & Home in the four months to July and only a gradual return to original budgeted levels by February 2021 impacting annual revenue by around £1.5bn
Meanwhile, UK Food could also see a 20% decline in revenue for the four months to July, with revenue level thereafter, impacting annual revenue by £0.4bn
CEO Steve Rowe commented: "Last year's results reflect a year of substantial progress and change including the transformative investment in Ocado Retail, outperformance in Food and some green shoots in Clothing in the second half.
"However, they now seem like ancient history as the trauma of the Covid crisis has galvanised our colleagues to secure the future of the business. The way our people have rallied to support our customers and communities has been awe-inspiring. From the outset we recognised that we were facing a crisis whose effects and aftershocks will endure for the coming year and beyond: Whilst some customer habits will return to normal others have changed forever, the trend towards digital has been accelerated, and changes to the shape of the high street brought forward.
"Most importantly working habits have been transformed and we have discovered we can work in a faster, leaner, more effective way. I am determined to act now to capture this and deliver a renewed, more agile business in a world that will never be the same again."
M&S has therefore launched a 'Never the Same Again' programme to "draw on learnings from the crisis and capitalise on the opportunities to drive the transformation plan in a changed consumer environment".
M&S shares have opened up 1.1% at 86.7p so far this morning.
Morning update
UK inflation fell back sharply last month as a dramatic fall in petrol prices held back overall price rises.
The Consumer Prices Index 12-month inflation rate was 0.9% in April 2020, down from 1.5% in March.
Falling energy and fuel pump prices resulted in the largest downward contributions to the change in the CPIH 12-month inflation rate between March and April 2020, with offset rising prices for recreational goods.
The Office of National Statistics said global prices for crude oil have fallen sharply since the start of the year to reach a 21-year low in part because of consumption levels falling by an estimated 70% as a result of the global coronavirus related work and travel restrictions.
Within the transport category, there was also a large downward contribution from transport services, where prices overall were estimated to have increased by 5.9% compared with an increase of 8.1% between March and April 2019.
Food prices overall fell by 0.1% between March and April this year compared with a fall of 0.3% between the same two months a year ago.
The largest upward contribution came from vegetables (including potatoes and tubers), where prices rose between March and April this year but fell between the same two months a year ago. The ONS said these price movements for vegetables could be a consequence of switching from internationally to domestically grown produce.
There were also price rises for food items with a long shelf life like frozen fish, frozen chips and jars of cook-in sauce. These were partially offset by a downward contribution from bread and cereals, in particular from packs of individual cakes and breakfast cereals.
On the markets this morning, the FTSE 100 has fallen back another 0.5% to 5,972.1p.
Early risers today included Nichols, up 3.4% to 1,390p, B&M European Value Retail, up 2.4% to 351.4p and Applegreen, up 2% to 311.1p.
Fallers so far today include Compass Group, down 3.2% to 1,74.5p, Greencore, down 2.9% to 136.3p and SSP Group, down 2.1% to 244.1p.
Yesterday in the City
The FTSE 100 fell back 0.6% yesterday to 6,002.2pts to lose some of the strong gains made on Monday.
Greencore fell back 7.2% to 140.3p after reporting a significant volume drop in its food-to-go categories amid the "dramatic and volatile impact" of the coronavirus outbreak.
A number of FTSE 100 companies dropped back in the sell-off including Imperial Brands, down 6% to 1,554p, Compass Group, down 3.5% to 1,110.5p, Reckitt Benckiser, down 2.2% to 7,032p and Unilever, down 3.5% to 4,130p.
Sainsbury's dropped 2.2% to 183.8p as rival Asda reported a 3.5% rise in like-for-like sales for the first quarter on the back of coronavirus stockpiling and a "surge" in demand for its online delivery services.
The day's risers included McBride, which gained 7.7% to 61.8p after it said demand levels remained above the run-rate levels seen before March despite a moderation in volumes since the surge seen in many markets as countries went into lockdown.
Also on the up were Applegreen, up 7% to 305p, PureCircle, up 3.8% to 81.4p, Ocado, up 2.5% to 1950.5p, Greggs, up 5% to 1,702p, Hilton Food Group, up 4% to 1,252p and SSP Group, up 3.2% to 249.4p.