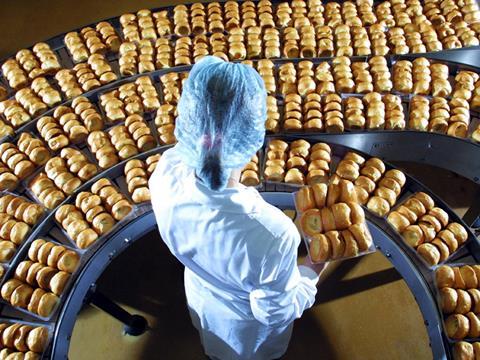 Top story
Food manufacturers are being squeezed by the government as HMRC withhold VAT refunds to claw back tax owed, putting thousands of jobs at risk, a restructuring expert working with suppliers has warned.
Temporary deferrals of PAYE and National Insurance have been part of the package of measures introduced by Chancellor Rishi Sunak to help cash-strapped businesses survive the Covid-19 crisis. Companies were also able to hold off VAT payments for three months up to June and repay by March 2021.
However, some food manufacturers are being put under new pressure by the taxman, with HMRC holding onto expected cash payments to recoup owed tax, according to restructuring and turnaround specialist Bill Dixon.
Food manufacturers have zero VAT-rated revenues but receive VAT refunds from HMRC for purchases made to their own suppliers.
Two businesses in the North West working with Dixon, which employ a total of about 2,000 staff, expected to repay PAYE and NI owed to the Exchequer over a period of 12 to 15 months but have instead have missed out on substantial VAT refunds.
To read the full story, see this week's issue of The Grocer or visit thegrocer.co.uk/finance later this morning.
Morning update
Chocolatier Thorntons lost a further £35m last year, taking its total losses to more than £100m since being bought by Italian confectionery giant Ferrero.
Sales dropped 9.5% to £122.3m in the year to 31 August 2019 as the brand's retail business suffered a decrease in sales due to shop closures and lower volumes.
Retail restructuring and fixed costs meant Thorntons posted a pre-tax loss of £35m for the year compared with £35.9m last year.
Previously listed on the London Stock Exchange, Thorntons was bought by Ferrero for £112m in 2015 and was delisted that August.
"Like many other high street brands, we have been operating in a tough and challenging external environment," said Levi Boorer, UK customer development director at Ferrero.
"This is due to changing consumer habits, the decline of the high street and more recently, the impact of Covid-19. Despite this, we can see clear indications that the brand is rebuilding and consumer love remains strong."
Read the full story here.

It is all quiet on the markets this morning. The FTSE 100 has opened 1.5% down this morning to 6,092.98pts as travel stocks take another hit on the latest restrictions coming into place on France, Malta and the Netherlands.
Domino's lost the gains it made yesterday, opening down 4.1% to 342.8p. Other early fallers included WH Smith, which slumped 4.7% to 959.5p after heavy falls yesterday, SSP Group, down 3% to 235.8p, and Greencore, which fell 2.6% to 125.5p after news of a coronavirus outbreak at one of its factories.
Just Eat is among the early risers, climbing 1.5% to 9,262p, along with Bakkavor, up 1.2% to 67.3p, Pets at Home, up 0.9% to 304.2p, and Hotel Chocolat, up 0.7% to 309.7p.
Yesterday in the City
After useful gains earlier this week, the FTSE 100 fell back 1.5% to 6,185.6pts yesterday.
Carlsberg slumped 5.8% to DKK885.60 after reporting double-digit drops in first-half revenues and operating profits as the coronavirus pandemic hammered the brewer.
Retail groups McColl's, WH Smith and M&S were among the big losers of the day, falling 6.4% to 32.2p, 5.2% to 1,007p and 2.6% to 114.6p respectively.
Other fallers included C&C Group, down 2.8% to 226.5p, Greencore, down 2.6% to 128.8p, and Nichols, down 1.8% to 1,232.5p.
Risers yesterday included Domino's Pizza Group, with shares up a healthy 4.8% to 357.6p, McBride, climbing 2% to 60.8p, and Greggs, up 1.4% to 1,486p.