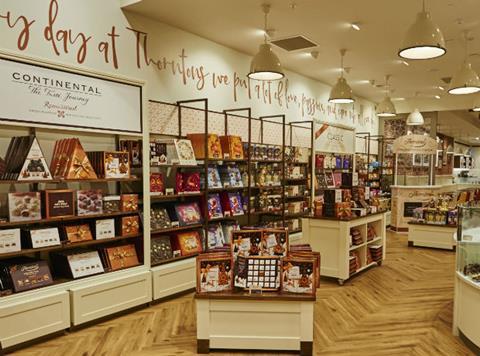 Chocolatier Thorntons lost a further £35m last year, taking its total losses to more than £100m since being bought by Italian confectionery giant Ferrero.
Sales dropped 9.5% to £122.3m in the year to 31 August 2019 as the brand's retail business suffered a decrease in sales due to shop closures and lower volumes.
Retail restructuring and fixed costs meant Thorntons posted a pre-tax loss of £35m for the year compared with £35.9m last year.
Previously listed on the London Stock Exchange, Thorntons was bought by Ferrero for £112m in 2015 and was delisted that August.
"Like many other high street brands, we have been operating in a tough and challenging external environment," said Levi Boorer, UK customer development director at Ferrero.
"This is due to changing consumer habits, the decline of the high street and more recently, the impact of Covid-19. Despite this, we can see clear indications that the brand is rebuilding and consumer love remains strong."
Despite the ongoing losses, the Thorntons accounts state that Ferrero remains committed to supporting strategy to establish itself as "high-premium" fmcg brand with a strong UK multichannel retail presence.
Boorer pointed to Ferrero's £40m investment into the Thorntons' manufacturing, retail, e-commerce capabilities and integration systems since 2015 and the reopening of seven converted stores in Derby, Uxbridge, Nottingham, Dalton Park, Liverpool, Birmingham and Belfast.
"These new formats, in the right locations, have shown strong results in growth and customer appraisal, such as our Belfast store which has seen a 244% uplift in sales since relaunching," he said.
The accounts state that Thorntons has delivered a "stable" performance during the coronavirus outbreak due to increase demand from fmcg and e-commerce channels..
Its manufacturing base in Alfreton remained operational during the coronavirus crisis, but it voluntarily closed its retail division during the lockdown period – which have now been reopened.
It has also seen over three million visitors to its e-commerce site since the coronavirus outbreak began.
"We are proud of the long-term investment we are making in the business and we are confident that the steps we are taking will help secure the future of the iconic Thorntons brand," Boorer added..