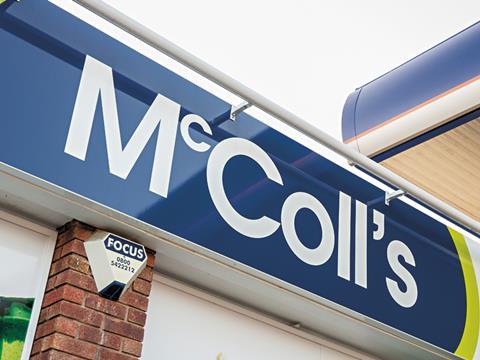 Top story
Like-for-like sales at convenience chain McColls (MCLS) grew 2.7% in the "most challenging six months the company has faced" as the company was impacted by the failure of Palmer & Harvey.
Overall sales rocketed 19.2% in the half year to 27 May 2018, driven by new store acquisitions.
In a trading update the company also revealed that more recently, in the seven weeks to 15 July, like-for-like sales fell 0.8%.
The company faced "unprecedented disruption" to its supply chain following the collapse of Palmer & Harvey last November said chief executive Jonathan Miller.
Performance improved in the latter part of the period and into the second half of the year, said the company, buoyed by better weather and more stable supply agreements.
Gross margin dropped from 25.4% to 25% in the period, while adjusted EBITDA also fell, to £16m from £16.5m in 2017.
Profit before tax almost halved, falling from £4.5m in 2017 to £2.3m, as supply costs increased.
The company completed the transition of almost 1,000 stores onto supply agreements with Morrisons ahead of schedule after P&H's administration. Another 1,300 stores are set to be transitioned onto Morrisons supply, McColl's added.
"During the first half we experienced unprecedented supply chain disruption following the collapse of P&H last November," said Miller
"This temporary upheaval has inevitably impacted sales and margin performance in the c.700 stores that were formerly supplied by P&H, and has also had knock-on effects on the rest of the estate.
"However, the switch to Morrisons supply in the 1,300 stores intended for this year has been accelerated, and will now be completed in early August, ahead of schedule.
"At the same time we have relaunched the Safeway brand at McColl's, providing our customers with a more competitive and higher quality food offer.
"We will therefore have a progressively stronger and simpler operational position with a more compelling offer as we move through the second half and into 2019."
The company will continue to grow through more "store refreshes" and acquisitions added the chief executive.
Safeway branded products have also been relaunched into around 400 McColl's stores.
Morning update
Tesco is set to launch a chain of discount stores in an attempt to fend of competition from Aldi and Lidl.
Speculation has been rife since February that the UK giant will launch a new format of stores onto UK high street as it continues to lose market share to its German rivals.
The Mail on Sunday now reports that as many 60 existing stores have been earmarked to be transformed into discount stores under a new brand name.
The newspaper reports that, according to sources, the stores could be called Jack's, in reference to founder Jack Cohen, after a Tesco subsidiary recently tried to trademark the name. It remains unknown if the name has been a proved, and whether it will be chain's name remains a closely guarded secret.
Tesco has been reportedly advertising for staff at new format stores in Immingham, Lincolnshire, and Chatteris, Cambridgeshire, both mothballed sites Tesco has sat on for about four years, as well as in Wandsworth, south London.
The Guardian also reports that Tesco Metro in St Helens is due to be rebranded while workers at Edge Hill Tesco Metro, which is planned for closure, have been promised new roles at a new store set to open in five weeks.
The new stores could open as soon as September.
Online job ads for some of the sites state: "The new retail format will be operated separately from the core Tesco business and as such benefits offered will be different from those offered at Tesco."
Workers at closing Tesco Metro stores are being made redundant and have to reapply for the new jobs.
Elsewhere, English wine producer Chapel Down has announced that Selina Emeny has been appointed as a non-executive director with immediate effect.
"Selina joins the Board at a very exciting time for the business," said CEO Frazer Thompson. "She brings with her not only drive, energy and enthusiasm for our brands but also, as International Group Counsel at Live Nation Entertainment, Selina will add a highly strategic, commercially creative, practical, no-nonsense approach and will fit in very well with a fantastic Board. We are humbled and delighted that she has agreed to join us on our journey."
Trade tensions have once again pushed down on the markets, with the FTSE 100 falling 0.7% to 7,624pts in early trading.
McColl's (MCLS) has dived 12% to 184.7p after revealing the impact of Palmer & Harvey's collapse.
Other fallers this morning include Reckitt Benckisser (RB), down 1.3% to 6,421p, Britvic (BVIC), down 1.1% to 780p and Glanbia (GLB), down 1.3% to 15p.
Early risers today included Ocado group (OCDO), up 1.2% to 1,095p, Nichols (NICL), up 0.9% to 1,496p and Premier Foods (PFD), up 0.8% to 44.6p.
This week in the City
On Tuesday, Imperial Leather manufacturer PZ Cussons (PZC) announces its full year figures as it looks to bounce back from a profit warning in May.
Fast-growing mixer supplier FeverTree (FEVR) will also announce its interim figures tomorrow.
Andrex-maker Kimberley Clark will provide interim figures in the US on Tuesday.
Wednesday will see The Coca-Cola Co (KO) announce its interim figures for the period, highlighting the impact so far of the sugar levy in the UK on sales. On the same day, Mondelez will also reveal its interim figures.
On Thursday beer and spirits giant Diageo (DGE) will reveal its annual figures, where analysts predict it will continue to growth following its four-year turnaround.
British American Tobacco (BATS) will also announce its interim results as it looks to keep up growth despite falling smoker numbers in the UK.
There are string of international results announcements on Thursday, with suppliers Hershey Co., AB InBev (ABI) and Altria all announcing interim figures.
Amazon will also have an interim on Thursday, days after wading into the Brexit debate.
Starbucks is due to announce its third-quarter figures, while McDonals and Nestle (NESN) are both also announcing interim results.
French supermarket groups, Carrefour (CAR) and Casino Guichard Perrachon (CO) are both also due to release interim figures on Thursday.
Consumer giant Reckitt Benckisser ~(RB) will announce its interim figures on Friday, as it looks to improve its ailing growth.
Colgate-Palmolive and Danone (BN) are both announcing interim figures internationally on Friday.