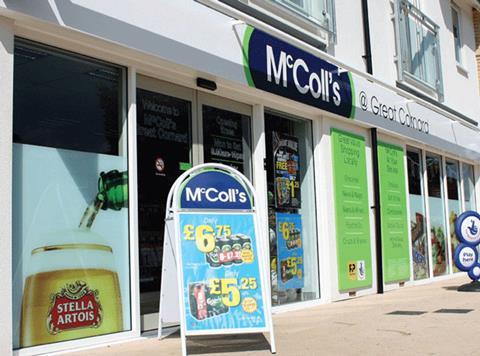 Top story
C-store operator McColl's Retail Group (MCLS) has refinanced its £100m funding arrangements with four banks despite its existing facilities still having three more years to run.
The new deal with Barclays, Royal Bank of Scotland, Santander UK and AIB Group (UK) pushes the expiry date out from July 2018 to the same month in 2020.
It amends McColl's existing £85m, plus £15m accordion, facilities, with margins negotiated at a lower cost than the existing arrangements. The statement on the London Stock Exchange does not reveal what it has cost McColl's in break fees to secure the lower funding rate.
CEO James Lancaster said: "We are delighted to have extended our existing facilities which give us the medium-term funding security to execute our strategy with confidence. The continuing support of our banks reflects their confidence in the prospects of the group."
The accordion element allows the business to 'stretch' their loan as required within agreed limits giving it easy access more funds if required.
Last month McColl's reported a 1.9% fall in like-for-like sales in its first half. Total revenues for the period increased 3.4% to £459.3m with pre-tax profits up £7.6m compared with a loss of £4m for the same period a year earlier.
Shares in the group opened 0.5% up at 150p – down massively from last year's 191p float price.
Morning update
Pre-tax profits plummeted at John Menzies in the first half, falling from £14.2m a year ago to £5.8m for the six months to 30 June. It is mostly the result of losing a major contract with Spanish airports, changes to its operations at Heathrow airport and other restructuring charges as the group seeks to reshape the business.
Sales in the half increased from £992.6m last year to just more than £1bn, with the distribution arm of the business outperforming management's expectations. Underlying operating profit in the division increased by £200k to £12.2m as the trading performance benefited from "impressive" cost savings offsetting the impact of World Cup stickers in 2014 and the decline in newspaper and magazine revenue.
CEO Jeremy Stafford said: "Our transition plans are on track and progressing well although the first half of the year has been challenging as we continue to address the operational issues that arose during 2014.
"At distribution, the core business is performing well and the anticipated volume decline has been fully mitigated. We have completed our strategic review and I am delighted that we have recently made our first step as a neutral consolidator into the growing e-commerce parcel market with the acquisition of AJG Parcels."