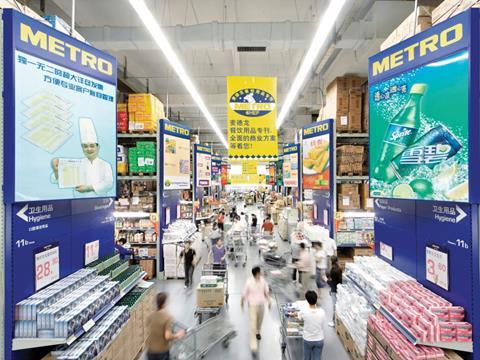 Top story
Sales slowed in the final quarter for German retailer Metro as like-for-like growth fell back in its wholesale stores and its Real hypermarkets.
Total revenues rose 0.7% to €9.2bn in the fourth quarter of the 2016/17 financial year, a 0.5% increase on a like-for-like basis, compared with a 2.6% jump in the previous three months. The figures came in below analyst consensus.
This rise was offset by currency effects, with sales in local currency increasing more sharply by 1.6%, Metro said.
Overall, full-year sales rose by 1.6% to €37.1bn at the group, which split into two separate companies from consumer electronics group Ceconomy in July.
"The new Metro increased sales in the first independent quarter," said Olaf Koch, chairman of the management board.
"We made some significant progress in the fourth quarter, particularly in Metro Wholesale's delivery business and Real's online business. We can look back on a positive financial year overall, in which we also successfully completed our transitional year and sharpened the focus of our business by splitting up the previous Metro Group."
Sales at Metro Wholesale, which has a network of 759 sites in 25 countries, rose by 0.9% in like-for-like terms for the year, but were up 3% to €29.9bn when bolstered by positive currency effects. Like-for-like sales in the fourth quarter nudged up 0.5%, with strong growth in Turkey but declines in Russia and Germany.
However, the delivery business saw a 25% jump to more than €4.6bn, accounting for 16% of sales in the financial year.
Sales at the Real hypermarkets declined by 3.1% in financial year 2016/17 to €7.2bn, due in particular to store closures compared with the same period in the previous year. Like-for-like sales declined by 1% as the business stabilised after a difficult first half. On the back of third-quarter growth, like-for-like sales increased by 0.6% in the fourth quarter.
As of 30 September 2017, the Real network encompasses 282 locations in Germany.
Morning update
Mail, parcels and logistics operator DX Group has shaken up its board after it failed to improve losses in the year to 30 June despite revenue growth.
Ron Series takes over from Bob Holt as chairman, with Lloyd Dunn, who became CEO in a non-board capacity on 9 October, now joins the board. Russell Black and Paul Goodson both join the board as non-executive directors.
Sales at DX increased from £287.9m in the previous year to £291.9m but EBITDA slumped by almost £11m to £7.2m. Adjusted pre-tax profits, before exceptional costs, fell from £11.5m to nothing. And it reported a pre-tax loss of £82.3m, a slight improvement on £82.7m, after exceptional costs of £80.7m related to write-offs and restructuring.
Outgoing chairman Bob Holt said: "The year to 30 June 2017 and the first few months of the new financial year have been an especially challenging period for the group, and DX's full year results, and current trading, reflect this.
"However, the company's prospects have been significantly transformed, with the appointment today of a new leadership team, headed by Ron Series as chairman and Lloyd Dunn as CEO, and a major new financing agreement. This agreement, which raises £24m of new funds, is supported both by our major institutional shareholders, including Gatemore Capital and Hargreave Hale, and by DX's new board directors.
"I am confident that the new team will ably drive the turnaround of the business, and a recovery in its financial performance.""
Newly appointed chairman Ron Series, added: "The new team has significant experience, both of the industry and of business turnaround situations, and we are taking a positive and determined approach to DX's turnaround. We will be undertaking a thorough review of all the company's operations to enable us to make clear and sensible decisions about recovery initiatives and to formulate a comprehensive new improvement plan.
"As might be expected, trading in the new financial year has been affected by the challenges in the business. We anticipate providing a further update on first half trading in early 2018, and expect to be in a position to comment more fully on our turnaround plans with the company's interim results."
In the past six months, DX saw the abandonment of a potential £40m merger with John Menzies' newspaper and distribution arm.
Yesterday in the City
Investors lost faith in Unilever (ULVR) yesterday as the consumer goods giant blamed poor weather in Europe and natural disasters in the Americas for missing sales expectations in the third quarter. It was the biggest faller on the FTSE 100 as shares tumbled 5.5% to 4,299p. Unilever reported like-for-like growth of 2.6% to €13.2bn, with most of the increase coming from hiking prices as volumes remained sluggish.
Nestlé (NESN) also suffered in the difficult global environment hitting most big fmcg groups in recent years. Shares in the Swiss food group fell 1% to CHF 83.90 as it reported that full-year growth would be the same as organic growth in the first nine months of 2017 at 2.6%.
Reckitt Benckiser (RB) fell another 1% – on top of a 2.5% decline on Wednesday – to 6,790p after its lacklustre third quarter and decision to break the group up into two separate units.
WH Smith (SMWH) and Marks & Spencer (MKS) fell 2.4% to 2,049p and 1.1% to 346.7p respectively after the ONS revealed retail sales fell back in September as shoppers reined in spending.
The decline of all these FTSE 100 constituents dragged on the blue-chip index, which closed almost 20 points down (0.3%) to 7,523.04 points.
There was not much growth around yesterday, with beleaguered Real Good Food (RGD) up 6.3% to 25.5p, McColl's Retail Group (MCLS) up 2.3% to 275.3p and Dairy Crest nudged ahead 0.3% to 614p.