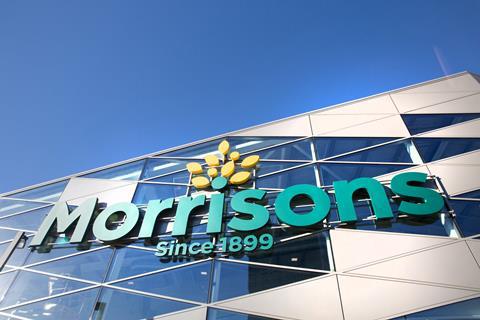 Top story
Morrisons (MRW) has reported a 5.7% jump in first quarter like for like sales, excluding fuel, as its grocery sales surged under the coronavirus lockdown conditions.
The Bradford-based supermarket said retail sales in the 14 week period from 3 February to 10 May were up 5.1% on a like for like basis, with wholesale sales up 0.6%.
However, group-wide like for like sales including fuel were down 3.9%, with fuel LFL down 39.3% in the period and down by around 70% since lockdown as customers are currently taking significantly fewer car journeys.
Morrisons said its grocery sales had been on an improving trend since the start of 2020 and improved again, before the impact of COVID-19, to flat for the first four weeks of 2020/21.
During weeks five to seven during early/mid-March there was considerable stocking up and sales pull-forward.
Lockdown began in the supermarket's week eight, with reduced trading hours plus extensive social distancing and reconfiguration measures introduced. This included capping in-store customer numbers, and temporarily only opening every second checkout. In addition, Easter in lockdown was not the normal occasion, so sales were significantly down year on year. As a result, retail contribution to LFL was negative for weeks eight to 11.
However, in the most recent weeks, it said it has returned to normal trading hours, introduced more protective screens to enable all checkouts to open safely at the same time, and availability has continued to improve. As customers have become more accustomed to the social distancing protocol in stores, and are spreading their shopping trips throughout the wekk, retail like for like sales for weeks 12-14 was 9.6%.
Morrisons also said its online offer is expanding significantly and at pace, "providing different home delivery options especially for those customers most vulnerable and in need".
For Morrisons.com, it has more than doubled the number of weekly home delivery slots, well in excess of the 60% increase we initially planned for. In addition, from a trial of just six stores in March, it will offer click-and-collect pick-up from almost 280 Morrisons stores by mid-June.
During the period, it also significantly expanded the Morrisons store on Amazon Prime Now, the same-day online home delivery service. At the time of the 2019/20 preliminary results in March, the service operated from 17 Morrisons stores in eight cities. By the end of May, it will have been extended nationwide to over 40 stores, covering most major cities and many towns. In addition, more London stores have been added, now expanding delivery coverage to over 90% of Greater London postcodes.
Morrisons also said that throughout the period its manufacturing businesses and supply chain coped well, often under extreme pressure, with the unprecedented volatility of demand, colleague absences, and the challenges of so many new initiatives.
During the quarter it also took the opportunity to improve its liquidity by extending a £100m revolving credit facility from July "on attractive financial terms".
In terms of outlook, Morrisons said the overall impact of COVID-19 remains uncertain.
"Day-to-day operations and challenges are currently very different from normal, and we are operating in a more volatile trading environment, which is costly," the supermarket said.
In addition, many of the payroll, bonus, seasonal waste and markdown, distribution, community, and colleague and customer protection initiatives come at considerable cost.
At this stage, Morrisons estimates that the 2020/21 costs relating directly to COVID-19 are likely to be broadly offset by the in-year business rates cost saving, but the actual net effect is "highly dependent on the length of the crisis and how customers respond as lockdown eases".
In addition, Morrisons said there are other current impacts on profit such as the temporary closure of its café business, and the considerably lower fuel sales.
"As these costs and profit impacts are more weighted to the first half of our financial year and the rates relief benefit more to the second half, we expect the net adverse impact on profit to be considerably more weighted to the first half," the company stated.
CEO David Potts said: "We are facing into the unprecedented current challenges and are playing our full part to help feed the nation: working with determination, creativity and pace to serve customers as well as we possibly can.
"The professionalism, enthusiasm and resourcefulness of our frontline key worker colleagues is extraordinary and is showing Morrisons at its very best. I'd like to thank every single colleague: you are Morrisons most important and most valued assets and are making a vital difference to so many people and communities across Britain."
Morrisons shares are up 2.4% this morning to 193.3p on the news.
Morning update
Retail property giant Land Securities has fallen to a £837m loss as the value of its properties fell by £1bn.
In the year to 31 March 2020, the retail, leisure and office space landlord saw revenue profit fall 6.3% to £414m.
Loss before tax for the year jumped to £837m from £123m the period period as the value of its properties fell to £12.8bn from £13.8bn.
Chief Executive Mark Allan said: "I join Landsec at an extraordinary time. The effects of Covid-19 are accelerating ongoing structural trends across the real estate sector, while its longer-term societal and economic consequences are yet to be determined. Landsec's strong balance sheet and resilient operational performance have enabled us to respond to immediate challenges posed by Covid-19 with speed and decisiveness. Our £80m rent relief fund has offered targeted support to occupiers, alongside broader options of rent deferrals and monthly payments, and our £500,000 of community grants is providing financial assistance to our charity partners.
"I am confident Landsec is approaching the future from a position of strength. We are prepared to be bold in our thinking as we navigate both the challenges and opportunities arising in the long term from changing market trends and will not lose sight of our wider sustainability objectives. We will continue to lead the sector on major issues such as climate change and remain committed to acting as a force for good in the communities in which we operate."
On the markets this morning, the FTSE 100 is up 0.3% to 5,958.4pts.
Early risers include Stock Spirits (STCK), up 3.1% to 196.8p, Devro (DVO), up 3% to 163.2p and Associated British Foods (ABF), up 2.6% to 1,769p.
Fallers so far include SSP Group (SSPG), down 6.2% to 220.2p, Marston's (MARS), down 4.3% to 31p and Bakkavor, down 3.3% to 77.4p.
Yesterday in the City
The FTSE 100 started the week edging up 0.1% to 5,939.7pts.
The day's risers included Naked Wines (WINE), up 16.1% to 418p, Bakkavor, up 11.6% to 80p, PayPoint, up 5.8% to 744p, Glanbia (GLB), up 5.2% to €9.96, Hilton Food Group (HFG), and Kerry Group (KYGA), up 3.3% to €103.30.
FTSE 100 risers included Reckitt Benckiser (RB), up 3% to 6,846 and Ocado (OCDO), up 2.7% to 1,914.5p.
Fallers included Carr's Group (CARR), down 9.6% to 106.5p, Marks & Spencer (MKS), down 8% to 87.6p, FeverTree (FEVR), down 5.2% to 1,723.5p, AG Barr (BAG), down 4.5% to 465p, Marston's (MARS), down 3.9% to 32.4p and WH Smith (SMWH), down 3.4% to 962p.