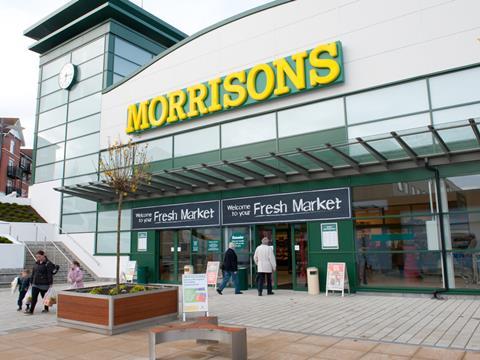 Top story
Morrisons (MRW) has delivered its first year of like-for-like growth and underlying pre-tax profit since 2011/12.
The retailer said like-for-like sales excluding fuel for the year to 29 January were up 1.7%. This was boosted by a 2.5% like-for-like improvement in Q4, Morrisons strongest quarter for seven years.
Total sales grew 1.2% to £16.3bn despite the closure of a number of stores during the year, while underlying pre-tax profit rose 11.6% to £337m, at the upper end of its guided range of £330m-£340m.
"Our full year of like-for-like sales and profit growth was powered by listening to customers, and shows what our hard-working team of food makers and shopkeepers can do.," said CEO David Potts.
"But, it's only one year. Our turnaround has just started, and we have more plans and important work ahead. If we keep improving the customer shopping trip, I am confident that Morrisons will continue to grow."
Despite the positive results, shares in the supermarket slumped 4.6% to 235.7p as markets opened this morning.
Morrisons today also announced plans to growth its trial of Morrisons Daily convenience stores with Rontec to 50 stores. There are currently 10 sites up and running which are owned and operated by independent forecourt operator. Morrisons plans to open a further 40 stores with Rontec in the first half of this year.
It confirmed that it also plans to end its relationship with rival forecourt operator Motor Fuel Group, with which it has been running a trial of five Morrisons Daily stores.
"In October 2015 Motor Fuel Group (MFG) announced a pilot with Morrisons to trial their convenience food offer in five of their petrol filling station shops," read An MFG statement.
"MFG and Morrisons have now decided to draw a line under the trial. The Londis brand, which already features on over 300 of MFG's forecourts, will be extended to these stations in April."
Potts said he was particularly pleased with the fourth quarter performance as it was set against strong competition and it lapped its improved trading from the year before. He also noted a significant slowing down of deflation in the quarter. Deflation during Q4 was zero in Q4 compared to -2% for the year as a whole.
During the second half, Morisons introduced a new automated ordering system into all stores in grocery and many fresh categories. It said it will roll it out across all categories during 2017.
The system uses cloud technology and store-specific historic sales data to forecast stock requirements. The retailer said it is reducing cost and stock levels, while also saving time for staff, and providing a better offer for customers. Availability is improving, with gaps reduced by up to 30%.
Morrisons also said it was improving staffing levels in store to ensure more colleagues are available for customers at the busiest times. It said customers were noticing these improvements as there are shorter queues and its satisfaction survey scores remain high. It said it was serving more customers, with LFL transactions up 4.0% year-on-year which is 450,000 more each week.
"Food retail is a simple business, but it is not easy," said Morrisons chairman Andy Higginson.
"Only consistent and outstanding execution differentiates. I am delighted that the whole Morrisons team are making a real difference. I am confident that strong execution will drive sustained dividend growth and improving returns for Morrisons shareholders."
Morning update
Shares in Tesco and Sainsbury's are both also down almost 2% this morning, as Morrisons falls 4.6%.
A 20% jump in fourth-quarter volumes for drinks bottler Refresco has pushed up sales and profits for 2016. Full-year revenues rose to €2.1bn (£1.8bn), compared with €2bn in 2015, as volumes increased 6% to 6.5 billion litres. Co-packing volumes increased 49%, representing 26.8% of total volume as Refresco shifted the focus of its business, resulting in a 4.1% decline in private label volumes, now representing 73.2% of total volume. Adjusted EBITDA rose 2.7% for the year to €222m (£192.4m).
CEO Hans Roelofs said: "Looking back on the 2016 results and our strategic objectives, we are pleased to report good progress. Our strategy to grow rapidly the co-packing business is contributing very positively to volume development. With many branded players looking for international partners like Refresco, we expect this part of our business to continue to grow at a rapid pace.
"We made strong progress on our buy & build strategy, strengthening our position in Europe with the acquisition of DIS. A major highlight of the year was undoubtedly the acquisition of Whitlock Packaging with which we took our first step into the US market. Integration of this business is now underway and proceeding smoothly. Buy & build remains an important focus for us and we see ample opportunities for consolidation – in Europe and the US – going forward."
The Co-operative Bank, which put itself up for sale last month, has reported annual losses of £477.1m for 2016 as it remains hampered by legacy issues. It is a significant improvement on losses of more than £600m in the previous year. The bank added that it was "pleased" with interest from potential buyers since raising the 'for sale' sign in February.
CEO Liam Coleman said: "In 2016, we continued to deliver significant progress against our turnaround plan rebuilding a customer focused retail bank with strong levels of new mortgage business, growing current account numbers and a distinctive ethical brand; but at the same time we faced a number of challenges. The historically low interest rate environment, legacy issues and the cost of the scale of transformation required continued to impact on the performance of the business. Today's results reflect those factors, which led to the Board's decision to commence a sale process and to look at other options of building capital, and they also demonstrate there is clear potential to build our unique franchise in the future."
He added: "The announcement of a sale and consideration of other options to build capital is therefore about how the Bank sees through the next stage of its turnaround plan. Obviously, we are only a few weeks into the sale process but we are pleased with the interest to date and engaging with potential bidders as planned."
DS Smith said this morning in a trading update that the business has performed in line with expectations in the period since 1 November 2016. The supplier of recycled packaging for consumer goods added it continued to build on the progress made in the first half of the year with sustained good volume growth. The growth was particularly strong from e-commerce businesses and pan-European customer volumes continued to grow ahead of the group average rate. In the first half of the year, DS Smith acquired two businesses, Creo (in the UK) and Deku-Pack (in Denmark) for a total of £37m. Since 1 November 2016, it has continued to invest and acquire businesses, including P&I Display and Gopaca in Portugal and Parish Manufacturing, a US manufacturer of flexible plastics packaging. DS Smith said its outlook remained positive, despite ongoing challenging economic conditions.
CEO Miles Roberts added: "We are pleased with the sustained, consistent progress of the business, both organically and from the contribution from acquired businesses. Customer and consumer trends continue to drive the requirement for sophisticated, innovative packaging, and we have the scale and expertise to invest behind these trends and consistently drive growth. Accordingly, we remain confident for the future."
Yesterday in the City
The FTSE 100 had a choppy day as the index fell leading up the Philip Hammond's maiden Budget before making steady gains after the statement and dropped again at close of trading to finish down 0.1% to 7,334.61 points.
There didn't appear to be any obvious winners or losers in grocery/fmcg from the Budget.
Soft drinks firm Nichols (NICL), owner of Vimto, jumped 3.8% to 1,806p while rivals Britvic (BVIC) and AG Barr (BAG) fell 0.8% to 633.1p and 1% to 562p respectively.
Other climbers included Marks & Spencer (MKS), Sainsbury's (SBRY), and WH Smith (SMWH), up 1% to 339p, 0.9% to 265.9p and 0.8% to 1,748p.
Morrisons (MRW) also climbed 0.8% to 247.5p ahead of what was expected to be strong results this morning.
Fallers included Ocado (OCD), down 1.1% to 259.3p, Greencore (GNC), down 0.7% to 256.1p, and Tesco (TSCO), down 0.2% to 188.6p.
Stock Spirits Group (STCK) rose 1.2% as profits increased and the new CEO said the business was in a stronger position after the troubles of last year.