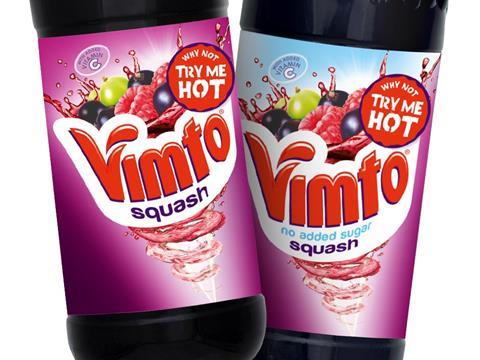 Top story
Sales in the UK at Vimto maker Nichols (NICL) has slipped slightly in the past year as the soft drinks market continues to prove challenging as the war on sugar ramps up.
Group revenue for the year ended 31 December came in at £109.3m, in line with the prior year and management expectations, the group said in a pre-close trading update.
Whilst the UK soft drinks market remained challenging, sales in in the international business grew 1.5% compared with 2014 (3.9% on a constant currency basis). Reported export sales in the year totalled £24.4m, an increase of £400,000, despite the difficulties in shipping to Yemen in the face of the ongoing conflict in the region.
Total UK sales were £84.9m, a marginal decline of 0.3%, but Nichols added it was slightly ahead of the total category performance (down 0.7% according to Nielsen).
Non-executive chairman John Nichols said the group maintained its value over volume strategy for the Vimto brand, resulting in growth of 4% in the still category and a 7% decline in the promotionally led carbonate category.
"In summary, group 2015 sales performance is per our expectations and whilst the UK market remains challenging, our international business has continued to deliver good growth," he added. "We expect full year profit and earnings per share to be ahead of the prior year and in line with market expectations."
Shares in the drinks producers slipped 0.3% as the markets opened to 1,413p.
Morning update
Value butchery chain Crawshaw Group (CRAW) saw sales jump 64% in the 15 weeks to 3 January as it continued to expand its store network. It put sales for the year to date up 52% at the fresh meat and food-to-go retailer. Like-for-like sales in stores open for more than a year nudged up 0.8% compared with the same period in 2014 – and are up 1.7% year to date. CEO Noel Collett said: "We are delighted to be able to report such strong sales performance as our growth strategy continues to rapidly enhance sales and profitability. Our growth plan is progressing very well and is on track with an increase of 17 stores for the current financial year taking our portfolio to 39 stores. We are also pleased with the positive like-for-like performance in our mature stores, particularly given the disruption and challenging high street footfall patterns caused by the prolonged adverse weather conditions in the North of England. Clearly our growth is very exciting for the business and we look to the next financial year with energy and confidence".
Shares in Crawshaw rose a healthy 2.7% to 85p on the back of the trading update.
The new year got off to a shaky start for Waitrose, with sales (excluding fuel) in the week ending 2 January slipping 2.5% to £125.2m. Marketing director Rupert Thomas said in the weekly update that New Year's Eve celebrations saw strong sales of premium items, with dry-aged beef rising 26% and caviar by 700%. Shoppers also started 2015 in a healthy mood with fruit and vegetable sales 'soaring'. Sales of raspberries were up 33%, blueberries increased by 22% and avocados rose by 40%.
Also on the Finance channel of thegrocer.co.uk we take an indepth look at the winners and losers in grocery and fmcg on the stock market in 2015. Who is up and who is down, find out here.
Yesterday in the City
There was plenty of share price movement yesterday after a hectic day on the London Stock Exchange, with turbulence in China acting as a drag on the FTSE and grocery/fmcg stocks in general.
Poundland (PLND) had a nightmare day of trading, with shares falling off a cliff after it warned that full-year profits would come in at the lower end of market expectations as footfall on the high street fell. The stock plunged 12.6% to 167.8p – a long way from the 300p float price and the subsequent highs of 421p – and the share price is down almost 50% on where it was a year ago.
At the other extreme, Majestic Wine (MJW) was up as much as 10% in early trading to 367p as like-for-like sales jumped an unexpected 7.3% as CEO Rowan Gormley's new strategy showed early signs of paying off. Shares settled back a touch to finish the day at 8.6% up to 355.4p.
Marks & Spencer (MKS) managed to keep its head above water, just, (one of the few FTSE 100 stocks to do so) closing at 0.1% up to 439.2p despite a horror show for the general merchandising division over Christmas, with like-for-like sales tumbling 5.8% even against such soft comparatives of a year ago. Its shares had risen 2% first thing as the City gave the thumbs up to news that CEO Marc Bolland would be replaced by current head of the GM division Steve Rowe.
More turmoil in China caused a dramatic plunge in value of more than £30bn for the UK blue-chip index, with the FTSE 100 closing 2% down to 5,954 points.
Grocery stocks which fell included Real Good Food (RGD), down 5.7% to 49.5p, Dairy Crest (DCG), down 4.6% to 640p, Greggs (GRG), down 2.6% to 1,243p, and Diageo (DGE), down 2.2% to 1,800.5p.