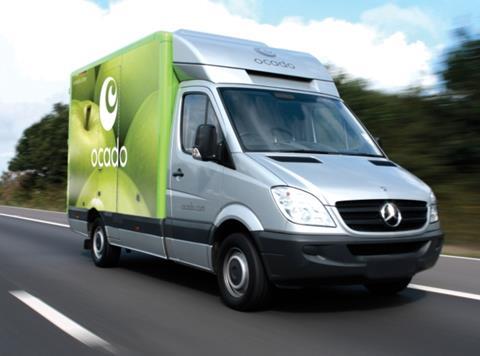 Top story
Ocado (OCDO) has recorded double-digit increases in revenues in its third quarter but the size of the average customer order continued to shrink.
Group revenues rose 14.3% to £344.5m in the 13 weeks to 27 August 2017, with retail sales, which doesn't include its partnership with Morrisons, up 13.1% to £312.7m.
Average orders per week strengthened in the quarter, with a 16% bump to 254,000. However, average order size declined 1.2% to £106.25.
"We are pleased to report another strong quarter of growth," CEO Tim Steiner said. "Our industry-leading technology has continued to set the bar for customer service and satisfaction and we continue to grow sales at a rate significantly in excess of the average for our industry.
"Recent innovations include Ocado becoming the first UK grocer to offer its customers Amazon's Alexa voice-activated tool, meaning they can verbally modify their online grocery orders."
He added: "As channel shift gathers pace we need to take advantage of our industry leadership and so we are scaling up our capacity in our revolutionary new customer fulfilment centre in Andover with the performance of the facility improving week by week.
"At the same time, we are preparing our fourth, and biggest, CFC to date in Erith, set to open in 2018. These investments, while increasing some costs in the short term, will allow us to meet the rapidly growing demand for our services from UK consumers while allowing us to offer the very latest technology to current and future customers of our Ocado Smart Platform."
Shares dived more than 5% to 286.7p in the online grocer as markets responded to the brief trading update.
Morning update
Shoppers are increasingly turning to own label ranges at the expense of branded products as prices continue to rise in the supermarkets, according to the latest Nielsen retail data released this morning. Over the last three months, consumer spend on own-label rose 5.5% year-on-year, almost five times the growth in spend on branded products (up 1.2% year-on-year). The average increase in sales across all grocery products was 3.5%.
"The return of inflation means shoppers are increasingly turning to supermarkets' own-label products to help manage their weekly grocery spend," said Mike Watkins, Nielsen's UK head of retailer and business insight.
"Own-brand sales are growing across all major food retailers but fastest at the discounters – Aldi and Lidl – and at the Co-operative, Iceland, M&S and Tesco."
Watkins notes that the supermarkets are increasingly reluctant to pass on all of the rising cost of groceries to shoppers because the industry remains "very competitive".
"Looking at what shoppers are putting into their baskets suggests food retailers are helping shoppers manage the impact of inflation by offering different ranges of own-label alongside brands across many categories."
The return of inflation means the market has now been in growth for over 12 months, with all four of the biggest players experiencing year-on-year growth in the four weeks ending 9 September 2017. It was also their fourth consecutive 12-week period of growth.
Despite the positive outlook, Watkins said that the big supermarkets would need to "keep on their toes" as almost two-thirds of households now visit a discounter at least once every three months.
Supermarket sales have increased by 3.6% compared with the same period last year, according to the latest grocery market share figures from Kantar Worldpanel for the 12 weeks to 10 September 2017. It is the sixth consecutive month of growth of more than 3%.
Fraser McKevitt, head of retail and consumer insight, said sustained market growth of this kind hasn't been seen since May 2013.
A 1.5% increase in the volume of goods going through the tills has contributed to this growth while the remainder of the overall sales increase is down to higher prices.
Like-for-like grocery inflation now stands at 3.2%, slightly ahead of the headline CPI rate and down 0.1 percentage points on last month.
"The average British household spends almost £4,200 in the grocers each year so a fall in inflation, which we expect to see as we approach the end of the year, will be a welcome relief," McKevitt added.
Lidl once again is the fastest growing retailer – a sales increase of 19.2% has taken its market share to a record high of 5.3%, up 0.7 percentage points on last year. Growth was particularly notable among fresh and chilled products such as dairy, as well as in white and rose wines, where the discounter is growing ahead of the market. Meanwhile, Aldi's sales growth of 15.6% took its market share to 6.9%.
McKevitt said: "Collectively Aldi and Lidl now account for nearly £1 in every £8 spent in Britain's supermarkets – a decade ago this was only £1 in £25. In the past three months almost 63% of shoppers visited one of the two retailers, up from a level of 58.5% last year."
Sales and profits took a significant hit in the year to 30 June 2017 at stevia producer PureCircle (PURE) as a result of its problems with US Customs last year. The business lost access to the US market, which accounts for a third of its revenues, when US Customs & Border Protection (CBP) seized its shipments in June 2016 over allegations they were produced using forced labour. The shipments were finanlly released in January released after an extensive review of detailed documentation provided by PureCircle.
Revenues plunged more than 14% to £118.9m as a result of the issue, with operating profits down 47% to £17.6m.
"Whilst it has been a difficult year, it was not a systemic issue – it was caused by factors beyond the company's control," CEO Magomet Malsagov said. "We are moving forwards, stronger. Stevia is a force for good in the world – we are excited about the year ahead and look forward to the future with confidence."
Shares in the group have fallen 3.8% to 450.3p so far this morning.
Reckitt Benckiser (RB) non-executive chairman Adrian Bellamy is to retire from the consumer healthcare group next year. Christopher Sinclair, who has served on the board since 2015, will take on the role from the 2018 AGM, Reckitt announced this morning.
During his career, as president and CEO of PepsiCo's food and beverage division, Sinclair was responsible for strengthening and extending the brand internationally, with the business doubling in size. More recently he has served as chairman and CEO of Mattel Inc.
As part of the transition, Sinclair has also been appointed as chairman of the nomination committee, with Bellamy stepping down from the committee with immediate effect. Mary Harris, as incoming chairman of the remuneration committee, is also joining the nomination committee with immediate effect.
"It is a privilege to have served as chairman of this great company and to have worked with many exceptional people to create so much value for shareholders, employees and the communities where we operate," Bellamy said.
"I am delighted that I will pass the baton to Chris at next year's AGM as RB continues to build its leadership in health, hygiene and home. I wish him and all the team the best for future success."
Sinclair added: "RB is an outstanding company with leading brands and a very strong sense of purpose. I would like to pay tribute to Adrian's leadership and stewardship which has contributed to RB's success over many years. The company has a strong track record of outperformance and as a Board we will continue to have a clear focus on maximizing the opportunities to outperform in the future."
Losses at grocery tech firm Eagle Eye Group (EYE) have shortened slightly as full-year sales jumped 71% to £11.1m thanks to winning new supermarket contracts. Pre-tax losses came in at £3.9m in the year ended 30 June 2017, compared with just more than £4m in the previous 12 months.
"2017 has been a transformational year for Eagle Eye," CEO Tim Mason said. "We've successfully delivered on our strategy of winning new customers, increasing transactions through our platform and deepening existing customer relationships. As a result we exceeded our expectations during the Year, strengthened our platform and are poised for accelerated progress in 2018.
"Retailers and brands are looking for more innovative and cost effective ways to engage with consumers, and we have the proven and scalable technology to power their digital marketing capabilities and support their commercial requirements.
"Renewing and winning new contracts with major retailers such as John Lewis and Asda demonstrates the relevance of our offering to tier 1 retailers, and we are excited about continuing on our journey to be a leading global digital marketing platform."
Yesterday in the City
Dairy Crest (DCG) shares surged 2.4% to 624p despite the group warning in a trading update of the continued spike in butter and cream prices. Investors were cheered to hear that consumers had not been turned off cheese brand Cathedral City despite price rises, with double-digit volume growth expected in the first half.
Listed baker Finsbury Food Group (FIF) had a tougher time of it as its share price sank 2.3% to 99p as it reported flat full-year sales of £314.3m, hampered by "a deflationary UK food market".
Ocado closed 1.1% higher at 302p ahead of this morning's results; with stevia producer PureCircle also rising 1.4% to 468p ahead of its annual figures.
Reckitt Benckiser (RB) was also among the risers, up 0.8% to 6,829p following news that its biggest shareholder JAB Holdings had cut its stake condoms from 8.9% to 7.9%.
Tesco (TSCO), Booker (BOK) and Associated British Foods (ABF) also made gains, up 1.3% to 183.9p, 1.2% to 200.9p and 1% to 3,190p respectively.
The big fallers included tobacco giants Imperial Brands (IMB), down 1.9% to 3,266p, and British American Tobacco (BAT), down 0.8% to 4,704p, along with Fever-Tree (FEVR), down 1.3% to 2,246.1p, and Marks & Spencer (MKS), down 0.6% to 328.6p.
The FTSE 100 finished 0.5% higher to 7,253.28 points as it was lifted by a hike at BAE Systems, which revealed Qatar had signed a letter of intent to buy 24 Typhoon jets from the defence company.