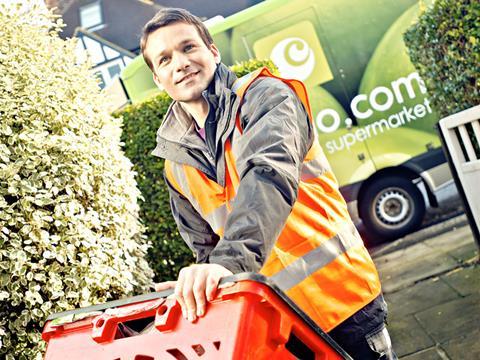 Top Story
Ocado (OCDO) has finally shaken the "never made a profit" monkey off its back after 15 years of trading this morning.
The online supermarket's full-year results show – as expected – a £10.1m adjusted pre-tax profit on revenues of £948.9m. That represents 19.8% year-on-year revenue growth and a 15.3% boost in terms of gross retail sales.
All in all, Ocado can feel pretty good this morning, having gone a long way to proving its doubters wrong about the viability and scalability of an online only supermarket – particularly when its traditional rivals are under such pressure.
Questions remain in the background, though. The accusation this is all down to the largesse of Morrisons' (MRW) exiting boss Dalton Philips is unfair – building an online retail operation is an expensive business and it is not unreasonable for Ocado to have benefitted from its investment in infrastructure which enabled it to offer an off the shelf online retail proposition.
Nevertheless, the Waitrose questions hangs heavy in the air – the supermarket can trigger its break clause this year and Ocado is noticeably quiet about the prospect in its results. It has increased its SKUs from 34,000 to 43,000 last year, but still needs to convince some it can thrive without the Waitrose brand cache.
Also, though its double digit retail growth remains strong, the rate of growth is beginning to slow. CEO Time Steiner talks of the "subdued" UK grocery market – to maintain its growth trajectory Ocado needs to look overseas. Although it talks of "continued discussions with multiple potential international partners", there's nothing concrete on that front today. The market will expect something more tangible in next year's full-year results.
Click here for a full write-up of Ocado's results.
Morning Update
Ocado's first annual profit is the big sector news of the day, but the market was initially unimpressed by the online supermarket's widely predicted sales and earnings growth. The stock fell as low as 390.9p in early trading, before recovering quickly to 409.2p (1.5% down from last night's close).
There were also strong early gains for Coke bottler Coca-Cola HBC (up 3% to 1,104p) and Britvic (up 2.9% to 733.5p).
As well as Ocado, Associated British Foods (ABF) has announced this morning it is taking a hit on its bioethanol JV due to plunging commodity prices. The company will take an exceptional charge of £98m on its Vivergo Fuels JV with BP and DuPont in the UK "in light of the continuing fall in crude oil and bioethanol prices, and the further weakening of the euro against sterling".
Late yesterday afternoon AG Barr announced an interesting foray into the cocktail drink mixers market with the £21m acquisition of premium fruit purees, cocktail mixers and syrups maker Funkin.
Yesterday in the City
After a tough week last week there was welcome news yesterday for Sainsbury's investors as the supermarket was one of the FTSE 100's top risers.
Sainsbury's (SBRY) ended the day 3.7% higher at 264.8p after broker Jefferies raised its target price on the stock to 270p.
The supermarket's rivals also had a better start to the week than they ended last week – with Morrisons rising by 1.7% to 182.9p and Tesco 1.6% up to 228.4p.
There was less good news for Marks & Spencer (MKS) which fell 1.3% to 478p and major fmcg players Diageo and Unilever also trended downwards (falling by 1% and 0.6% respectively).
Elsewhere, there were gains for PureCircle (up 4.1% to 577.5p) McColl's (up 2.4% to 179.3p) and B&M European Value Retail (up 2% to 322p).
The biggest fallers included WH Smith (down 2.7% to 1,313.9p) and Majestic Wine (down 2.3% to 329.3p)
A later rally helped the FTSE 100 end the day 0.5% up to 6,782.5pts on the back of some strong gains in the energy sector and a faster than expected increase in UK manufacturing growth, according to the latest Markit/CIPS manufacturing Purchasing Managers' Index (PMI).