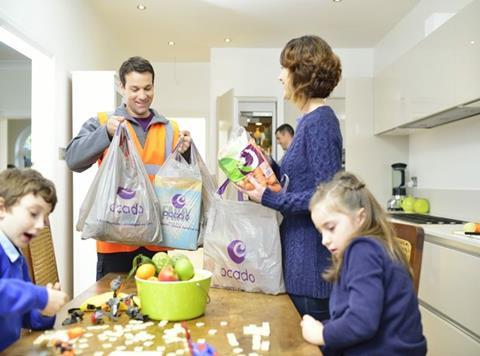 Top story
First-half sales at Ocado (OCDO) rose 12.5% to £713.8m but profits at the online grocer fell almost 20%, basket sizes continued to decline and the debt pile ballooned.
Revenues excluding its businesses with Morrisons for the 26 weeks to 28 May also increased 12.5% to £659.6m thanks to a 12.7% year-on-year rise in the number of active customers to more than 600,000.
Order volumes jumped 15.6% to an average of 260,000 orders a week, with the highest number of orders delivered in a week reaching 280,000.
However, the average basket size value declined by 1.4% to £108.45 during the period as a result of a reduction in multi-buy promotions for the Ocado own label range, which saw sales fall 1%, the continued uptake of Ocado Smart Pass and higher shopper frequency.
Ocado's basket size has been squeezed in recent years by sustained deflation in the marketplace, but CEO Tim Steiner said this morning that this had started to ease.
EBITDA increased 2.7% in the half to £45.2m as margins expanded, driven by the fall in unfunded promotional activity and improved operating efficiencies.
But pre-tax profits slumped 18.1% to £9.4m as the retailer continued to be hit by cost inflation, the impact of opening the latest fulfilment centre at Andover and further investment in its platform.
The significant levels of capital investment in its technology and capacity pushed up net debt to £210.5m by the end of the half, compared with £136.2m a year ago.
"I am pleased to announce another period of consistent customer, revenue and order growth, as well as improved operating efficiencies within our UK retail business," Steiner said.
"In addition, I am delighted to have announced our first Ocado Smart Platform agreement with a European retailer.
"After several years of price deflation in the UK, we have seen this begin to ease in the period and, when combined with our increasing scale and operational efficiencies, this trend will support the continued profitable growth of our retail business.
"As the channel shift to online advances we continue to gain share in a competitive UK market. We expect the trend for grocery shopping online to continue as consumers become more tech savvy and gain confidence in the online services available. Ocado will be a natural beneficiary of that trend thanks to its industry-leading customer offer. We continue to build new facilities in the UK in order to meet the increasing demand we see.
"Meanwhile, we have invested further in our platform and innovation to advance our technological leadership, as we continue to grow our technology and engineering teams. With the scaling of our Andover CFC and the store pick capabilities we have developed for Morrisons, we are able to better demonstrate the quality of our platform to current and future international customers.
"Grocery retailing is changing and we are ideally positioned to enable other retailers to achieve their online aspirations. We expect our recently announced international partnership to be the first of many and look forward to helping more retailers provide a high quality service to their customers in this rapidly evolving market."
Steiner added that the Amazon takeover of Whole Foods would be "a positive catalyst" for advancing discussions with international retailers about further partnership deals.
Shares jumped another (see Yesterday in the City below) 1.7% to 294.6p as markets opened this morning as the City mulled over Steiner's optimistic remarks about new overseas deals.
Morning update
Booker Group (BOK) revenues continued to be held back in the first quarter by tobacco legislation. Ahead of its AGM later this morning, the wholesaler published a trading update for the 16 weeks to June. Group sales rose 4% in the period, with like-for-like figures up 4.2%, but tobacco revenues tumbled more than 8% as indie retailers continued to suffer from the display ban and plain packaging laws. Non-tobacco sales grew by 9.6% on a like-for-like basis, driven by favourable weather and the late Easter, Booker CEO Charles Wilson said.
Booker Direct, Chef Direct, Ritter and Booker India all performed as expected. Premier continued to grow and Budgens and Londis continued to "good progress", Wilson added.
"This was a good quarter. Our plans to 'Focus, Drive and Broaden' the group are on track. On 27 January we announced the planned merger with Tesco and we are going through the competition process. Meanwhile business as usual is going well as we continue to improve choice, prices and service for our retail, catering and small business customers."
As a result of the proposed Tesco merger, Booker did not make any forward-looking statements in line with the UK takeover code.
Booker will seek shareholder approval at the AGM to pay a special dividend of 3.02p per ordinary share at a cost of approximately £54m. This is in addition to the final dividend of 4.97p per ordinary share also to be proposed at the meeting.
Shares in Booker increased 1.5% this morning to 187p.
Food prices continued to rise in June as the weakening of the pound and higher commodity costs weighed on the industry. Food prices increased on average by 1.4% last month, a similar pace to the rise in May increase, according to the latest figures from the British Retail Consortium and Nielsen. Fresh food recorded a 1.4% increase in June, 0.2 percentage points higher than in May and the highest increase since February 2014. Ambient food inflation stood at 1.5%, a slowdown from the 1.8% increase in May.
The rise in food prices dragged the overall retail market closer to inflationary territory, with overall shop price deflation at 0.3%, a slight deceleration from the 0.4% fall in May and the shallowest deflation rate since November 2013.
Mike Watkins, head of retailer and business insight at Nielsen said: "With inflation rising in essential goods and services, many households are now seeing their monthly household expenditure come under pressure. Whilst this may add to the uncertainty around discretionary spending, the good news is that shop prices are increasing at a slower rate. Shoppers are also able to find further savings in retail with low price strategies across the grocery sector and competition across the marketplace keeping prices as low as possible."
BRC CEO Helen Dickinson added: "The fact that the headline number shows that prices are still down on last year should not be misunderstood. The year-on-year numbers belie the fact that prices have been heading upwards for the last six months. It's just that significant deflation in the second half of 2016 means there has been considerable ground to make up in the year-on-year figures.
"Although heading upwards, the speed of price increases was checked in June. Food price inflation was steady on last month, albeit in firmly positive territory, whilst varied performances in the non-food categories netted out to a slight reduction in deflation.
"The steadying of inflation in June is likely a brief hiatus; resulting from the interplay of short-term influences on pricing, such as good weather delaying mid-season promotions into June and the longer term competitive pressures constraining the pass through of all costs. We expect shop price inflation to continue trending upwards in coming months."
The FTSE 100 has bounced back from falls yesterday to open 0.2% higher at 7,368.31 points.
Morrisons received a 1% boost to 239.1p on the back of Ocado's results, with Tesco up 0.8% to 168.4p following the update from Booker. Sainsbury's also increased another 0.3% to 250.3p.
Yesterday in the City
Sainsbury's (SBRY) had a positive day in the City yesterday as the summer sunshine helped lift sales at the fastest pace since March 2013. First quarter like-for-like sales surged by 2.3%, compared with a 0.3% rise in the fourth quarter of its previous financial year, as shoppers flocked to Argos to buy paddling pools and fans, as well as summer food in its c-stores. Shares in the retailer jumped 0.6% to 250.4p.
Tesco (TSCO) also received a 0.3% bump to 167.9p, but Morrisons (MRW) dipped 0.04% to 237.5p.
Ocado was among the risers ahead of this morning's half-year results, up 0.2% to 289.8p, as was Booker as it prepared to update on its first quarter, up 0.4% to 184.8p.
The FTSE 100 fell 0.3% to 7,357.23 points after starting the week on a positive as investors were spooked by the missile test in North Korea and weaker-than-expected construction data.
The fall came despite Worldpay (WPG) soaring 28% to 408p as it revealed it was being pursued by two US suitors – credit card technology outfit Vantiv and US banking giant JPMorgan Chase.
Fallers yesterday included Greggs (GRG), British American Tobacco (BAT) and Reckitt Benckiser, down 1.4% to 1,055p, 0.9% to 5,189p and 0.8% to 7,720p respectively.