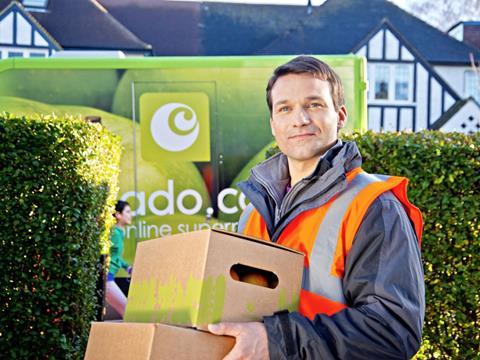 Top story
Ocado's (OCDO) sales grew by 15% to £381.6m in the 16 weeks to 29 November, but time is running out for the online supermarket to deliver its first international partnership this year.
The trading statement this morning makes no mention of an international partnership, despite Ocado previously pledging to sign one in 2015.
The 15% group sales growth is down on its 17.3% growth achieved in the 52 weeks to 29 November.
Retail sales were up 13% in the quarter and 14.7% full year.
Average orders per week were up 15.2% for the period, but sales growth was dragged back by a 2.3% fall in average order size.
Tim Steiner, Ocado's Chief Executive Officer, said: "We are pleased to report the thirteenth consecutive quarter of double-digit sales growth in what is a challenging and competitive grocery retail environment. Order growth remains strong with average orders per week now exceeding 200,000. This reflects the ongoing shift to online grocery shopping and the specific value customers place on Ocado's leading proposition, offering the highest service levels and widest range. Our basket value declined as we remain competitive by following market moves in pricing.
"We are committed to further improving our offer to customers and to driving operational and capital efficiency across the business, which we believe will support growth. We anticipate the retail environment to remain challenging, but expect to continue growing sales ahead of the online grocery market."
Ocado shares have slumped by 4.2% this morning to 344.2p on the slowed sales growth and lack of international progress.
Morning update
Real Good Food (RGF) has announced the acquisition of the ISO2 Nutrition sports supplements brand from the administrators of Cre-8tive Health Ltd. for a nominal amount.
ISO2 Nutrition has developed a range of bodybuilding supplements, whey protein and sports nutrition products and are now one of the leading suppliers within the sports supplements market. Based in Swindon, the business will be integrated with Real Good Food's Garrett Ingredients business, with whom they have enjoyed a long standing relationship as a customer.
Pieter Totté, executive chairman, commented: "We are pleased to announce this acquisition, which is in line with our stated strategy of identifying and adding bolt-on businesses within our existing three pillars of cake decoration, premium bakery and in this instance food ingredients."
PZ Cussons (PZC) has announced a trading update for the half year to 30 November 2015. It said group operating profits were broadly flat versus the comparative period with a strong performance in Europe offsetting a "difficult trading environment" in Nigeria and the impact of weaker currencies in both Asia and Africa.
"The strength of the group's innovative product pipeline and the positive impact of new launches are ensuring our market share positions are held or grown in our major markets and categories", the company stated. However, it added that performance in certain categories in Nigeria in the second half is likely to continue to be affected by the ongoing squeeze on consumer disposable income and by the tight environment of foreign exchange liquidity.
PZ Cussons shares dropped by 2.7% on the update to 297.5p, while Real Good Foods is down 3.2% to 52p.
The wider FTSE 100 is down 0.4% to 6,099.8pts as international markets fell overnight and most stocks are in the red this morning.
Tesco (TSCO) is down another 0.8% to 151.8p, but worst hit so far are British American Tobacco (BATS), down 1.5% to 3,680.5p, Associated British Fooods (ABF), down 1.3% to 3,444p and Unilever (ULVR), down 1.2% to 2,781p.
Yesterday in the City
Despite a strong recovery in the mining sector, the FTSE 100 ended the day 0.1% down at 6,126.7pts after earlier falling to its lowest level for a month.
It was another poor day for Tesco as the market worries about the supermarket's trading momentum heading into Christmas. Tesco fell to a new 18-year closing low of 153p, down another 2.3% yesterday.
Sentiment for the other supermarkets was a little better – Morrisons (MRW) fell 1% to 143 (recovering slightly from another new low yesterday of 140.3p), while Sainsbury's (SBRY) was up 0.3% to 245.5p.
The big fmcg players were not amongst the major movers yesterday, but there was a general downward trend.
Coca-Cola HBC (CCH) fell 1.4% to 1,488p, Reckitt Benckiser (RB) was down 1.4% to 6,167p and Diageo (DGE) fell 1.1% to 1,852p.
Outside the FTSE 100, Ocado was up 1.9% to 359.2p ahead of today's trading update, but Booker (BOK) was 2.8% down to 176.1p and Greggs (GRG) fell 2.1% to 1,273p.
Other fallers included Finsbury Food Group (FIF), down 1.7% to 114p, and Greencore (GNC), down 1.7% to 323.6p.