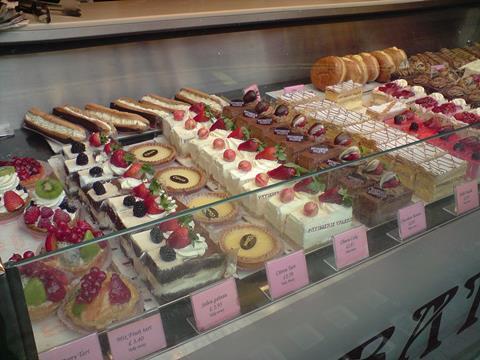 Top story
Patisserie Valerie (CAKE) has appointed former Starbucks executive Rhys Iley to take up a new Patisserie Valerie group commercial director role
Iley, a former Starbucks EMEA retail and operations vice president, takes up the new role of group commercial director, with a brief to reinvigorate the stores after a £20m black hole emerged in Patisserie Valerie's finances.
Shares in the 200-strong café and restaurant chain have been suspended since the end of September, and a number of investigations are underway, including a criminal investigation by the Serious Fraud Office.
Iley will be responsible for all store operations at Patisserie Valerie, as well as sales of branded products to other retail partners, including Sainsbury's, with whom it has an exclusive concession business. He will also be responsible for brand management, marketing and innovation across all the businesses of Patisserie Holdings plc, which include a separate bistro chain, Baker & Spice, and Philpotts, a sandwich and salad retailer.
In less than four weeks since CEO Steve Francis started in the role, he's also brought in Nick Perrin as interim CFO and Jose Peralta, the latter taking on another new position as the chain's director of food production and supply. The final member of the newly fashioned executive leadership team is Andy Singleton, who's responsible for real estate and has been with the group since 2010.
Morning update
Agriculture and engineering group Carr's (CARR) has announced chairman Chris Holmes will step down from the board after its AGM in January 2020.
Carr's said the move was "part of its succession planning and in the light of recent changes to the Corporate Governance Code".
It has started a search process for his successor, led by senior independent director, John Worby.
Holmes will be standing for re-election at the group's forthcoming AGM on 8 January 2019 and it is intended that he remains as Chairman until January 2020 at which time his successor is expected to be in place.
On the markets this morning, the FTSE 100 has dropped another 0.6% back to 6,733.6pts.
The picture is a little brighter for a number of retail stocks, with risers including B&M European Value Retail (BME), up 2.4% to 292p, Tesco (TSCO), ujp 1.6% to 193.3p and Marks & Spencer (MKS) up 1.4% to 254.9p.
Fallers so far include Domino's Pizza Group, down 3.1% to 225.8p, FeverTree (FEVR), down 3% to 2,205p, Marston's (MARS), down 1.7% to 92.4p and PayPoint (PAY), down 1.3% to 780p.
Yesterday in the City
The FTSE 100 has a downbeat start to the pre-Christmas week, with shares falling 1.1% back to 6,773.2pts after some heavy falls in retail.
A 38% plunge in the share price of online clothing retailer ASOS after a profits warning hit other stocks in the general retail sector, with N Brown Group and Bohoo both down by double digits (-16.5% and -13.7% respectively).
The retail malaise spread to those in the grocery sector, with Marks & Spencer (MKS) down 4.6% yesterday to 251.3p, WH Smith (SMWH), down 4.7% to 1,767p, B&M European Value Retail (BME) down 4.9% to 285.2p and Primark owner Associated British Foods (ABF) falling 3.2% to 2,110p.
The grocers themselves were also hit, with Ocado (OCDO), down 4.4% to 779.2p, Sainsbury's (SBRY) down 4.1% to 264.3p, Morrisons (MRW) down 2.2% to 221p and Tesco (TSCO) down 1.4% to 190.3p.
Other consumer stocks in the red included Greggs (GRG) down 4.2% to 1,260p, Greencore (GNC), down 3.4% to 164.1p and FeverTree (FEVR), down 3.9% to 2,274p.
The day's few risers included Hotel Chocolat (HOTC), up 5.4% to 292.5p, Glabia (GLB), up 1.6% to €16.77, Kerry Group (KYGA), up 1.5% to €91.15 and Nichols (NICL), up 1.1% to 1,365p.