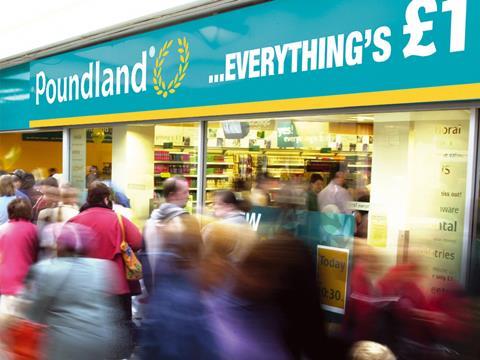 Top story

Poundland's (PLND) £55m takeover of rival discounter 99p Stores has been provisionally cleared by the competition watchdog after facing in-depth scrutiny over the past few months.
The Competition and Markets Authority (CMA) has concluded that the merger would not result in a substantial lessening of competition.
The regulator called in the deal back in April leading to speculation that Poundland may either walk away from the takeover of offer to sell some of its stores to appease the CMA.
However, after a full phase II review, the CMA said this morning that customers would not face a reduction in choice, value or lower-quality service as a result of the merger.
The CMA added that, along with Poundworld, the companies were each other's closest competitors but after the merger they would still face competition from other value retailers such as B&M, Home Bargains, Wilko and Bargain Buys, along with Tesco and Asda.
"There has been a significant rise in prominence of value retailers for UK shoppers," said Philip Marsden, who led the inquiry for the CMA. "Our evidence indicates that customers are primarily attracted to Poundland and 99p because of their affordability and see them as good alternatives to each other. Nevertheless some customers can and do switch to other types of discount retail chains."
He added: "We have also seen in recent years the Big Four supermarkets engaging in intense price competition, some of which involving the promotion of £1 products. On the basis of the evidence to date, we do not think customers will be worse off from the merger."
Poundland CEO Jim McCarthy said: "We welcome the CMA's provisional clearance of our acquisition of 99p Stores and we look forward to a satisfactory conclusion to its phase II review. We continue to believe that the acquisition of 99p will be great for customers and for shareholders alike."
After plunging yesterday as a result of 'Black Monday', shares in Poundland have opened 5.6% up this morning at 348.4p.
There will be a full story on the.grocer.co.uk later this morning.
Morning update
Elsewhere all is quiet in terms of company news in the lead up to the August bank holiday weekend.
After the turmoil on the London Stock Exchange yesterday, most shares have bounced back a little this morning to start the day up by about 1%.
Yesterday in the City
Grocery and fmcg shares took a pounding yesterday in what was dubbed around the world as 'Black Monday', with the FTSE 100 down to its lowest level since 2012. The blue chip index fell 3.9% to 5,944.9pts – now down more than 15% since breaking the 7,000 pts barrier in April.
Click here to read a full analysis from The Grocer of what happened yesterday.
The listed grocers, who have had an awful run of late, were among those to sustain the least damage of the UK's biggest corporates. Morrisons (MRW) was the fifth lowest FTSE 100 faller, dropping just 1.4% to 163.4p, while Sainsbury's (SBRY) was still towards the lower end of fallers, dropping 2.8% to 232.9p. Tesco (TSCO) fell a more significant 3.7% to 181.2p, though was down as low as 175.8p by mid-afternoon.
The uncertainly over the Chinese economy and, as a result, Chinese manufacturing helped eased general discounter stocks B&M European Value Retailer (BME) and Poundland (PLND) lower by 6% to 316.9p and 5.6% to 330p respectively.
The potential stunting of emerging market thirst for up-market items perhaps helps to explain premium drinks mixer Fever-Tree dropping 8.2% to 421.2p and Pernod Ricard (EPA) was also 7.5% down to €91.34. Diageo (DGE) – down 12.2% over the past month – dropped a more modest 2.2% to 1,647p.
Eastern European-centric Coca-Cola bottler Coca-Cola HBC (CCH) dropped 7.3% to 1,255p, while Carlsberg, which has Russia as its biggest market, has plummeted 19% over the past month and 3.9% yesterday to DKK495.