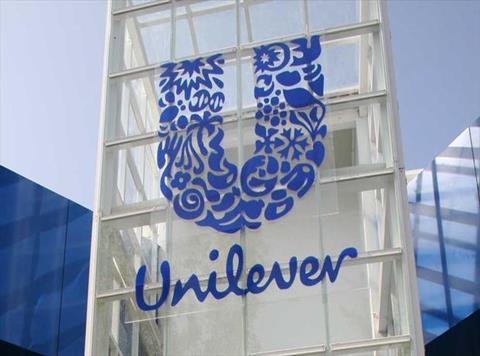 Top story
Unilever (ULVR) has posted underlying sales growth of 2.9% in its first quarter, entirely driven by price increases as sales volumes edged down.
Total turnover increased 6.1% to €13.3bn in the first three months of 2016, including a positive currency impact of 2.4%
Underlying sales growth 2.9% was driven by overall price increases of 3%, with underlying sales volumes down 0.1%. Underlying sales growth rose to 3.4% excluding its spreads business, which Unilever has pledged to divest.
Home and personal care sales were up 7.8% in the quarter with underlying sales growth of 3.4% and volume growth of 0.7%.
Food and refreshment was up 5.5% with underlying sales growth of 2.2%, but a 1.1% decline in volumes. That decline was primarily driven by foods, where volumes fell 2.1%.
On a regional basis, organic sales growth was strongest in emerging markets, up 6.9% on an underlying basis and 5.9% in total.
The US was up 1.2% on an underlying basis and 4.4% in total, but underlying sales were down 2% in Europe driven by both sales volumes declines of 1.5% and 0.5% lower pricing.
Unilever said foods "continued to modernise the portfolio while building its presence in emerging markets". However, it said performance was particularly impacted by the later Easter. Excluding spreads, underlying sales grew by 1.7% - sales in spreads declined by 5.1% as a result of the market contraction in developed countries which was only partially offset by growth in emerging markets.
In refreshment growth in ice cream was helped by strong innovations behind its premium brands, Unilever said, including new Magnum pints. Ben & Jerry's grew at double-digit rates. In leaf tea, growth improved further driven by innovations in specialty and premium tea segments.
CEO Paul Polman said: "The first quarter shows growth once more ahead of our markets. This reflects our continued investment in both innovations and brand support, and reconfirms the strength of our long term sustainable compounding growth model.
"The change programme 'Connected for Growth' which we started implementing in the autumn last year is starting to bear fruit and is making Unilever more agile and closer to the local markets, unlocking both further growth and margin.
"The actions we are taking keep us on track for another year of underlying sales growth ahead of our markets, in the 3 - 5% range. We also expect an improvement in underlying operating margin this year of at least 80 basis points and strong cash flow."
Morning update
As exclusively revealed by The Grocer last week, private equity investor LDC has backed the secondary buyout of pork pie producer Addo Food Group from the former ownership of Vision Capital.
LDC said it has invested to support Addo's growth strategy, which will include further investment in product innovation, expansion into new markets through organic growth and potential acquisitions in adjacent markets. private investment fund Fullbrook Thorpe Investments LLP, which is backed by Andy Leaver (former majority owner of Clinigen Group), invested alongside LDC.
The business manufactures a range of own brand and branded products including sausage rolls, hot pies, slices, pork pies, scotch egg products and quiches, which it supplies to the UK's leading names in food retail including all the major supermarkets.
The business was acquired by Vision Capital from Northern Foods in 2007 and traded as Pork Farms Group until 2015 when it changed its name to Addo Food Group. In 2014, the company completed the acquisition of Kerry Food's £100m chilled savoury pastry operations.
Addo will continue to be led by its existing management team, headed up by Group Managing Director, Chris Peters.
Terms of the deal were undisclosed, but The Grocer understands the transaction values Addo at around £100m.
Also on a busy morning Nestlé (NESN) has reported its sales for the first three-month of 2017.
Sales increased by 0.4% on a reported basis to CHF 21bn, with organic growth of 2.3% consisting of 1.3% of real internal growth and pricing of 1.0%
Sales were reduced by foreign exchange (-0.4%) and net divestments (-1.5%)
Organic growth was 0.8% for developed markets and 4.3% for emerging markets.
Reported sales in Europe, Middle-East and North Africa declined by 6.9% to CHF 4bn, though organic growth was "solid" at 1.7%, based on internal growth of 1.7% and flat pricing. Net divestments reduced reported sales by 5.9%, mainly due to the transfer of ice cream to the Froneri joint venture.
Pricing improved, mainly from increases taken in Nescafé throughout the zone. Petcare saw strong growth across the zone, particularly in Russia. Turkey and North Africa performed well, while the Middle East declined as political instability and deflation persisted.
Sales in Nestlé Waters increased on a reported basis by 1.1% to CHF1.8bn, with organic growth decelerating to 3.1%.
Reported sales in Nestlé Nutrition increased by 0.2% to CHF2.6bn, with organic growth of 1.1%.
Mark Schneider, Nestlé CEO said: "Organic growth of 2.3% this quarter is within our full-year guidance range. The leap year comparison and other seasonal effects made the start of this year particularly challenging. We were encouraged by the growth in Asia and the resilience of consumer spending in Europe. Consumer demand in the Americas remained soft. Our pricing improved moderately."
Nestle confirmed its 2017 full-year guidance and has made "good progress with our growth and efficiency projects to position our company for enhanced value creation."
Pernod Ricard (RI) has reported third quarter organic growth of 3%, to take its year-to-date organic growth to 4% and reported sales growth of 3% over the first nine months of the year.
Sales for the third quarter of were "slightly softer", as expected, mainly due to the phasing of Chinese New Year. Third quarter sales totalled € 1.99bn, including organic growth of 3% and reported growth of 7%. This comprised:
This third quarter performance was driven by 8% growth in Americas, with with Latin America improving and USA in growth despite difficult basis of comparison.
Asia-RoW fell 2%, due to CNY phasing and final impact of demonetisation in India. But the group showed continued good performance in Europe, with sales up 7%.
Its "strategic international brands" were up 4% and a key driver of overall sales growth improvement, with strong momentum on Jameson, good growth on Ballantine's and improvement on Absolut and Martell.
Elsewhere, Danone's (BN) first quarter results are expected to be posted later today.
On the markets this morning, the FTSE 100 has stemmed its losses, remaining at 7,112.2pts so far.
Unilever shares are up 1.1% to 3,982p this morning, Nestle is also up 1.1% to CHF76.05 and Pernod Ricard is up 1.3% to €114.80.
UK-listed risers include C&C Group (CCR), up 2.4% to €3.74, Applegreen (APGN), up 1.8% to 395p and FeverTree (FEVR), up 1.6% to 1,592p.
Fallers include Hotel Chocolat (HOTC), down 1.5% to 324p, Total Produce (TOT), down 1.5% to 162.1p, WH Smith (SMWH), down 1.4% to 1,780p and Brivtic (BVIC), down 1.2% to 663.5p.
Yesterday in the City
The strengthening of the pound continues to weigh on the FTSE 100, with the index of UK shares falling another 0.5% to 7,114.4 yesterday after Tuesday's shock general election announcement.
Associated British Foods (ABF) escaped the sell off yesterday after reporting the weak pound and higher sugar prices boosted first half earnings. Revenues leapt 19% to £7.3bn in the 24 weeks to 4 March of £7.3bn, with a 36% rise in adjusted operating profit to £652m – a £171m increase on a year ago, including a £51m currency benefit.
The supermarkets also bounced back from the post-election announcement slump, with Sainsbury's (SBRY) the biggest single riser of the FTSE 100 after jumping 5% to 267.4p.
Other retailers seemed to benefit from the stronger pound, with Morrisons (MRW) also up 2.3% to 233.4p, while B&M European Value Retail was up 2.2% to 328p. Other strong risers including Premier Foods (PFD), up 2.3% to 45.3p and Conviviality (CVR), up 4.6% to 293p.
Tesco, which yesterday agreed to sell its opticians business in the UK and Republic of Ireland to Vision Express, fell 0.3% to 175.6p.
Some of the day's biggest grocery/fmcg fallers were the big international FTSE 100 giants.
Diageo (DGE) fell 1.9% to 2,201.5p on the stronger pound, while Imperial Brands (IMB) was down 1.6% to 3,758.5p and British American Tobacco (BATS) fell 1.5% to 5,185p.
Other fallers included Greencore (GNC), down 2% to 244.5p and Compass Group (CPG), down 1.9% to 1,494p.