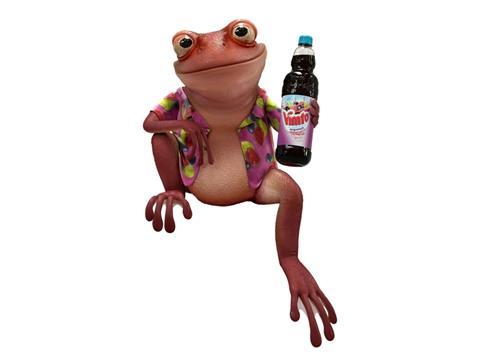 Top story
A giant purple toad has helped Nichols (NICL) outperform the soft drinks market in 2014 as the Vimto brand grew by 4.5% in the UK, as well as making headway internationally.
Vimtoad was introduced in April to front a new advertising campaign, along with a complete redesign of the Vimto packaging, in an attempt to broaden the brands target audience to capture teens and their parents.
And it appeared to do the trick as group sales for the 12 months to 31 December rose 3.5% to £109.2m, which included a 3.3% jump in the UK, compared with 0.4% growth for the wider soft drinks market [Nielsen y/e 3 January 2015].
Sales of Nichols' still products also grew by 5.3% to £56.1m, with this division being the strategic focus for the Vimto brand.
And the group's strategy of focusing on value over volume helped operating margin improve to 23% (up from 21% in 2013) driven by "healthy" international growth. It gave pre-tax profit, before exceptional items, a double-digit push of 14.1% to £25.7m. However, a payment of £7.8m to settle a litigation claim from a licensee in Pakistan, pushed reported pre-tax profit down to £17.9m, compared with £18.8m in the previous year.
"2014 was another strong year for Nichols as the group once again outperformed the wider soft drinks market on its way to delivering double-digit operating profit growth, pre-exceptional items," non-executive chairman John Nichols said. "This strong outcome is again underpinned by the strength and heritage of our core Vimto brand, both in the UK and internationally, as well as the diversity of our products and markets.
"We remain focused on delivering our growth strategy both in the UK and internationally and we look forward to the year ahead with confidence."
Morning update
Shares in Nichols (NICL) have climbed 1.6% to 1,095p so far this morning on the back of its full-year announcement.
Elsewhere, French multinational retail giant Carrefour accelerated its organic growth in 2014 by 3.9% to €74.7bn. It pushed up recurring operating income 10.6% €2.39bn and net income from continuing operations by 24.6% to €1.18bn.
The full-year results were in line with analyst expectations but its fourth quarter sales were 0.7% better than predicted thanks to a 10.4% like-for-like sales jump in Brazil and progress in its smaller formats in France. China, however, continued to be a drag on sales performance in the final three months of the year, with a 7.4% like-for-like dip.
Carrefour's stock is up 1.9% today to €30.30 a share.
Yesterday in the City
Greggs (GRG) was the share price story of the day - climbing 10.6% higher to 963p after posting record results. The bakery chain's shares hits their highest level for six years after posting a 41% rise in profits and a 4.5% like-for-like revenue boost. The shares have now risen by over 90% since this time last year and 31.5% up so far in 2015.
The Thorntons (THT) rollercoaster ride was back on the up yesterday, with the chocolate maker climbing 5.1% to 72p after it reported less-bad-than-feared annual results on Monday. The shares are still almost 40% down since December, but the stock has recovered by almost 14% since last Friday after experiencing poor trading in the run up to its results.
Nicholls (NICL) was up 2.2% to 1,078p ahead of this morning's results.
There was less positive news for Premier Foods (PFD), which dropped 6% back to 39.5p, while Majestic Wine (MJW) eased back 2.5% to 341.3p.