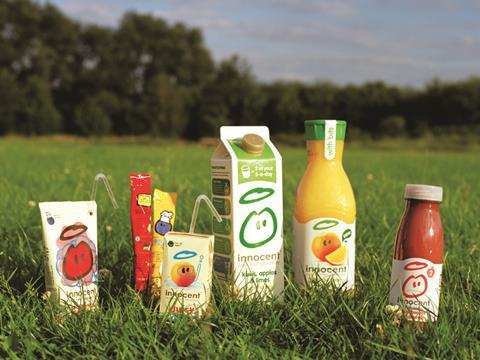 Top story
Profits have plummeted at smoothie maker Innocent Drinks as its exit from food products hit trading.
Parent company Fresh Trading slumped to an operating loss of £0.7m in the year to 31 December 2015 from a profit of £6.3m in 2014, with reported losses of £2.1m against a profit of £6.3m last year.
In a "challenging" UK juice market, sales continued to grow at the Coca Cola-owned drinks firm, with currency adjusted UK and European revenues up 18.2% to £258.8m, despite exiting the food category in April 2015, which wiped £7m-£8m off revenues. "For the long term it was definitely the right thing to do," said CEO Douglas Lamont of the decision to abandon veg pots, as it "enabled focus on new growth areas".
He added the profit loss followed major investments in European markets and NPD over the past 12 months in line with his brief to reinvest all discretionary profit to grow the business.
Read The Grocer's full exclusive story here
Morning update
The prospect of Brexit continues to weigh on the minds of consumers as their negative view of the UK's economic prospects persists according to GfK's Consumer Confidence Index.
The index increased two points in May, with all of the measures, except one, used to calculate the Index saw increases this month. However, the index remains in negative territory of -1 as uncertainty around the economy has affected confidence.
Joe Staton, Head of Market Dynamics at GfK, said: "Optimists will point to the fact our views on personal finances and our willingness to make major purchases are all up on last year. But pessimists will emphasise that the music is different when it comes to the General Economic Situation.
"Despite the tiny uptick this month, our confidence in economic matters, whether we look back or ahead 12 months, remains way below last year. Is it because the Brexit gremlins are hard at work? Almost certainly yes. How will that all change when the EU referendum has taken place on June 23rd? We all wish we knew the answer to that question."
The index found views of the general economic situation were at -13, which is 14 points lower than May 2015.
Elsewhere, Neil Sutton is chairman of corporate finance at PwC has written a column for The Grocer looking at whether the recent Hotel Chocolat IPO will spark increased IPO activity in the food & drinks sector? "The pause button was pressed on European IPO markets in the last few months but hopes remain for 2H 2016 and a strong 2017 flotation pipeline," he writes.
Read the full opinion piece here
In the City this morning the FTSE 100 is staying around its month-long high, rising just a point to 6,266.9pts so far today.
B&M European Value Retail (BME) is again one of the notable risers following on from yesterday, climbing another 1.4% to 294.9p this morning.
Other risers include Finsbury Food Group (FIF), up 1.4% to 116.6p, and Hotel Chocolat (HOTC), up 1.1% to 191p.
Fallers include Real Good Food (RGD), down 2.8% to 35p, Applegreen (APGN), down 2.2% to 335.1p and Premier Foods (PFD), down 2.1% to 40.6p.
Yesterday in the City
If Marks & Spencer (MKS) investors had been hoping for a share price rebound yesterday after the 10%-plus collapse on Wednesday they were left disappointed by a further 2.2% price drop to 290.6p yesterday.
The City has reacted strongly to M&S cutting its future profits expectations given the investment in the business needed to achieve its new strategic goals – including the increased rollout of Simply Food stores. There is also disappointment that M&S has put off tackling the thorny question of whether it needs to cut its store estate until the autumn.
There was better news for three other company reporting annual results yesterday,
B&M European Value Retail (BME) was up 3% to 290.7p yesterday after its sales rose by 24.7% to top £2bn and pre-tax profits were up to £154.5m from £61.7m last year.
Tate & Lyle (TATE) continued on the recovery path with its shares up 1.6% to 624p after reporting a 5% increase in full year adjusted profit before tax following a year of major restructuring.
PayPoint (PAY) recovered from an early share price dip to end the day 3.7% up to 906.5p after full year net revenues increased by 0.4% to £123.6m and adjusted operating profit was up 1.2% to £50.1m.
Elsewhere, the FTSE set a new month long closing price after edging up 0.1% to 6,265.7p.
It was another good day for the supermarkets, with Sainsbury's (SBRY) up 1.8% to 267.6p, Tesco (TSCO) up 1% to 168.6p and Ocado (OCDO) up 1.7% to 270.8p. Premier Foods (PFD) was also up 3.8% back to 41.5p.
The pub and leisure sector had a tougher day, with Enterprise Inns (ETI) down 2.5% to 96.5p, Mitchells & Butlers (MAB) down 2.9% to 290.7p and Whitbread (WTB) down 2.6% to 4,242p.