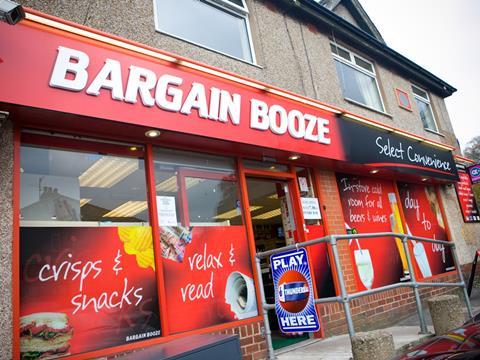 Top story
Profits have more than doubled at Bargain Booze owner Conviviality (CVR) as the integration of Matthew Clark and Bibendum continued ahead of schedule.
The transformative acquisitions of Matthew Clark, completed in late 2015, and Bibendum delivered £6m of synergies in the 52 weeks to 30 April 2017.
Revenues at the drinks group leapt 85% to £1.6bn in the year, driven by the May 2016 deal for wine wholesaler Bibendum. Sales rose 5.8% on a comparable basis with the previous year, with 'a strong' performance in all areas of the business, Conviviality said.
Adjusted EBITDA jumped 102% to £60.9m as a result and adjusted pre-tax profits increased 111% to £45.8m.
One-off exceptional charges of £10m related to the Bibendum deal and integration of Matthew Clark, along with increased costs in the business generally, brought overall pre-tax profits down to £22.5m – 147% higher than the previous year.
"I am pleased to report a strong set of results that demonstrate our focus and commitment to serving our customers well, working in partnership with our suppliers and delivering against our strategic plans," CEO Diana Hunter said.
"The balance we have created across the enlarged group, and resilience this creates, gives us confidence in the future success of the business. Importantly the culture that we have created at Conviviality, with its entrepreneurial and innovative focus, remains true across the group and we firmly believe there is exciting potential for significant organic growth for our businesses, with further potential opportunities to build on the current platform."
Retail sales across the Bargain Booze and Wine Rack estate increased 6.1% to £378min the period as 39 new franchisees joined the group and 23 franchisees increased their portfolios. Like-for-like sales declined 1% for the year, but the performance improved in the second half, with a 0.5% rise.
Conviviality Direct, the wholesale arm including Matthew Clark, boosted sales 6.4% to £1bn, with a 4.8% increase in revenue per outlet and 235 new customers served.
Conviviality Trading, the events and brand agency division, increased revenues 1% to £146m.
Conviviality added that the group had traded in line with expectations since the year end, with sales at Conviviality Direct up 9% in the nine weeks ended 2 July 2017. Conviviality Retail posted a like-for-like sales increase of 0.5% and Wine Rack is up 4%. Conviviality Trading is 7.6% above last year.
Shares in Conviviality leapt 3.5% this morning to 329.3p on the back of the results.
Morning update
Finsbury Food Group (FIF) was propped up by its international business last year as the bakery group was hit by food price deflation and the soaring cost of butter and other input costs.
Total revenues for the year to 1 July nudged up to £314.3m, a like-for-like increase of just 0.3%, the group said in a full year trading update. However, on a constant currency basis, sales decreased 1.1% on the prior year.
The UK bakery division declined by 1.4% on a like-for-like basis against a backdrop of UK retail food market deflation. The decline reduced from 2.9% during the first half of the year to an increase of 0.1% final six months, with the second half benefitting from a growth in sales revenues and price inflation.
The overseas division, the group's 50%-owned European business, grew by 17.3% (made up of 2.2% organic growth and 15.1% exchange rate benefit). "This positive performance and exchange rate impact mitigates the effect of the euro on the UK bakery business, validating the strategic geographic diversification that the group has implemented," Finsbury said.
"Ongoing product innovation and improvements in efficiency and productivity, together with the benefits of the group's capital investment programme, has played an important role in addressing the previously noted industry-wide challenges. As detailed in the group's interim results, the scale of these challenges has necessitated price recovery and as such the group has had productive discussions with its customers during the period."
CEO John Duffy added: "The hard work undertaken in prior periods has ensured that we have maintained our course, with the benefits of having a diversified business across channels and geography coming to the fore. Considering the pressures the industry faces, we are very pleased to have grown revenue and are confident that the group is well positioned to maintain its strong market position and continue to deliver shareholder returns."
Finsbury's share price sank 2.1% to 113.5p this morning as markets opened.
Stock Spirits Group (STCK) has agreed to acquire a 25% stake in the Irish whiskey business of Quintessential Brands Group for up to €18.3m (£16m). Quintessential owns The Dublin Liberties and The Dubliner Irish Whiskey, with its portfolio ranging from ultra-premium through to standard Irish whiskey products. Its Irish whiskeys are on sale in more than 30 countries, with in excess of 32,000 9L cases sold in the 12 months to 31 March 2017
Stock CEO Mirek Stachowicz said: "We are delighted to be partnering with Quintessential Brands in an exciting Irish whiskey business and to be adding these outstanding brands to our portfolio. We have already developed strong whiskey category management capabilities courtesy of our distribution agreements with our agency partners, and see these brands as being highly complementary to that platform. We see significant potential for the brands globally, including in our core markets of Poland and Czech Republic, and are confident that they will complement our strong market positions in vodka, herbal bitters, brandy and limoncello. We are hopeful that this will be the start of a long and fruitful working relationship with Quintessential Brands."
Quintessential Brands Group co-founder Warren Scott added: "This investment and partnership with Stock Spirits comes at the beginning of a very exciting next phase of the development for our Irish whiskies. We are a brand-led business and both The Dublin Liberties and The Dubliner Irish Whiskey have developed great traction in more than 30 markets with significant potential for further growth and range expansion in the coming years. We are delighted to be working with Stock Spirits, and towards the completion of the Dublin Liberties Distillery which will be a home for the brands and an exciting new visitor experience in the heart of Dublin."
Stock is down 0.4% to 165.8p so far this morning.
This week in the City
Things pick up this week with a flurry of market updates to come. It starts tomorrow with a first quarter trading update and AGM at Dairy Crest. And on Thursday we get the first quarter figures from under pressure Premier Foods, first-half results from Unilever and Vimto owner Nichols, an update from Science in Sport, a quarterly update from Remy Cointreau and interims from tobacco giant Philip Morris. And finally, Colgate closes the week with its second quarter earnings on Friday.
There will be the latest inflation figures on Tuesday when the consumer price index and retail price index is announced.
And in wider retail there is the much-awaited Sports Direct finals on Thursday, as well as a first quarter update from Mothercare.