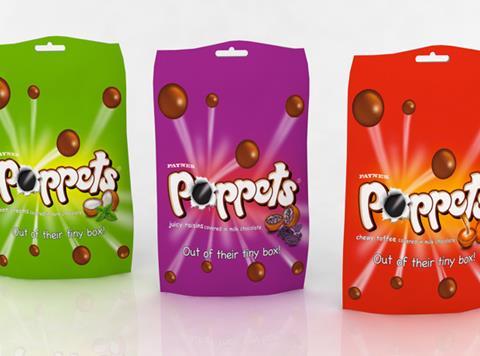 Top story
Finnish food group Raisio has issued a profits warning as a result of challenges in its UK confectionery business and the weakening of the pound against the euro.
The group said in a short update this morning that it now expects comparable EBIT (earnings before interest and tax) for 2017 to total about €45m (£40.4m), down from guidance of about €50m (£45m), which is slightly lower than 2016 profits (€50.7m).
"The outlook is revised due to prolonged production and commercial challenges of the UK confectionery business, lower than estimated profitability and the weakening of the pound against the euro," the statement said. "Work to solve the production and commercial challenges is underway."
Raisio's UK factory in Leicester produces boils, toffees and mint and chocolate candies, with its soft gum production centralised in the Czech Republic, and brands includes Poppets, Fox's Glacier, Juicee Gummee.
The confectionery division makes up about third of the group's €400m-plu annual revenues.
"As defined in its renewed strategy, Raisio continues to invest in brands, product concepts, sales and marketing, and to enhance its operations as well as expand into new markets in Europe," the group added. "This will create a basis for growth and success in the coming years."
Raisio said the exchange rates continued to have a significant impact on the group's net sales and EBIT.
The group has had a difficult time in recent years, with Pekka Kuusniemi set to take over the role of president and CEO in November 2017. He replaces Matti Rihko, who resigned in January, having served as CEO since November 2006.
Revenues slumped 18.9% to €92.5m in first quarter of 2017 as the weak pound hit sales of Benecol and its confectionery products in the UK.
Last year, Raisio sold its UK snack bar business Halo Foods to Dutch investor Nimbus, taking a €19m (£15.9m) hit on the disposal.
The group will release its half-year results on 9 August 2017.
Morning update
British American Tobacco (BAT) has appointed three Reynolds directors to its board after it received overwhelming shareholder support for its proposed $49m (£37.7m) takeover of its rival.
Lionel L. Nowell III, Holly Keller Koeppel and Luc Jobin will join the board as independent non-executive directors, subject to closing of the acquisition of the remaining 57.8% of Reynolds American not already held by BAT. Under the merger agreement with Reynolds, it was agreed that three of the non-BAT nominated Reynolds directors would be invited to join the board at closing of the deal.
Nowell has been the lead independent director of the Reynolds board since January 2017, having served as a director since 2007.He is a member of the compensation and leadership development committee and the corporate governance and nominating committee. He retired as senior vice president and treasurer of PepsiCo in 2009, where he had held senior financial executive roles since 1999. He also held a senior financial role at Diageo from 1991 to 1998.
Koeppel has been an independent director at Reynolds since 2008 and is chairman of the regulatory, sustainability and public policy committee and a member of the audit and finance committee.
Jobin has been an independent director at Reynolds since 2008. He is a member of the audit and finance committee. He is president and CEO of Canadian National Railway Company, a position he has held since 2016, having served as executive vice president and CFO since 2009.
BAT Chairman Richard Burrows said: "I am very pleased to welcome Lionel Nowell, Holly Keller Koeppel and Luc Jobin to the board of BAT. Following closing, the Reynolds business will immediately become a key part of the BAT group. Each of these new directors brings to the board complementary skills and valuable experience of the US business environment and, in particular, the US tobacco sector.
"We have been shareholders in Reynolds since 2004 and I would like to acknowledge the key role played by all directors of Reynolds in making Reynolds the success it is today."
The deal will create the biggest tobacco company in the world.
Yesterday in the City
Unilever (ULVR) enjoyed a buoyant day as shares jumped 1.7% to 4,389p as it revealed a set of solid first-half results. The Marmite and Persil owner increased underlying sales by 3% in the first six months of the year and made progress growing its profit margins.
Premier Foods (PFD) also registered a 2.3% rise (or almost 1p) to 39.6p despite announcing a bad start to its financial year, with sales falling 3.1% due to hot weather, changes in promotions and industry weakness. Investors were clearly cheered by promises of a return to growth in the second quarter and the first positive contribution from the Nissin tie-up, which helped reignite growth in the Batchelors noodle brand.
Despite early rises, Vimto owner Nichols (NICL) closed down 1.4% to 1,839.1p . The group unveiled interims showing it continued to outperform the challenging UK soft drinks category.
Science in Sport (SIS) soared 3.1% to 91p after a pre-close first half trading update showed double-digit sales growth and the launch of more products set to hit the market.
Red meat packer Hilton Food Group slipped 1.3% to 715.5p after a trading update, which grew sales but was held back by start-up costs in Portugal.
British American Tobacco (BAT) jumped 2.6% to 5,425p following the overwhelming shareholder approval for its full takeover of rival Reynolds.
Dairy Crest (DCG) continued its good run this week, rising another 2% to 601.5p and putting the stock up more than 7% up since the Q1 update on Tuesday.