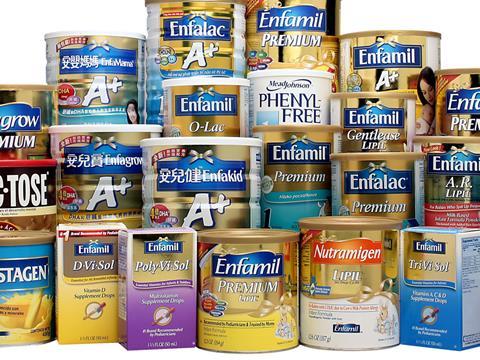 Top story
Durex owner Reckitt Benckiser (RB) is to acquire baby formula firm Mead Johnson Nutrition Co in a deal worth $17.9bn.
The pair were locked in advance negotiations at the start of the month over the $90 a share transaction, which values Mead Johnson at $16.6bn ($17.9bn including net debt).
The terms represent a premium of 29% to the closing price of Mead Johnson of $69.50 on 1 February 2017, before speculation of a possible transaction emerged.
Reckitt said the acquisition would considerably strengthen its presence in developing markets, particularly China where Mead Johnson has sales of more than $1bn.
Cost savings from the combination are estimated to be £200m a year by the end of the third year.
"The acquisition of Mead Johnson is a significant step forward in RB's journey as a leader in consumer health," CEO Rakesh Kapoor said.
"This is a natural extension to RB's consumer health portfolio of powerbrands which are already trusted by millions of mothers, reinforcing the importance of health and hygiene for their families.
"Mead Johnson's geographic footprint significantly strengthens our position in developing markets, which will account for approximately 40% of the combined group's sales, with China becoming our second largest powermarket."
Mead Johnson chairman James said: "The agreement being announced today is about value creation. First and foremost, this transaction provides tremendous value to Mead Johnson Nutrition stockholders. I fully expect Mead Johnson to flourish as an important new part of the RB organisation."
Mead Johnson operates in the global infant and children's nutrition category, which is worth approximately $46bn in annual sales. RB expects the category to grow at approximately 3-5% per annum in the medium to long-term.
The transaction is subject to shareholder and regulatory approvals.
The deal comes as Reckitt announces like-for-like revenue growth of 3% in 2016 and a jump in profits thanks to "excellent" margin expansion.
Revenues increased 11% to £9.9bn, with the devaluation of sterling after the EU referendum a significant driver as the majority of the group's revenue and profits are earned outside of the UK. Sales were up 2% at constant exchange rates.
The health & hygiene division led growth at the group, with like-for-like sales up 4%, which reflected broad-based growth across the Dettol and Nurofen maker's portfolio.
Net income rose 5% in the year to £1.8bn and reported operating profits were up 8% to £2.4bn.
Growth was held back by the problems in Korea caused by the lawsuit over the sale of humidifier disinfectant which led to deaths in the country. Exceptional costs of £367m were charged in the year, with the majority related to the issue.
"RB has a long and proud history; in 2011 the tragic events in Korea first came to light," Kapoor said. "We have made a public and personal apology to the victims who suffered lung damage from using Oxy RB's humidifier sanitiser product, and I reiterate that here. The harm that resulted from the use of humidifier sanitizers sold by Oxy RB and other manufacturers can never be allowed to happen again. We are committed to reinforcing our focus on safety for the future."
He added: "2016 was a good year in which we achieved broad-based growth and excellent margin expansion, despite challenging markets and an unusual number of issues," Kapoor said.
"From a market perspective, we saw slower growth in 2016, across both developed and a number of emerging markets. Russia and the US, in particular, were tough; and Turkey and Saudi were impacted by geopolitical issues. This was in part offset by strong performances in India, China, Indonesia and Thailand."
Outlook for 2017 remained challenging, he added, but the group was confident in the strength of the business and is targeting like-for-like net revenue growth of 3%.
Shares in Reckit are up 1% so far to 7,310p, while markets are yet to open in New York where Mead trades. The baby formula specialist slipped 1% yesterday to $83.
Morning update
It's the end of an era for food price deflation after more than two years of falling prices, according to the latest Grocer Price Index. Prices across the big four in the month to 1 February were the same as they were in the corresponding month last year. It marks the first time year-on-year grocery prices have not fallen for 32 months.
A return of higher prices marks a dramatic turnaround since the summer of 2016, when industry deflation peaked at -3.1% in the month to 1 June. That record level was recorded just ahead of June's EU referendum vote and the subsequent sterling devaluation. Tesco was the only one of the big four supermarkets to buck the inflationary trend, as it fought to keep its fragile recovery on track, with prices still down 1% year on year.
The Grocer Price Index is collated by Brand View from more than 60,000 SKUs. The full story and all the details are explored at thegrocer.co.uk/finance. Click here for the latest GPI.
Just Eat CEO David Buttress is leaving the takeaway order firm because of "urgent family matters". He will work full time at the company until the end of the first quarter, when chairman John Hughes will assume the role of executive chairman. Hughes will work closely with Buttress and CFO Paul Harrison to ensure a smooth and orderly handover. The board is commencing an immediate search to find a replacement for Buttress, who joined Just Eat in 2006 and has agreed to serve a minimum one-year term as a non-executive director.
"It has been a great privilege to work alongside, and then lead, the exceptional team at Just Eat, helping to build the business from the very first restaurant in the UK to the company it is today," Buttress said. "I would like to thank the Board for their understanding, and I am very pleased that I will be able to continue to play a role in the future of the business as a non-executive director. This has been one of the best jobs in the world, and I wish my successor all the best when they take on the role."
Hughes added: "The board would like to thank David for his outstanding contribution and respects his imminent need to focus on other important matters. David has been an incredible leader and colleague, who has earned the respect and loyalty of all who work with him at Just Eat. David will leave as CEO with the business in excellent health and with an experienced leadership team at the helm. We look forward, in due course, to welcoming him as a non-executive director. I will work closely with Paul Harrison and the rest of the team as we recruit David's successor, and we will provide an update on that process in due course. The company is very strongly positioned for the future."
The Just Eat share price has plunged 5.6% this morning to 523.5p on the back of the news.
Yesterday in the City
Shares in Dairy Crest (DCG) got steadily worse throughout trading yesterday after its issued a nine- update warning that milk cost inflation and soaring cream prices would push up net debt this year. The ensuing sell-off saw the stock plunge 6.4% to 577p, despite volumes improving for its core butter and cheese brands.
TATE & Lyle (TATE) slipped 1% to 713p as the ingredients producer said a trade barrier between the US and Mexico would hit sweetener profits. The business upgraded its earnings expectations in a trading update for the three months ended 31 December 2016.
Pernod Ricard was also among the fallers as the spirits said pricing remained subdued as cost-cutting helped profits rise 4% in the first half.
Kellogg (K) jumped 4% in early trading in New York to $76.18 after the food giant beat full-year profit expectations – although the UK market dragged down its revenues.
Coca-Cola (KO) on the other hand fell back 2.1% to $41.15 as profits and sales fell because of weakness in developing markets.
Other fallers included Britvic (BVIC), down 1.6%, Greencore (GNC), down 0.8%, and Cranswick (CWK, down 0.6%.
Among the few risers were Ocado (OCDO), up 1.5% to 252.6p, Marks & Spencer (MKS), up 1.4% to 342.3p, and Morrisons (MRW), up 0.2% to 247p.
The FTSE 100 also bounced 0.6% higher to 7,229.50 points, despite a gloomy sentiment in Europe ahead of elections in France and Germany.