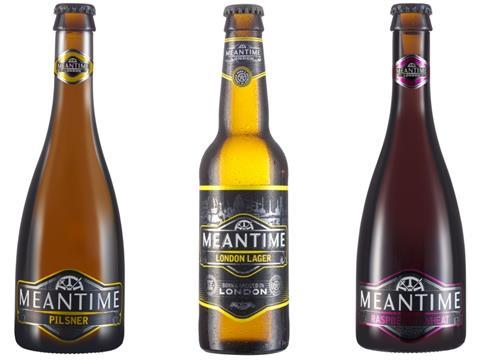 Top story
UK-listed brewing giant SABMiller (SAB) has agreed a deal to buy to London-based modern craft brewer Meantime Brewing Company.
Meantime, which has ales listed in Sainsbury's, Waitrose and Ocado, gives SABMiller "an entry point into the fastest-growing segment of the UK beer market". The company sees Meantime's upmarket positioning as complementing its imported premium lagers such as Peroni Nastro Azzurro and Pilsner Urquell.
Meantime's brands include London Pale Ale, London Lager, Yakima Red, Pilsner, India Pale Ale and London Porter. London Pale Ale and London Lager together account for around 70% of total volumes.
SABMiller plans to grow sales of Meantime's beers nationally and look for opportunities in Europe markets under the continued leadership of Nick Miller, Meantime CEO.
Following the transaction, Meantime will also open a pilot brewery which will become a centre for SABMiller's European innovation and new product development.
Sue Clark, MD of SABMiller Europe, said: "Meantime has been at the forefront of the modern craft beer movement in the UK and brews an outstanding range of beers across a variety of styles. Meantime, born in a city with a rich beer heritage, will be a special new addition to the SABMiller family."
Morning update
European Coke bottler Coca-Cola HBC (CCH) has announced it is trading in line with expectations in the first quarter having seen improving market conditions.
Volume growth during the quarter reached 7.2% compared to a 4% decline in the prior-year quarter. Growth was helped largely by four extra selling days - accounting for just under 6 percentage points of the growth in the quarter- and the earlier timing of the Easter holidays.
Established markets volumes increased by 3.4% in the quarter compared to a 7.5% decline in the prior-year quarter, while volumes in developing markets increased by 13.7%, compared to an 8.9% decline in the prior-year quarter. In emerging markets, volumes were up by 7.4% in the quarter, following a stable performance in the prior-year period.
However, the company cautioned: "While there are some positive country-specific dynamics, continued volatility in currency and oil markets, political concerns in certain countries and the downward revision of global GDP growth by the IMF continue to provide an uncertain background."
Elsewhere today, the BRC/Springboard Footfall and Vacancies Monitor for April found that footfall during the month was 0.8% lower than a year ago, down from the 0.2% rise in March. This is below the three-month average of -0.3%. Both high streets and shopping centres reported a decline, falling 0.1% and 3.0% respectively. Footfall in out-of-town locations fared better with a 0.5% increase year-on-year, but this is the lowest figure since September 2014.
Waitrose's sales fell 0.4% in the week to 9 May, taking its sales for the first 14 weeks of its financial year to 0.7%. Waitrose said that sales were impacted by tough comparatives and the continuing drag effect of food deflation. However, it saw an uptick in alcohol sales thanks to the bank holiday weekend, with sales of champagne up 17% compared to last year, world beer sales up by 10% and local and regional beers up by 17%.
The FTSE has opened 0.3% up this morning at 6,994.6pts, led by Coca-Cola HBC's 2.8% jump to 1,455.7p after its solid first quarter volume growth.
SABMiller is currently up 0.9% to 3,632.5p after the announcement of its acquisition of Meantime this morning.
Yesterday in the City
The FTSE 100 closed the day up 0.34% to 6,973pts, recovering from a plunge of 50pts at one stage in the day as concerns over the European bond market eased.
Sainsbury's (SBRY) was the FTSE 100's second biggest faller – dropping 2.3% to 269.2p after going ex-dividend.
Elsewhere it was a more benign day, with Reckitt Benckiser (RB) up 1.8% to 5,767p, Unilever (ULVR) up 1.4% to 2,855p, Morrisons (MRW) up 1.3% to 179.2p and Tesco (TSCO) up 1.2% to 227.4p.
Marston's (MARS) edged up 0.4% to 164p after its half-year trading update yesterday and Mitchells & Butlers (MAB) was 0.7% up to 450.6p after its own six month figures were released.