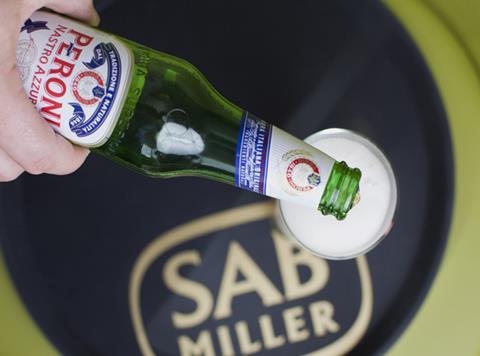 Top story
SABMiller (SAB) has announced this morning that AB InBev (ABI) has agreed with the European Commission to divest all of SABMiller's businesses in Central and Eastern Europe as part of its buyout.
The assets for sale include Dreher Breweries (Hungary); Kompania Piwowarska (Poland); Plzenský Prazdroj and Pivovary Topvar (Czech Republic and Slovakia); and Ursus Breweries (Romania).
These sales are in addition to the agreed sale of Peroni, Grolsch and Meantime and their related businesses to Asahi.
SABMiller said this morning: "These businesses include a number of leading brands in their markets and AB InBev expects to attract considerable interest from potential buyers."
Alan Clark, Chief Executive of SABMiller, said: "SABMiller's Central and Eastern European businesses have been a core part of our growth story since we first embarked on our international expansion strategy over 20 years ago. We are very proud of these businesses, their brands and the people that have made them the successes they are today, and we will continue to grow and support them throughout this process."
Any sale would be conditional upon completion of the AB InBev acquisition of SABMiller and will take effect after the finalisation of the deal.
This morning's statement added: "AB InBev's submission and updated package of commitments is part of its approach to proactively address potential regulatory considerations."
AB InBev hopes to complete the acquisition during the second half of 2016. The EC is expected to publish the outcome of its Phase 1 investigation by 24 May.
Morning update
Irish fruit exporter Fyffes (FFY) has this morning increased its target earnings ranges for the full year 2016 after buying Canada's largest mushroom company Highline Produce. Expected EBITDA for its 2016 financial year has been raised to €63m-€69m from €54m-€60m after posting €56.1m last year. Overall, the Group's existing business has "performed in line with expectations" in the year to date.
Distil (DIS), owner of premium drinks brands RedLeg Spiced Rum, Blackwoods Gin and vodka, Blavod Black Vodka, Jago's Cream Liqueur and Diva vodka, has issued an update on trading for the final quarter of its financial year ended 31 March 2016.
Year-on-year quarter four (Jan-Mar 2016) revenues climbed by 66% whilst volumes rose by 76%, supported by a 61% increase in brand marketing. The higher percentage growth in volumes was due to a temporary shift in volume mix in favour of Redleg, Blavod Black Vodka and Blackwoods Gin Limited Edition. This offset the fall in year-on-year quarter four volume shipments of its standard Blackwoods Gin, where the prior year comparative quarter benefited from initial launch sales and pipeline fill in the US.
GfK's Consumer Confidence Index dropped three points in April to -3. All of the measures used to calculate the Index saw decreases this month.
Joe Staton, head of market dynamics at GfK, said: "Mixed messages about a post-Brexit world and the on-going Eurozone crisis are casting a cloud over our economy. The biggest dent to confidence comes from consumers' depression about the general economic situation in the UK for the next year, dropping 20 points in 12 months. Against this backdrop, even faith in our personal economic fortunes has taken a battering contributing to the overall fall in the numbers."
This morning the FTSE 100 is down 0.9% to 6,267.6pts after a major investor in Apple sold its stock amidst worries over a China slowdown.
Most stocks are trending downwards with Marks & Spencer (MKS) down 1.4% to 426.6p, Unilever (ULVR), down 1.2% to 3,068.5p and Diageo (DGE), down 1.2% to 1,855p.
Poundland (PLND) has slumped 3% this morning to 172p, while Ocado (OCDO) continues its slide from yesterday, falling another 2.1% to 306.6p.
Rare risers include Conviviality (CVR), up 2.8% to 217.1p and Hilton Food Group (HFG), up 1.2% to 574.5p.
Yesterday in the City
The FTSE 100 recovered early losses yesterday to finish the day flat at 6,322.4pts as a recovery in mining stocks negated a share price drop in the banking sector.
It was a relatively quiet day for the grocery sector. Tesco (TSCO) continued its slide after a 4.7% drop on Wednesday, falling another 0.9% to 173.3p. There was better news for the rest of the supermarket sector, with Morrisons (MRW) one of the FTSE 100's biggest risers after climbing 1.9% to 192.8p yesterday. Sainsbury's (SBRY) was up 0.5% to 291.8p.
Other risers included WH Smith (SMWH), up 1% to 1,708p, Cranswick (CWK), up 0.8% to 2,318p and Fever-Tree (FEVR), up 2.4% to 621.5p.
The day's poorest performers included Associated British Foods (ABF), down 2.9% to 3,068p, Ocado (OCDO), down 2.6% to 313.1p and Marks & Spencer (MKS), down 1.2% to 432.4p.
Also down was McColl's (MCLS), falling 4.2% to 160.8p and Glanbia (GLB), which plummeted 7.6% to €16.00.